Taylor Swift Breaks the Internet in Bejeweled Dresses at the MTV EMAs
There's no doubt she's dropping more Easter eggs for her current album, "Midnights."
Taylor Swift keeps finding new and creative ways to promote her latest album, Midnights. She arrived at the MTV EMAs 2022 on Nov. 13 wearing a dazzling bejeweled ensemble  — a subtle reference to one of the album's big favorites, "Bejeweled," perhaps?
The sheer skirt overlaid with silver and green jewels left little to the imagination as Swift strutted down the red carpet wearing only a black body suit beneath.
According to Teen Vogue, the outfit was "custom designed for her by English designer David Koma, whose bold and celestial designs she's worn multiple times during promotions for her Midnights album."
"The skirt's emerald-toned jewels were inspired by the late Queen Elizabeth II's own emerald collection," a spokesperson from David Koma also revealed to CNN.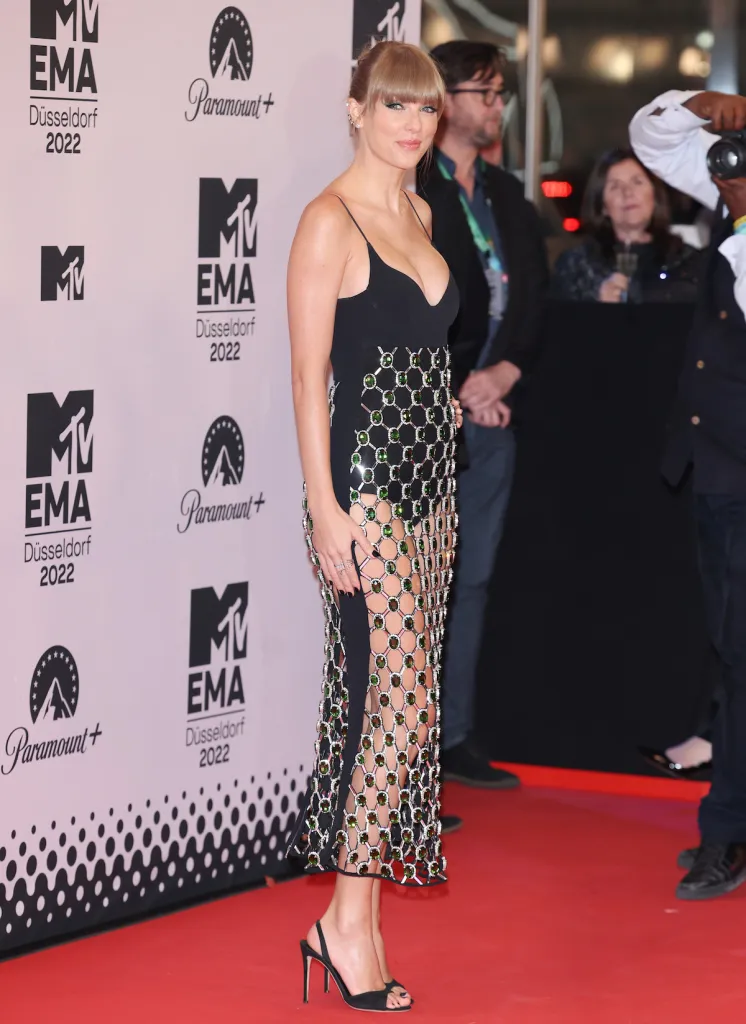 The look is just in time for the latest season of The Crown, with a whole new cast including Imelda Staunton playing the role of Queen Elizabeth.
RELATED: I Had an Eating Disorder, and Taylor Swift's New Song Is My Powerful Recovery Anthem
The series has caused controversy given its timing — only a few months after the queen's passing in September. Many close to the monarch, including Dame Judi Dench, have also prompted Netflix to add a new disclaimer regarding the "fictional dramatization" of the Royal Family's portrayal.
But, back to Taylor. Later in the show, Swift changed into another Koma design — a short, polo-style dress covered in sparkly gems, for more a casual-but-chic look.
Nominated for six categories, Swift took home four awards in total: Best Artist, Best Video, Best Pop and Best Longform Video for "All Too Well: The Short Film."
Fans around the world are now gearing up for her Eras tour, with tickets slowly rolling out in presales as of Nov. 15. The tour is set to start on March 18, 2023, in sunny Glendale, Arizona.
Known for her concert "looks," we're sure to see more sparkle and shine from the Grammy award-winning singer and songwriter as she takes on her first tour in five years.
Kat is a born and raised New Yorker exploring the world as she writes, eats, and everything in between.
Read more