Taylor Swift's "Delicate" video is full of parallels to "The Great Gatsby," right down to the fringe dress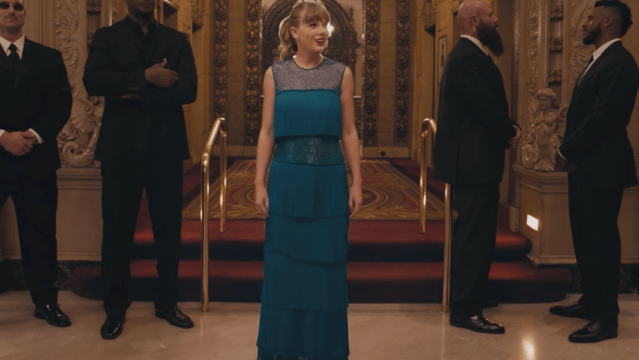 Taylor Swift is nothing if not a master of detail. The 28-year-old singer is known for leaving little hidden messages in just about everything she does, and lately, a lot of her allusions have been about the 1920s novel The Great Gatsby. From her general aesthetic to the not-so-subtle line, "feeling so Gatsby for that whole year," in the song "This Is Why We Can't Have Nice Things" on her new album, Reputation, Swift isn't shy about her love for the classic American novel. And now, she's taking it a step further. Yeah, Taylor Swift has been focusing on Great Gatsby parallels this era, and the new "Delicate" video is no exception. Like, at all.
Now, if you haven't seen the music video, you should definitely go do that as soon as possible. It's what long-time Swifties would call very "Old Taylor," despite her claim in "Look What You Made Me Do" that the old Taylor is dead.  In the new video, Swift can be seen trying to go about the mundane tasks of her everyday life, looking very glamorous in a Gatsby-esque sequined and tasseled dress, when she gets a mysterious note. After she gets the note, she realizes that she's invisible, so she dances like no one is watching.
https://www.youtube.com/watch?v=tCXGJQYZ9JA?feature=oembed
In the video, the Gatsby theme is pretty obvious, and not just in Swift's costume, but also in the fact that she is attending a fancy event filled to the brim with plenty of wealthy people in sparkling jewels and nice dresses. But in the video, Swift's main joy comes from leaving the party and going to find love (in the person who sent her the note). She dances in a train station, on the street in the rain, and finally arrives at a bar, echoing the lyrics from the beginning of the song, "Dive bar on the East Side, where you at?"
Clearly, Swift is playing up the Gatsby themes this era, and with her Reputation Stadium Tour just around the corner, it wouldn't be surprising if she inserted some of the motifs there as well. With the "Delicate" video, though, the Gatsby touches are subtle: a dress, a hairdo, a piece of decor…until they aren't. Swift leaving a party to go find someone who actually means something to her is very Gatsby. And since she's a hopeless romantic, it's also a look that suits her well.