Taylor Swift once cooked Tiffany Haddish dinner, and it sounds damn delicious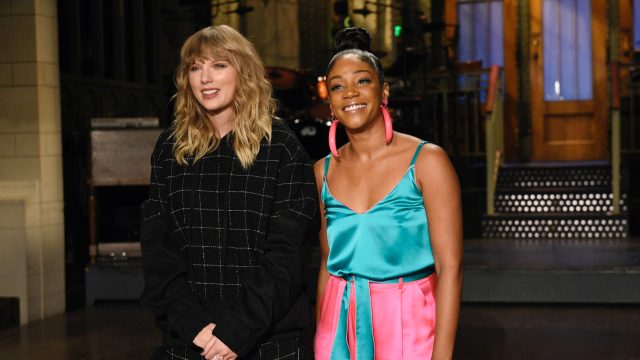 As if we weren't already obsessed enough with both Taylor Swift and Tiffany Haddish as independent entities, we're now officially obsessed with them as a unit. Because it turns out the two have not only dined together, but Swift has cooked Haddish dinner. And it sounded delicious.
Haddish appeared in the most recent installment of Vogue's "73 Questions" series, opening up about what inspired her to get into comedy, her long road to fame, and whether or not there'll be a Girls Trip 2 (to which she says they're "talking about it").
After sharing that her dream dinner party guests would be Oprah Winfrey, Michelle Obama, and Jesus, Haddish was asked about her now-legendary dinner with Swift late last year. And apparently, the menu was on point.
"[Swift] made some brisket, it was beef, chicken—which was delicious—some potato salad—delicious—and some cornbread," Haddish revealed. "It was so good, and I brought the joyful greens."
The comedian and pop star first met last October while serving as the respective host and musical guest on Saturday Night Live, reportedly hitting it off almost immediately. During an appearance on The Ellen DeGeneres Show last December, Haddish opened up about the pair's meetup. After their week at SNL together, Haddish revealed that Swift suggested she come over for dinner. "Taylor can cook. She can cook!" Haddish exclaimed at the time.
Check out Haddish's full "73 Questions" video below:
https://www.youtube.com/watch?v=z0gC968uanU?feature=oembed
In the video, the Girls Trip star also opened up about the inspiration behind the Eritrean dress she wore at the Oscars. She said, "My father said one day I would be able to go to a really amazing event like that and when I do, I need to represent his people. So he's from Eritrea, so I wore a princess dress from Eritrea."
You can catch Haddish next in the comedy Night School with Kevin Hart, premiering September 28th.