Taylor Swift handled a concert malfunction like a professional stand-up comedian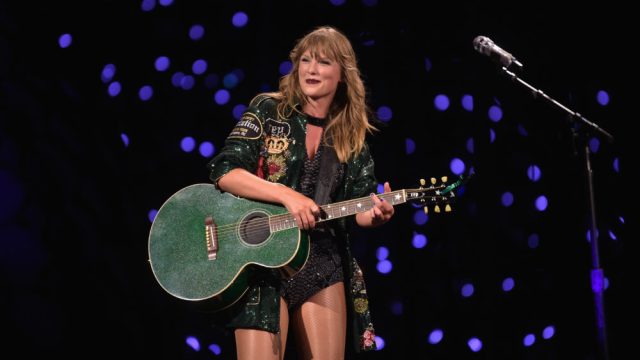 Even though live performers spend months preparing for a tour, things can quickly go awry onstage, as plenty of artists know all too well. Recently, everyone from Beyoncé to Britney Spears has experienced stage malfunctions — from costumes that won't stay put to getting stuck in mid-air — making for some majorly memorable moments for the thousands of fans in the audience.
The latest icon to get stuck in a stage snafu is none other than Taylor Swift, who's currently on her Reputation World Tour. The singer was on stage for night two of her stop in Philadelphia on July 14th when she literally got stuck mid-air during a performance of "Delicate" (in a sparkly basket, no less). And it was, well, a delicate situation.
"I'm pretty sure I'm stuck up here," Swift said as soon as she realized something was wrong. "It's a nice view, though," she added.
"I think it's really important to be honest with friends," she continued. "What you just saw was me going straight up and down in this sparkly basket. It's supposed to take me to the other side of the stadium. I'm somehow gonna figure out how to get over there. So what happens now is basically I'm just chilling waiting to figure out what happens next."
As her crew worked to get her safely back to the main stage, Swift continued updating the crowd, saying, "This is such a spoiler alert but I have another flying thing across there that works, apparently. Or wait! So there are people talking in my ear. This is so boring for you, I'm sorry." She then joked about how there's no way for her to talk to them without addressing the entire crowd, asking her team if she could walk over to the other stage: "Does it have to be flying?"
Instead of awkwardly standing there with no music to perform, Swift improvised, singing two of her biggest throwback hits, "Our Song" and "Wildest Dreams," without any background accompaniment. Pro move, Ms. Swift!
Not only are we majorly impressed with Swift's ability to improvise on the fly, but um, Tay — have you ever considered a career in standup if this whole music thing doesn't work out?