Taylor Swift's cat way prefers Martha Hunt and it's hilarious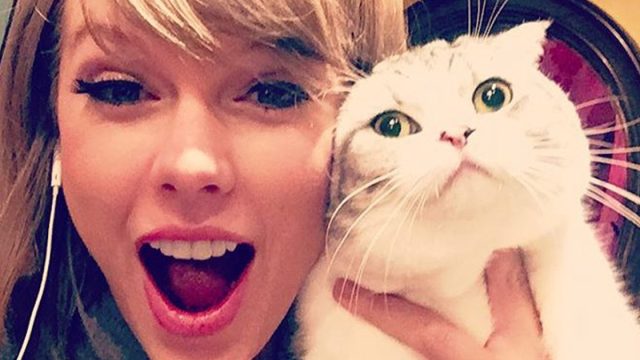 Taylor Swift's cats are the stuff of legends. Practically everyone has heard of Olivia and Meredith, Taylor's two kitties. Whether it's pap shots of Taylor literally walking around New York with Olivia Benson resting on her arm like a purse, or the adorably goofy selfies with Meredith (who, usually, is having none of it).
https://www.instagram.com/p/8bXWVHjvGG
https://www.instagram.com/p/9b9ucnjvEK
In fact, both Olivia and Meredith have really distinct personalities. Olivia is one of those cats that seems to love human interaction, and in Tay's Instagram videos she seems pretty up for play time. Whereas Meredith seems, shall we say, slightly more reserved.
Just look at this evidence…
https://www.instagram.com/p/6DD1crjvG7
https://www.instagram.com/p/tOipYvDvPb
However, now it seems that Meredith's aversion to people might actually just to Taylor…
Uploading a video to her Instagram Story yesterday, Taylor showed us how Meredith was *actually* really into sitting on her friend, Martha Hunt's, lap and it's hilarious.
"She really loves you," Taylor says, "this is a beautiful moment."
In the next clip it seems that Taylor has become jealous of Martha and Meredith's bond.
"They're taking pictures together," she seethes. "She never takes pictures with me."
Martha, however, seemed to be more impressed that Meredith drank her water out of the sink faucet.
false
We love how Meredith just seems totally oblivious to Taylor. Like, hello, you've only got one of the biggest popstars in the world as your owner. But then that's just not how Meredith roles.
https://www.instagram.com/p/whgJYSDvE5
That's not to say that her and Taylor's relationship is strained or unloving.
https://www.youtube.com/watch?v=ggwKZh6TsNU?feature=oembed
JUST LOOK AT THE AFFECTION. Aww!
It seems that, like all of us, Meredith just likes to switch things up time to time, and is pretty into doing her own thing. You keep doing you, Meredith.
https://www.instagram.com/p/3uhyM_DvEZ