Taylor Swift's vacation pics with Calvin Harris are the definition of romance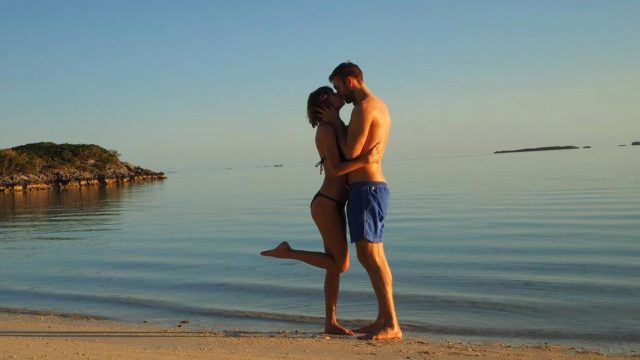 Get ready to have some serious #TravelGoals. And #RelationshipGoals. And just plain old #Goals. Because we just got our first glimpse of the pics from Taylor Swift and Calvin Harris' tropical vacay, and we haven't seen anything quite so romantic since this happened…
We're not exaggerating, guys. I mean, look at this. But also, who took the picture?
The lovebirds have been at their mystery beach (seriously, where is this? Hawaii? The Bahamas? Heaven itself?) for only a few days, but they've already done just about every beachy thing in the world.
Like bouncing on a giant ocean floatie.   
Jet skiing (or at least posing in front of jet skis).
Kayaking (or again, posing in front of kayaks).  
Soaking up some sun (while also looking ridiculously amazing).
And wading in the clearest ocean water we've ever set eyes on (come on, is that even real?!).
But our favorite snapshot from this lovey dovey trip is the one from Taylor's Insta showing the initials TS + AW  written in the sand. Swift captioned the pic, "Taylor Swift + Adam Wiles." (The latter is Harris' real name.)
A little over a week ago, T-Swift posted her 1-year anniversary gift from Calvin (a gorgeous locket), and Calvin snapchatted a delicious anniversary cake. Maybe the two decided they also needed to get outta town for a bit to keep celebrating their love.
Awww!!! We'd tell them to stop being so adorable, but we're pretty sure it's a lost cause.
BRB. Swooning forever.