Taylor Swift borrowed her Halloween costume from Ryan Reynolds, and that's just awesome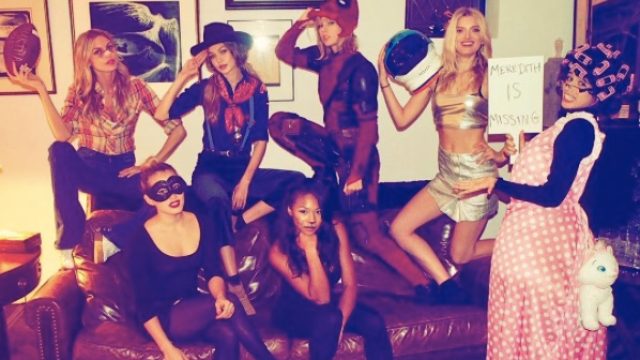 Let's face it, everyone wants to dress up as their favorite superhero on Halloween. But not many people get to wear the actual costume that their superhero donned in basically the biggest movie of the year! Except if you're a pop star with friends in high places.
Ever since Deadpool crushed it at the box office, we've been getting pretty excited about Deadpool 2 casting rumors, so Swift's costume was pretty much our dream. Also, her Halloween night sounded awesome, because she spent it with Gigi Hadid and a bunch of her best girl pals.
https://www.instagram.com/p/BMQBKFkBVcd
"Happy Halloween from Deadpool, a Cub Scout, Martha Brady, a space cadet, a granny with a lost cat, black swan, and a birthday girl dressed as a cat 🐱 Happy birthday @kennedyrayee WE LOVE YOUUUUUU"
Um, where was our invitation? Just kidding (kinda). From the looks of it Swift's Deadpool outfit was a huge success, and everyone else looked killer as well. They know how to party in style!
Of course, the happy snaps didn't stop there.
https://www.instagram.com/p/BMQBKFkBVcd
Don't forget this short and sweet shout out!
https://www.instagram.com/p/BMQDc45hMod
"Thanks @vancityreynolds for this costume, you're the BEST deadpool inside contact eve."
Hey Taylor, maybe you could slip us Ryan's info so we can get in on some costume-borrowing action for next year? Gotta plan ahead, you know.
H/T: Perez Hilton