Taylor Swift hung out with Amber Rose, Julia Roberts, Rebel Wilson, and Bill Nye, and we're loving this next iteration of her #squad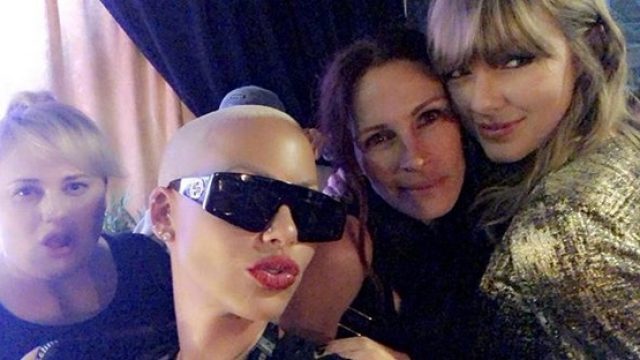 You remember Taylor Swift's #squad, right? Her girl gang consists of celebs like Selena Gomez, Karlie Kloss, Cara Delevingne, Gigi Hadid, Martha Hunt, Lily Aldridge, Ellie Goulding, and Lena Dunham. Basically, the entire cast of her "Bad Blood" music video. Through the years, Swift has expanded her circle of famous friends, adding more members like Uzo Aduba, Ruby Rose, Blake Lively, and Ryan Reynolds. And now, it appears there's another new iteration of her #squad. And it includes Amber Rose, Julia Roberts, Rebel Wilson, and Bill Nye. Yep, the Science Guy.
On May 18th and 19th, Swift brought the Reputation World Tour to the Rose Bowl in Pasadena, California. And like she usually does at her concerts, she had some special surprises up her sleeve for the crowd. On Saturday, she welcomed not one, but TWO special guests to the stage: Troye Sivan and BFF Selena Gomez.
After the show, Swift gushed about sharing the stage with Gomez. "To the person I could call at any time of day, who has been there no matter what… you absolutely KILLED IT tonight and everyone was so excited to see you. I love you, and 60,000 people at the Rose Bowl loved you too," Swift wrote in a sweet Instagram post.
Swift and Gomez sang "Can't Keep My Hands to Myself."
And Swift and Sivan sang his song "My My My!" for the crowd.
But the fun didn't stop on stage. After the show ended, Taylor hung out with even MORE stars backstage. And we have to say, we're a little bit jealous of her new friendships. Just look at this #squad in action. No, your eyes don't deceive you: that's Rebel Wilson, Amber Rose, and Julia Roberts with Swift.
https://www.instagram.com/p/Bi_UBUSFFyF
Yeah. These two DEFINITELY didn't talk about Kanye. Nope.
https://www.instagram.com/p/Bi_RZz7F6NY
Oh, and Bill Nye was there too. Who knew he was such a Swiftie?!
We'll ask again: Can we PLEASE join the squad? We'll bring snacks.
Sigh. We can dream.