Taylor Lautner just joined Instagram with a video in which he offers to give out Taylor Swift's phone number
As if we weren't going to immediately start following Taylor Lautner's Instagram account anyway, he just gave us the most perfect reason why. In a hilarious first post, he uses the new minute-long video feature to basically tell the story of him "pitching" his first post ideas.
And, because it's Taylor Lautner, he's not just randomly pitching his ideas to anyone. He's pitching them to (none other than) Adam Sandler and David Spade. In the video, Taylor is pitching all sorts of fun ways he wants to join Instagram, including showing Adam what "dabbing" is. Adam makes it clear (while in the video) that he has no interest in being in his video.
So Taylor tries again with David Spade, showing the uninterested comedian what "dabbing" is. David, like Adam, has no interest in "being in the video" (but they're obviously totally in the video). That's when he pulls out the big guns and offers David Taylor Swift's phone number. Which totally works (obviously — who wouldn't step up if it meant a chance to snag Swift's digits?), making David immediately stand up and ask the specifics of "dabbing."
This first post is proof that Lautner is definitely going to have a pretty entertaining feed, but it also gives a little hope of maybe a Taylor and Taylor revival could happen on his account (even if it's just a post as friends, because she's happily paired off with Calvin Harris).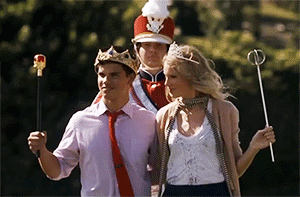 Your move, Swift.