Taye Diggs dressing up like Madonna while covering "Vogue" may be the best thing we've ever seen
It's moments like this that remind us why we love Lip Sync Battle. In a clip for this week's episode, actor Taye Diggs is covering Madonna's hit "Vogue," and he's definitely dressed for the part. Let's just get this out of the way: Taye Diggs is an incredibly attractive man. And now we know that he can also be an incredibly attractive woman.
While some celebrities who appear on the show merely lip-sync their tune of choice, others choose to truly get into it — Diggs is definitely in the latter category. While we wish this clip was longer, it's at least a reminder for us to set our DVRs to tape the full performance.
https://www.youtube.com/watch?v=JkL8NbbWWZ4?feature=oembed
We're speechless! Everything about this reminds us of Madonna's original, iconic music video for the song. While she didn't wear the cone bra during it — that was actually an outfit during her Blonde Ambition Tour — there were feathers. And of course, the choreography we know and love. Diggs definitely struck a few poses during his routine.
https://www.youtube.com/watch?v=GuJQSAiODqI?feature=oembed
Can Diggs just cover Madonna's whole catalog of music? Or, maybe they could go on tour together? It's sweet to know he's such a big fan.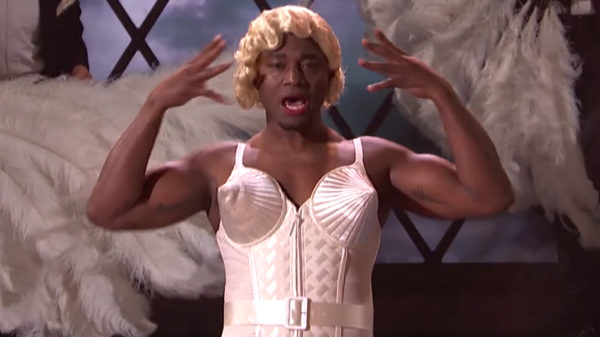 This week, Diggs will be competing against Ne-Yo. You can catch it on Spike this Thursday!