This girl got a tattoo that perfectly reminds people she's deaf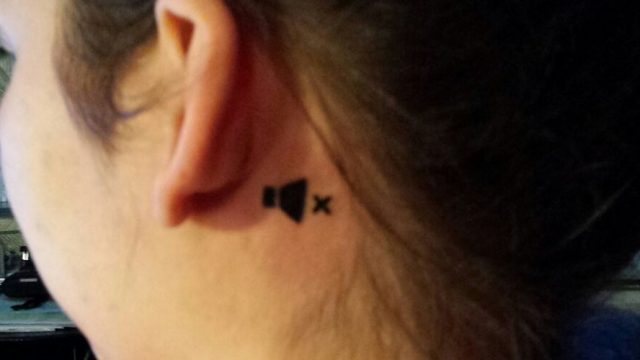 One girl found a new, totally creative way to let people know she's deaf in one ear—with a perfectly placed and pretty much universally recognizable tattoo. Imgur user raingoose's tattoo is of a tiny speaker with an "x" next to it. Raingoose wrote that she's been deaf since she was "really young."
"Be sure that I thought this through and after weeks of thorough thinking I decided that this symbol describes it best," raingoose wrote on Imgur. A few people questioned why raingoose chose a speaker, not a mic. "I thought that people won't talk to me at all if I chose the mic… Or rather, that they think i cannot speak at all. I may be a stutterer, but I can still articulate myself :-)."
We heart this. In just a day, raingoose received over 2.5 million views—and inspired fellow deaf people in the process.
"Don't worry, I know it sucks so bad," raingoose said on Imgur. "But eventually you'll get used to it and it will be a tiny little thing that is a part of you."
And raingoose definitely got people online talking. "I am also deaf in my left ear 'skateboarding head trauma', and I love this idea as it can be difficult in social places," Imgur user Chaseman8 wrote on the site. "I like the humor."
Raingoose was supportive of the idea of others getting the same tattoo and encouraged them to post pictures if they do… and some already started to, like Imgur user pawsed, though we don't know if they had their tattoos before raingoose or not.
Imgur user presswanders also posted a photo of his "deaf" tattoo.
Not only is raingoose trending on the Internet, but she also seems to be starting a new trend. And it's the best kind there is.