Fill your party cauldron with some tasty witch's brew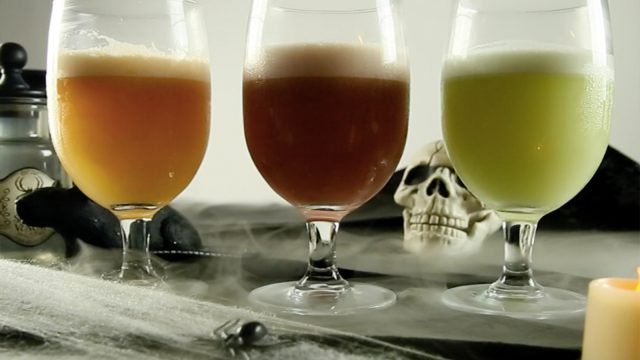 EEEHEHEEEHE!!!
Cue witches cackle!  My crystal ball tells me all Hallow's Eve is upon us and it's time to wreak havoc.
Text your coven and tell them to broomstick over because it's time to paarrtyyy, and we've got the best Witch's Brew for you!
Here are 3 wicked recipes to get your potion on. They're so delicious they'll cast spells on anyone who drinks them.
Watch the video to see how we magically change sherbet into Frog's Breath, Bat's Wings, and Newt's Tail.
With so much toil and trouble, you'll have a horrifying good time making these!
[tempo-video id="5155689616001″ account="4607804089001″]
Witches Brew
Ingredients:
1/2 cup of Sherbet (flavor of choice)
1 oz. of Juice (flavor of choice)
3/4 cup of Ginger Beer
Directions:
Mix all three ingredients together in cup.
Allow sherbet to melt, stirring occasionally until foam has formed and sherbet has completely integrated.
Serve immediately.
Combos we used:
Pineapple juice with orange sherbet
Lemonade with lime sherbet
Apple juice with raspberry sherbet