Is this a taster of new music from the reformed Spice Girls?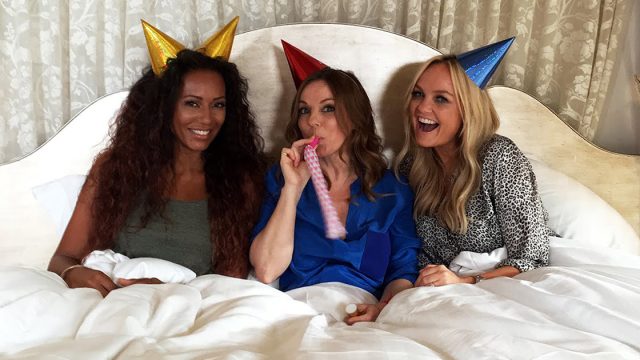 Given that it's 20 years since the Spice Girls were unleashed on the world, it seemed only appropriate that the band would reform in some capacity to celebrate the momentous occasion.
It was, of course, announced that Geri Horner née Halliwell, Emma Bunton, and Mel B (that's Ginger, Baby, and Scary) would be reuniting as a three-piece called GEM.
While no concrete plans are confirmed, and given that Geri is now pregnant with her second child (CONGRATULATIONS GERI!), it was revealed that the GEM had been in the studio working on new music. In fact, in July there was news that one particular song had leaked on to the internet. However, no music actually emerged.
Well, now a snippet of that song, "Song for Her" has appeared on Instagram and O-M-G it's new music by (some of) the Spice Girls.
Speaking in July, Emma Bunton, who hosts a radio show in the UK, confirmed the song's existence.
"You know, us girls love creating stuff. We went and had a laugh in the studio. It's not a single, it's just we were creating," she said. "The thing is, this is not a single, it's just that we're creating, having fun in the studio. It's just a demo and somehow it has got out there."
The track appears to be a female empowerment anthem, with pounding drums and totally has some of the Spice Girls magic.
Despite the fact that GEM want to do *something* to celebrate the band's 20th anniversary, not every member of the Spice Girls is on board.
Victoria Beckham has repeatedly said that she has no plans to rejoin the band, and wants to instead focus on her fashion empire and her family. Likewise, Mel C has also said opened up about her decision to not return for the reunion.
"Don't get me wrong – I totally get it. But is it a new rule that bands have to reform? Why can't we just be remembered for our incredible achievements in the nineties, she wrote candidly in an essay for Love magazine. "When we embarked on the reunion tour [in 2007] it was amazing, scary and surreal all at the same time. The five of us back together again. Like we'd stepped back in time for a global celebration of the band.
Continuing, she said that she found it hard to turn down not only the girls but also the fans.
"Unfortunately something didn't feel quite right and I had to follow my gut, she wrote.
Given that the Spice Girls *did* reform back in 2012 for the London Olympic Games Closing Ceremony, we do have some recent memories of all five girls back together.
However, we totally get Geri, Emma, and Mel B wanting to celebrate the 20th anniversary of the band, and, we'll be honest, any new music from any members of the Spice Girls is exciting to us! As this old video shows, we need Girl Power more than ever.