This tarot guide to spring beauty will add magick to your makeup routine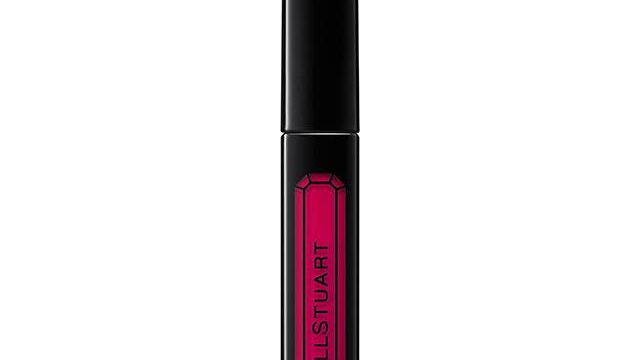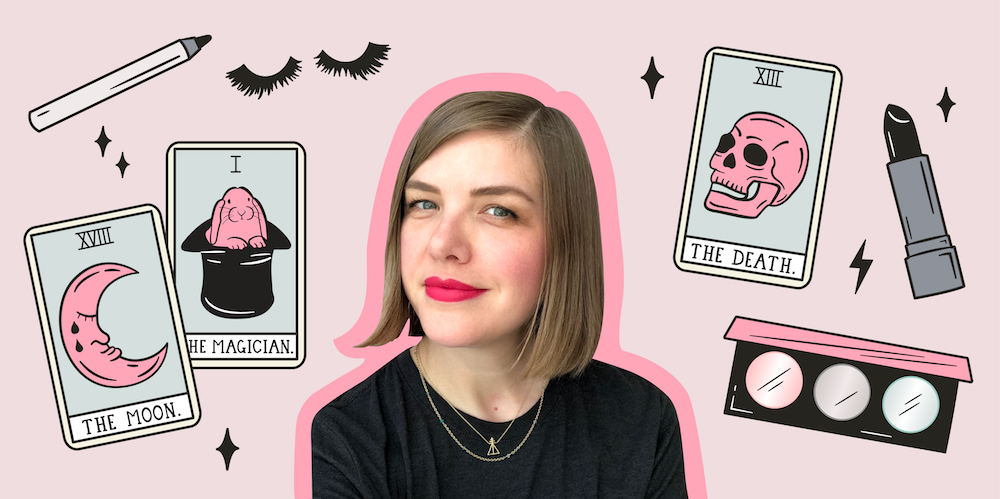 Whether or not you're a believer of tarot, it can be fun to ask the cards for guidance. Tarot reader Melinda Lee Holm is helping us plan this season's makeup looks with her spring guide to beauty. Add a little magick to your routine with help from these Tarot archetypes, and shop the products to match.
The Magician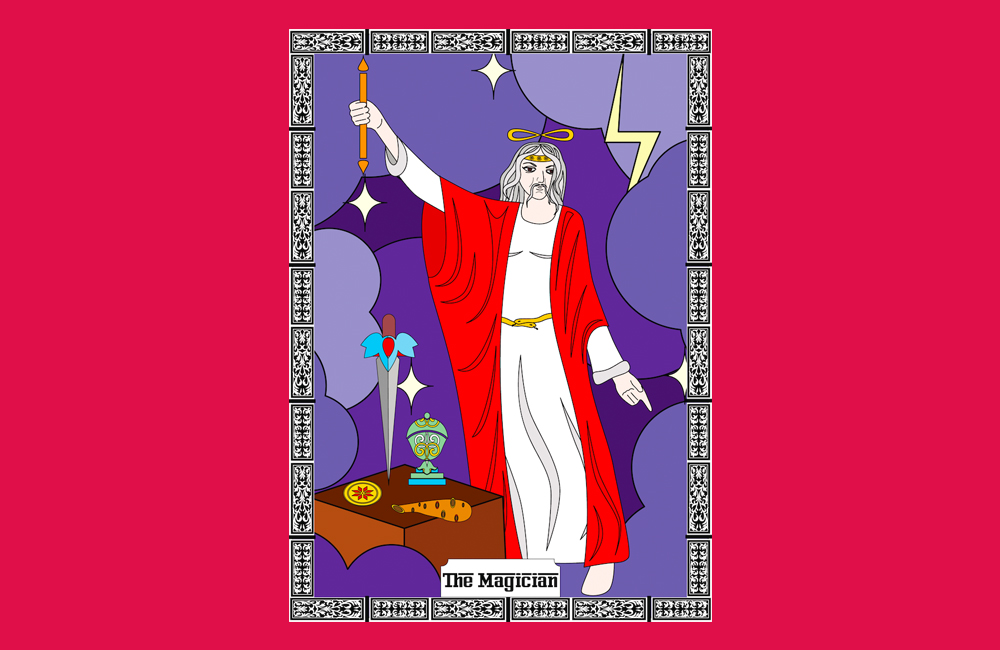 Master of the elements and of the Self, The Magician inspires bold steps forward in conjuring the life we want to live in the surroundings we want to be in. Existing as the center point between the Earthly and the Cosmic realms, she reaches deep into both to fuel her power to manifest greatness, always with an awareness that the tiniest act can have enormous consequences across space and time—for better or for worse. Call on The Magician for a major boost in altering reality. Responsibly, of course.
To cast a beauty spell fit for a magus, go for products that challenge visual perception. Think iridescent eyeshadow, color-changing nail polish, and holographic glitter everything. To complete the look, try a gravity-defying 'do, sparkly caftan, and labradorite jewelry. And if you're really feeling the part, grab your magic wand before you head out the door.
To try:
The Empress
The embodiment of the Goddess of Love and Mother Earth rolled into one, The Empress veritably radiates the support and nourishment needed to grow the lushest of gardens, literal and metaphorical. But do not mistake this kindness for weakness: The Empress invented soft power and she's not afraid to use it. Call on The Empress when you want to see your garden grow, and when you're ready to woman up and open that big, beautiful heart to make it happen. Or when you just want to revel in your innate ability to draw beauty into your sphere.
To sow the seeds of The Empress within, cultivate a love-love relationship with pink and green tones, the colors of the heart center. From pastels to vivid jewel tones, these hues will have you radiating verdant vibes. Let your hair go wild in loose, natural styles. Add some flowers or jewel clips for a touch of fantasy and don't be afraid to mix floral prints.
To try:
The High Priestess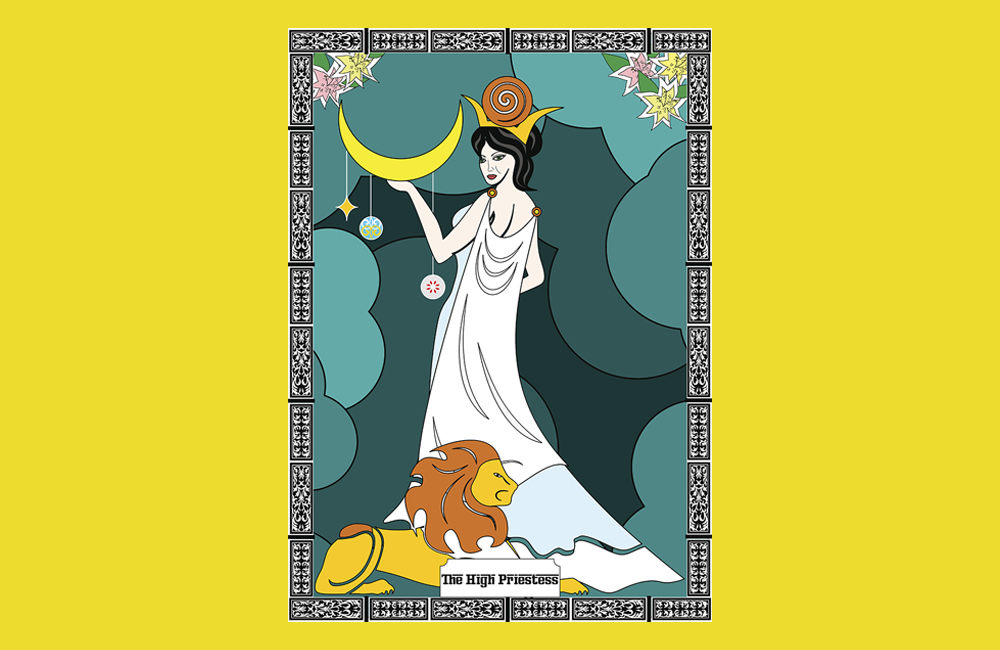 Excellent boundaries, a robust devotional practice, and the ability to not only survive but THRIVE in multiple dimensions. The High Priestess is an absolute dream of high-minded independence and self-defined success. Her enviable focus and dedication to her personal development remain always in the service of the good of all beings, making her a shining example of not only excellent spiritual hygiene but all-around good citizenship. Call on the High Priestess when you are ready to step forward into dedicated service for your chosen cause.
To anoint and adorn your body as the temple of the High Priestess, reach for indigos and light blues on the eyes and in fabrics to reflect her excellence in intuition and communication. A strong dark line on the lids symbolizes the healthy boundaries she holds dear. Add a pop of pomegranate on the lips as a nod to her incarnation as Persephone.
To try:
Strength
Yes, you can have it all, but you don't have to do it alone. Strength, in the Tarot, reminds us that the surest route to getting our way is not by brute force, but by co-creation. She invites us to explore the infinite possibilities that open up when we try a little tenderness and reminds us that vulnerability is never a marker of weakness, but rather a sign of great courage and fortitude. Call on Strength when you need to find and grow your innate connection with the great cosmic power of the Universe and the natural world.
To ignite the fire of Strength within, light up your life with vibrant reds and oranges, especially on lips and cheeks and in ruby and gold jewelry. If you're feeling extra bold, try a red glitter lid as seen on models in Rodarte's FW19 show. Show off your sisterhood with the wild by draping your bod in animal prints—the more the merrier.
To try:
Death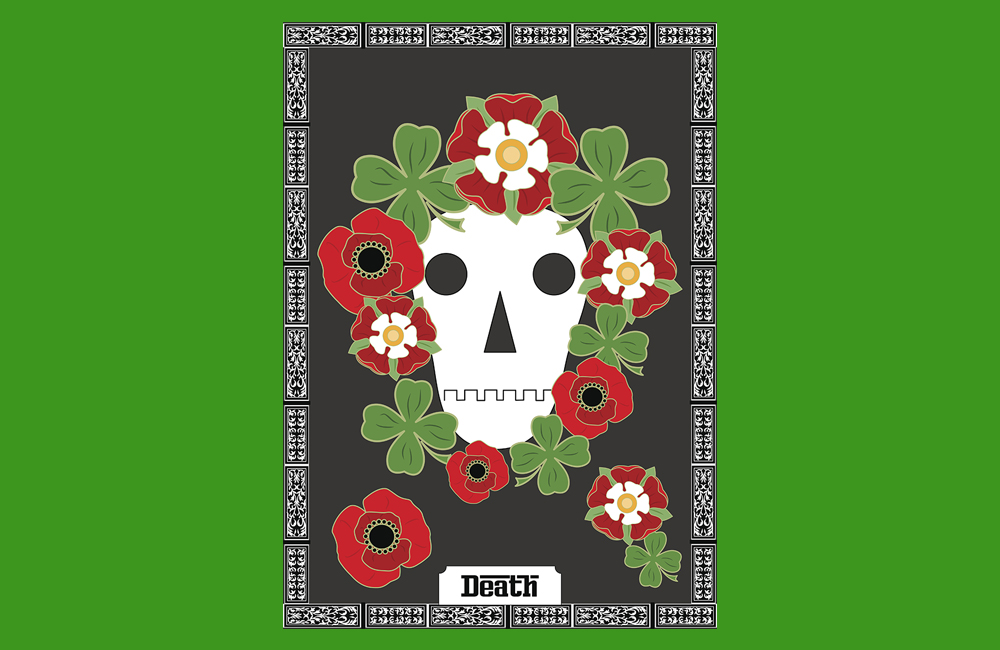 Feared, avoided, and misunderstood, Death can be seen as a black sheep of the Tarot family. Some decks even rename the card to work around the negative connotations the traditional title brings. I don't subscribe to that. The Death card is a welcome reminder that no matter how wonderful or terrible things are, they will reach their end. We do not need to carry every item, experience, and relationship with us through this life forever. Call on Death when it is time to open, exhale, and allow them to pass on.
To embrace the sweet kiss of Death, go goth, baby! I'm talking all black everything. Kohl-ringed eyes, stark black lips, defined brows, and layers of black fabric—bonus points for lace. Piles of silver jewelry make the look sing. Statement rings, skull motifs, layered long chains, and chokers are great options. To tone it down, swap the black lip for a wine-colored stain or gloss.
To try:
The Moon
The shining light in the darkest night, The Moon helps us face fears and go deeply into places within ourselves we have never before dared. Her radiant beams invite us to finally embark on the hero's journey we have been preparing for our entire lives, to dive deep into dark waters with confidence, knowing we will return to the surface renewed. She knows what we are capable of becoming and urges us to confront what is holding us back. Call on The Moon to guide you safely and surely through uncharted waters and to provide encouragement to face challenges head-on.
To reflect the mystical radiance of The Moon, amp up your look with a high-wattage highlighter, mega lashes, and shimmery shades of purple and silver. Maximize the luminous effect with pearl and moonstone jewelry, reflective fabrics, and glitter hair spray. Take the plunge into some more daring makeup techniques.
To try: