You can get Beauty Boxes at Target for the same cost as a drugstore lipstick
Is there anything we can't get at our friendly neighborhood Target? From the affordable and adorable Target swimsuit line to the ever-growing Target beauty product assortment, their wide-ranging variety of products has us all clamoring through its doors. The latest addition to Target's beauty section just so happens to be a line of affordable beauty boxes that will have makeup, hair, and skin care fans swooning.
With six brand new beauty boxes to choose from, you'll be able to stock up on all your beauty needs without breaking the bank. Seeing as we're getting ready to travel and deal with the changes in weather, it's the perfect time to make a few additions to our beauty repertoire. You're in store for some real goodies thanks to Target.
The boxes are called: Wakeup and Makeup; Treat Yourself; Be YOU(tiful); ALL THE MASKS; Define and Shine; and Best of the UK. We're especially intrigued by the last one as we're always dying to know what's popular across the pond. London girls always have the coolest makeup looks, don't you think?
You can now get the Target Beauty Boxes online and in-stores for $7 each.
That's quite the deal if you ask us. Take a peek, here.
Let's take a closer look at each of the products in the beauty boxes: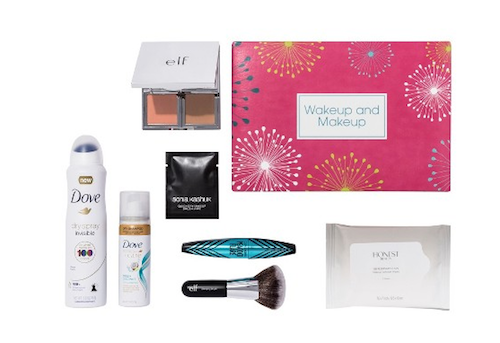 Get everything you need to get started in the mornings, including: Sonia Kashuk Brush Cleaning Wipes; Covergirl Peacock Flare Mascara; Honesty Beauty Makeup Remover Wipes; e.l.f. Beautifully Bare Blending Brush; e.l.f. Beautifully Bare Face Palette with a bronzer, highlighter, and two brushes; Dove Dry Spray Invisible Sheer Fresh; and Dove Dry Shampoo.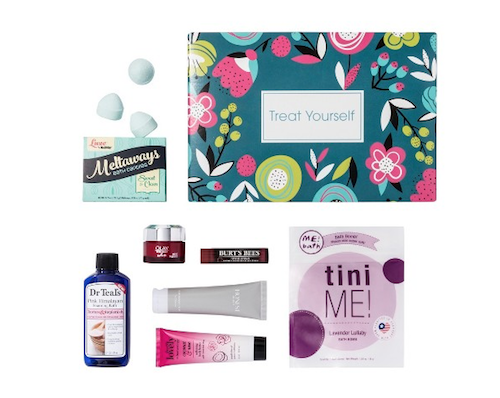 Get in the spa zone with this box that includes: Burt's Bees Tinted Lip Balm in Red Dahlia; Me! Bath Bomb; Dr. Teals Pink Himalayan Foaming Bath; Bodycology Free & Lovely Coconut Rose Body Butter; Honest Beauty Refreshingly Clean Gel Cleanser; Olay Regenerist Whips; and Luxe by Mr. Bubble Bath Meltaway.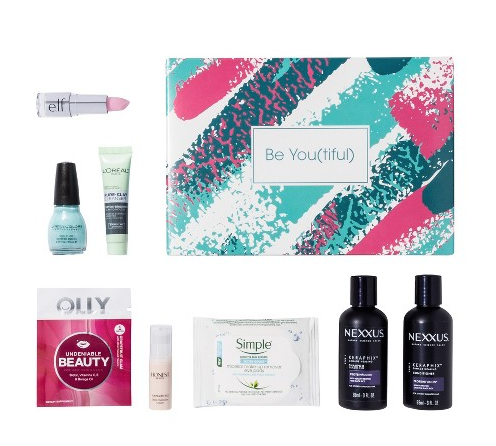 Indulge in some me time with: Sinful Nail Color Galac Sea or Wondermint; Honest Beauty The Younger Face Deep Hydration Cream; OLLY Undeniable Beauty Gummy; e.l.f. Gotta Glow Lip Tint in Perfect Pink; Simple Water Boost Micellar Makeup Remover Pads; Nexxus Keraphix Shampoo; Nexxus Keraphix Conditioner; and L'Oreal Pure Clay Cleanser.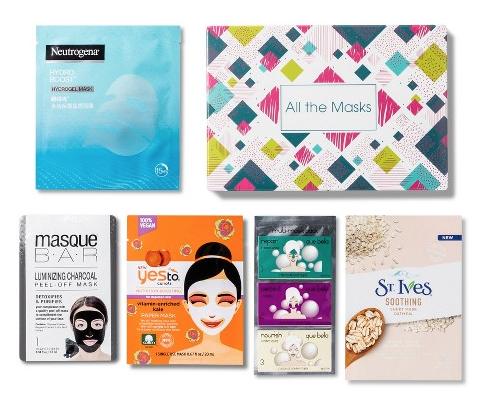 You'll love these five masks that include: Neutrogena Hydro Boost Hydrating Gel Mask; Yes to Carrots and Kale Single Use Paper Mask; Masque Bar and Luminizing Charcoal Peel Off Mask; St. Ives Soothing Oatmeal Sheet Mask; and Que Bella Multi-Mask Trio.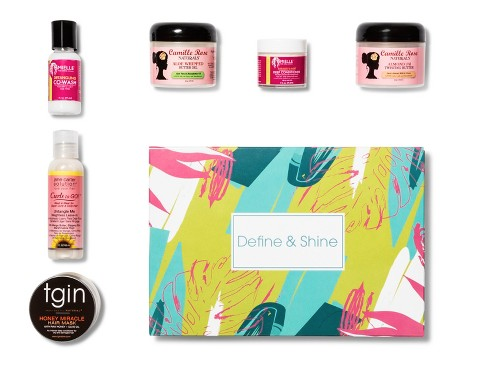 Got natural curls? Target is here to help with: Jane Carter Curls To Go Un-Tangle Me; Camille Rose Naturals Aloe Whipped Butter Gel; Camille Rose Naturals Almond Jai Twisting Butter; TGIN Honey Hair Mask; Mielle Organic Detangling Co-Wash; Mielle Organix Babassu Oil Mint Deep Conditioner.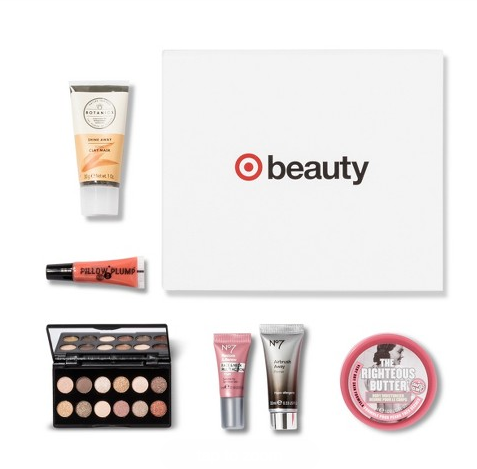 Want to know what our friends in the UK are obsessed with right now? This box includes? No. 7 Restore and Renew Serum; No. 7 Airbrush Away Primer; Soap & Glory Righteous Butter Body Butter; Soap & Glory Pillow Plump Lip Gloss; Botanics Shine Away Ionic Clay Mask; Sleek MakeUP Eyeshadow Palette.
Which will you choose? They're all absolutely delightful, and feature an insane amount of products. Head on over to Target and scoop one up for yourself.