Target is launching a new home décor brand, so bye-bye paycheck
As if we didn't already make Targets runs for just one thing and end up dropping a hundo on makeup and affordable mix-and-match bikinis, Target is launching a new home décor brand to further tempt us. You're not crazy — Target has been carrying home goods for a while now. Nate Berkus, for example, has made a home for himself at the big-box retailer with contemporary, on-trend items for years. But like the good consumers that they are, Target shoppers need more choices!
So the retailer is going to go hard on launching more designer partnerships, but also plans on investing in 12 more Target-only brands.
One of those brands will be Project 62, the new Target home brand.
Mark Tritton, Target's executive vice president and head merchandising officer, said in a statement that Project 62 will be a "modern home brand thoughtfully designed for everyday life." He added that the retailer felt that the success of all of their home goods brands meant that it'd have to keep things as fresh as possible. "So our guests continue to love what they're discovering at Target and want to keep coming back, again and again, " he added.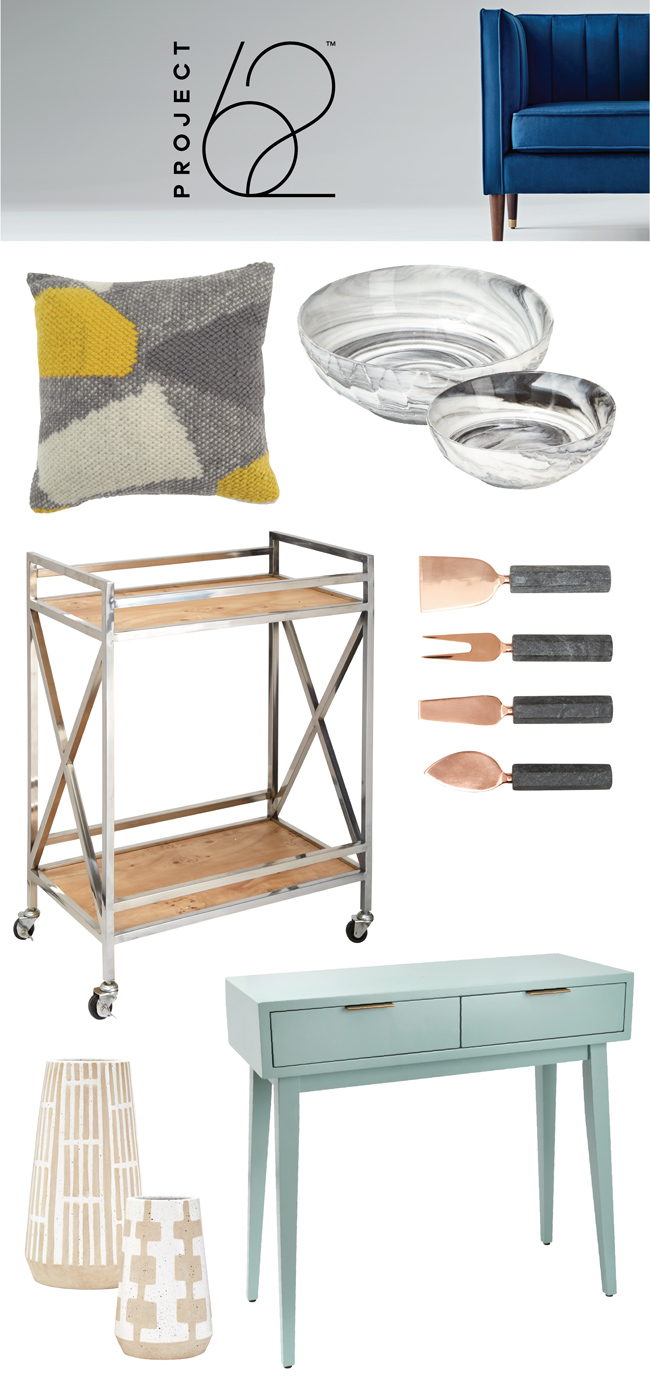 From silverware to throw pillows, there's going to be a lot more to choose from at Target come September 2017 for your home.
Target is also launching more clothing brands.
In addition to Project 62, which will make decorating your apartment way easier, the retailer also plans to launch more clothing brands. People already love, and are loyal to, Target brands such as Cat+Jack and Pillowfort. As it stands, though, kids and women really get the best offerings when it comes to clothing at Target. But after doing some market research, Tritton says that men really just come to the store for underwear!
Totally boring. So to entice men into shopping more, one of the 12 brands will be a menswear line called Goodfellow & Co. Tritton describes it as a "modern-meets-classic line of men's clothing, accessories and shoes…grounded in exceptional fabric and fit that guys are sure to love."
That  brand, along with a new activewear line and a women's "mix and match" line called New Day, will also be available this fall. Unfortunately, these new brand launches means that some Target mainstays, like Merona and Mossimo, will no longer be available. (Does this mean huge end of summer clearance sales? We definitely hope not.)
If you're smart, you'll start putting away some dough in a "Target shopping" savings account right this very minute, so that when the weather starts to turn again in September, you can indulge in a little retail therapy and some trendy new dinnerware for an autumn dinner party.
Oh, Tar-jhay, you just GET us.