16 beauty products to stock up on during Target's 25% off sale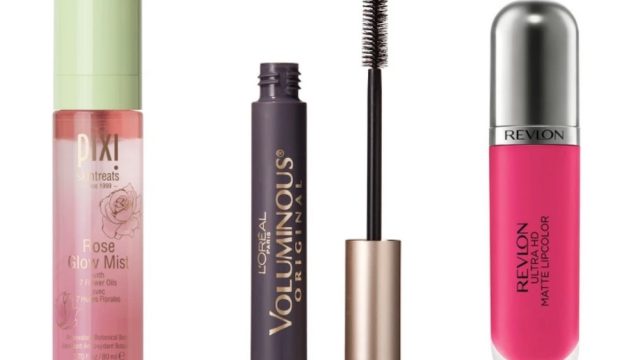 Target has countless goodies from home decor to swimwear to beauty, and we love that they offer affordable prices that are accessible to all. Even Cardi B recently wore a dress from Target – it's a universally loved store and a gift that keeps on giving. The retailer is continuing to do just that with its one-day-only sale, which is today, July 17th.
Target is offering 25% off all its beauty products online, including skin care, makeup, and personal care items. Given that so many of the products available at Target are already budget-friendly, taking an additional 25% off the price tag is super exciting. Now is the time to stock up on goodies you've run out of or test out new products that you've been curious about.
Here are 16 beauty products to add to your cart during Target's 25% off sale.
1S.W. Basics Toner
Featuring pH balancing ingredients like raw apple cider vinegar and witch hazel, this toner has a natural antiseptic property and neutralizes the skin's acid mantle to give you glowing skin.
2Pixi by Petra Rose Glow Mist
This facial mist is infused with seven different types of rose flower extracts and antioxidants to soothe and restore skin.
3Nivea Smooth Sensation Body Lotion
Get that summer skin on point with this smoothing, gentle, and soothing lotion.
4Essie Nail Polish
Pick from a wide assortment of classic Essie shades, you can't go wrong!
5L'Oreal Paris Voluminous Original Mascara
Take this cult-fave mascara out for a whirl and get the longest, fluffiest lashes of your life.
6Maybelline Super Stay Matte Ink Lip Color
Pick from one of 16 super saturated lip colors for vibrant, bold lips with staying power.
7Neutrogena Oil-Free Gentle Eye Makeup Remover
This classic eye makeup remover is safe for contact lens wearers and people with sensitive eyes. It removes even the toughest waterproof eye makeup without having to tug or pull at your eyes.
8L'Oréal Paris Color Riche Lip Color
Get the yummiest, butteriest lips of your life with this nourishing lipstick line.
9Up&Up Strengthening Nail Polish Remover with Pump
Removing your polish doesn't have to be a chore, and this protein-enriched remover makes it an absolute breeze.
10Maybelline Fit Me! Concealer
Banish blemishes and under-eye circles with this oil-free formula.
12CoverGirl Professional Loose Powder
Set your makeup with this lightweight powder that offers buildable coverage and reduces shine.
13e.l.f. Expert Eyeliner
This smudge-proof liquid liner has a fine tip brush for easy and precise eye looks.
14Revlon Ultra HG Matte Lipcolor
Get that velvety matte finish you love with these beautiful, moisturizing lipsticks.
15Dr. Bronner's Organic Lip Balm Peppermint
Prep those lips and combat dryness naturally with this organic beeswax lip balm.
16S.W. Basics Rose Geranium Salve
Protect your skin with this rich, vegan blend of hydrating oils. We love that it comes in a handy, recyclable tin.