Tan France and Alexa Chung are making it work in the trailer for Netflix's Project Runway competitor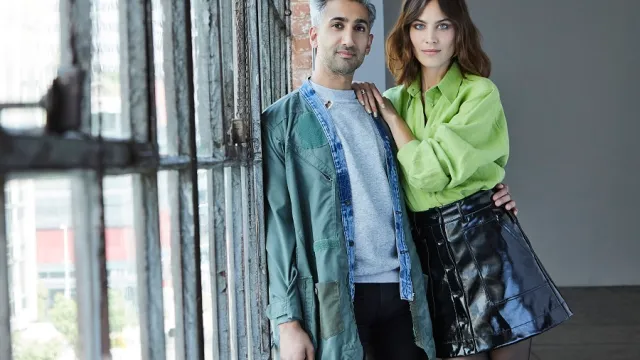 Looks like Project Runway has some competition of its own. Yesterday, January 15th, Netflix released the trailer for Next in Fashion, a fashion competition show hosted by Queer Eye's Tan France and model/fashion designer Alexa Chung. Unlike with the Bravo show, there's a good chance you'll be able to rock designs by the winning contestant because the grand prize includes a chance to retail their collection at Net-a-Porter. Start saving now, everyone.
What also sets the show apart from Project Runway is that the 18 contestants have already designed for major fashion brands like Stella McCartney, Alexander Wang, and Rocawear, though they haven't yet hit that next level.
"But who amongst you is a household name?" France asks the contestants in the latest trailer, followed by silence. "That's exactly why we're here today," Chung responds.
Next in Fashion will feature guest judges like Instagram's Eva Chen, celebrity stylist Elizabeth Stewart, designers Tommy Hilfiger, Kerby Jean-Raymond, and Prabal Gurung, model Adriana Lima, and Net-a-Porter's Elizabeth von der Goltz. The rotating panel of judges will decide which designer's work should advance one step closer to the grand prize of $250,000 and that coveted collection, and whose work won't make the cut.
https://www.youtube.com/watch?v=a2W0ivtnXjY
The Netflix competition series is one of many new shows channeling Project Runway. The original show is now rebooted with Christian Siriano in the Tim Gunn mentor role and Karlie Kloss stepping into Heidi Klum's shoes. Gunn and Klum are collaborating on their own new fashion design reality show, Making the Cut, premiering March 27th on Amazon Prime Video.
Despite the high-stakes competition, the charming British duo behind Next in Fashion promise clever quips and French tucks, and the show will help showcase designers we probably already should have known. Don't mind us, we're just counting down the days until it premieres on Netflix on January 29th.