6 tips for talking about STIs with your SO, because it's not as scary as you might think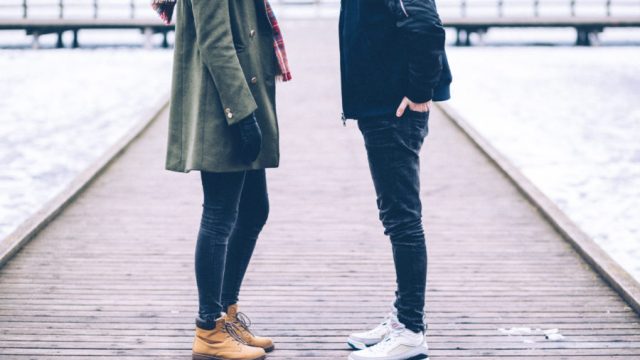 Although it isn't easy, it's important to talk about sexually transmitted infections (STIs) with your partner. Protecting, testing, and educating are all pertinent ways to keep your body and your SO's body healthy. Still, many individuals find themselves dodging the topic, especially because there's so much stigma that surrounds STIs, and as a result they abandon the responsibilities they have over their body. April is STD Awareness Month, which is the perfect time to discuss your past, your present, and your future sexual endeavors with your SO.
The rate of diagnosed STIs is at an all time high for millennials. Startling results found through Elite Daily discovered that only 68 percent of women and 59 percent of men had been tested for STIs in the last two years. The number of people diagnosed with syphilis has increased by 19 percent, gonorrhea by 13 percent, and chlamydia by 6 percent, which means STI testing is very important.
Talking to your SO about STIs should be on the top of your to-do list. Here are six tips to discussing your body, your safety, and your future sexual health as a couple.
1 Read up on STIs
First, make sure you know what you're talking about. Read up on STIs, get the facts laid out in your head, and you'll see it's easier to talk to your partner about the subject. It doesn't have to be a daunting and stressful experience. Learning together can be a great advantage. Look at the Centers for Disease Control and Prevention or other reliable websites that can guide you towards a more educational direction.
2 Find a one-on-one setting
This talk should definitely be in a calming, peaceful, and quiet setting. Don't spring up the conversation in the middle of dinner or when you're out running errands. It should be in a private environment where you and your SO are comfortable and alert.
3Discuss sexual history
Honesty should be the first step in discussing sexual health. Talk about getting tested, past partners, and past experiences with STIs. Opening up this dialogue and discovering your partners' past encounters can cultivate trust and compassion when moving forward. Sharing your own history can help ease any questions or concerns for your partner as well.
4Then talk about prevention
The number one way to prevent both of you from contracting an STI is to utilize protection in the bedroom. Getting vaccinated for viruses like HPV and using condoms are the best ways to remain safe. According to Isadora Alman, MFT from California, "If there is no condom, then there's no sex (oral, anal, vaginal) as long as you still have concerns about your partner's status."
The sooner you take the preventative measures, the sooner you can enjoy yourselves between the sheets (or wherever else you like to get down and dirty).
5 Don't interrogate or patronize your SO
It's a touchy subject, no doubt. Remember to try and be open to whatever answer your partner is going to give you. Also, keep in mind that they may be defensive at first, but they'll probably grow more comfortable with depending on how you handle the conversation. Take the lead, but don't interrogate and demand answers.
6 Get tested together
Getting tested doesn't have to be a solo experience. More than half of all people will get an STI in their lifetime. Invite your SO and begin to make it a habit. If you depend on one another to go to the clinic, you're bound to feel encouragement and support. The pressure is removed when you both go in together.
Discussing STIs with your sexual partner is crucial. Although most infections are curable, they can cause health problems later on in life if they go undiagnosed, and even contribute to certain cancers. It's important to nurture your partner and yourself in all aspects of health. So let's close out the month of April by having the STI talk with your SO. Whether you're serious or just beginning to date, you can handle bringing up the topic.