Sophie de Rakoff, "Legally Blonde's" costume designer, chats with us for the film's 15th anniversary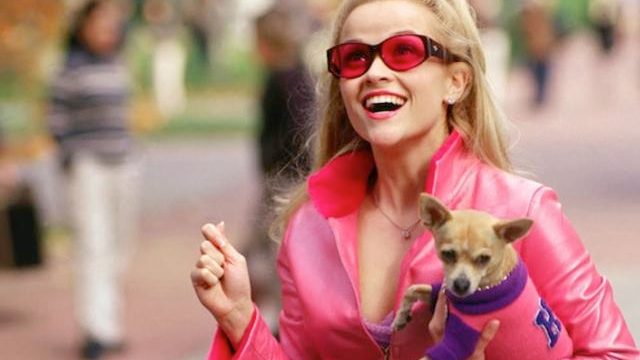 Wheel out a giant pink birthday cake because on this day in 2001, Legally Blonde came out in theaters. We were introduced to Elle Woods, the sorority queen played by Reese Witherspoon, who decides to enroll in law school after being dumped by her aspiring politician boyfriend for being more of a "Marilyn" than a "Jackie." At first, Elle has trouble adjusting to law school life, but she eventually finds her way and proceeds to kick legal ass in her pink power suit.
Costume designer Sophie de Rakoff was behind Elle's looks, from her colorful sequined bras to her more serious law student garb. In honor of the film's 15th anniversary, we spoke to De Rakoff about the process that went into curating Elle's iconic wardrobe.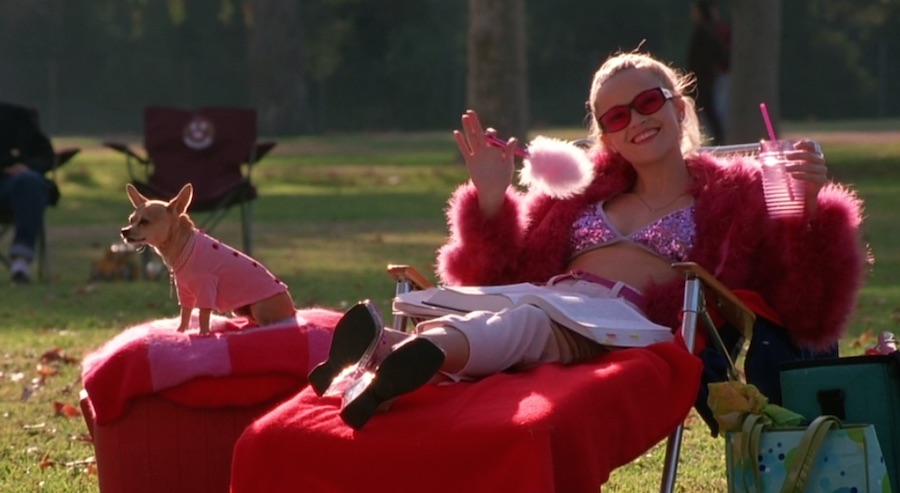 HelloGiggles: Elle's journey from sorority queen to Harvard Law student was also reflected through her clothing choices. Can you talk about that?
Sophie de Rakoff: Elle begins the movie as privileged Los Angeles sorority graduate, and ends the movie as a Harvard Law School graduate. As she matures and moves through the different worlds of the movie, she becomes a little more professional and a little more east coast, However, she always retains her signature color and her specific sense of style and chic.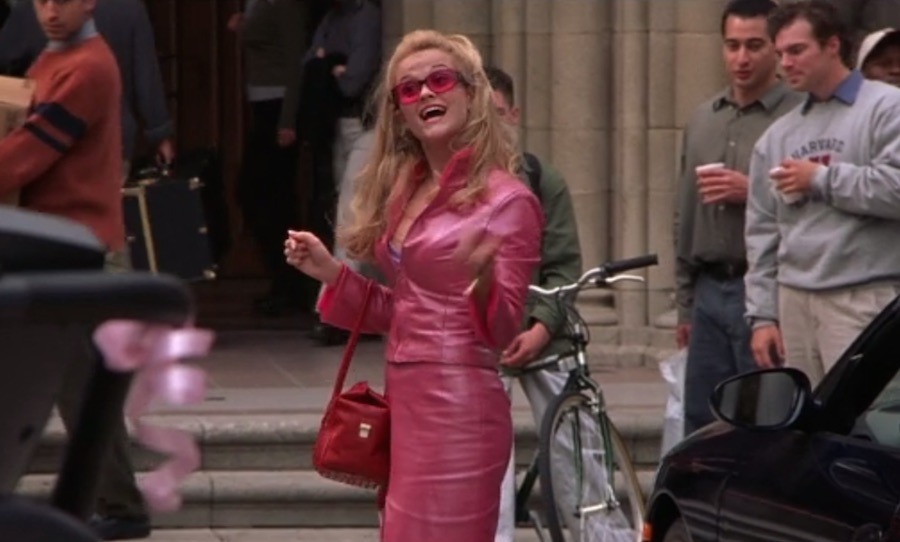 HG: Elle wears so many different outfits in the film. What was the process behind building her wardrobe?
SDR: The catch phrase was: "What would Elle do?" How would a fashion-obsessed, fish out of water assimilate into Harvard and a law firm without compromising her personal style? So, I took each situation and interpreted what would be appropriate in a unique way. Driving to Harvard? A leather driving suit. First day at the law office? A riff on a 1940's romantic comedy, pencil skirt and ruffle blues, but in the greys, this time. Things like that.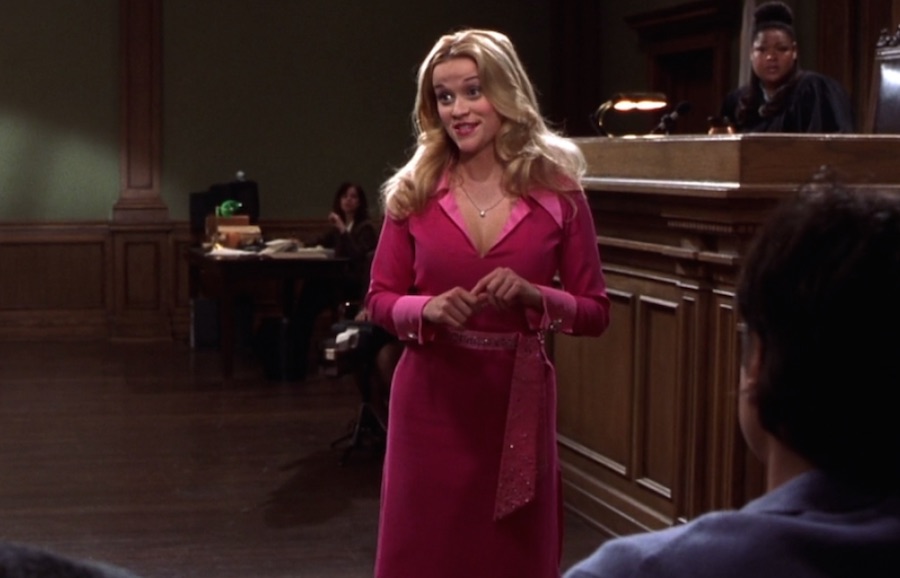 HG: Were many of the outfits handmade? Thrifted?
SDR: The main builds were the pink cloud sorority dress, the driving suit, the bunny suit, and the trial dress. All through the movie I mixed vintage with designer and customized and re-cut random pieces to get what I wanted.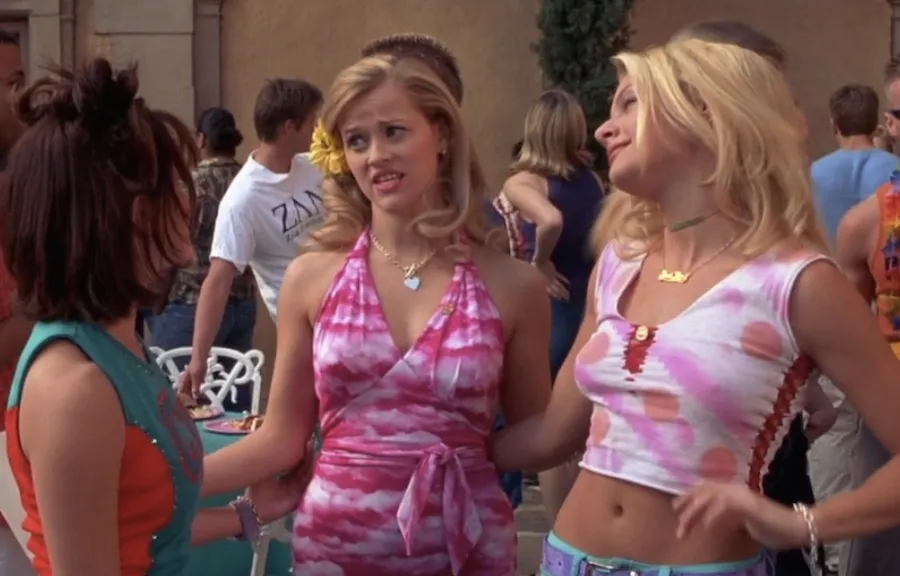 HG: What was your personal favorite of Elle's looks?
SDR: I love the driving suit and the Missoni cardigan, pencil skirt/plaid tie from the one of the Harvard scenes. Also, the purple shearling coat (Ungaro) and crochet hat (thrift).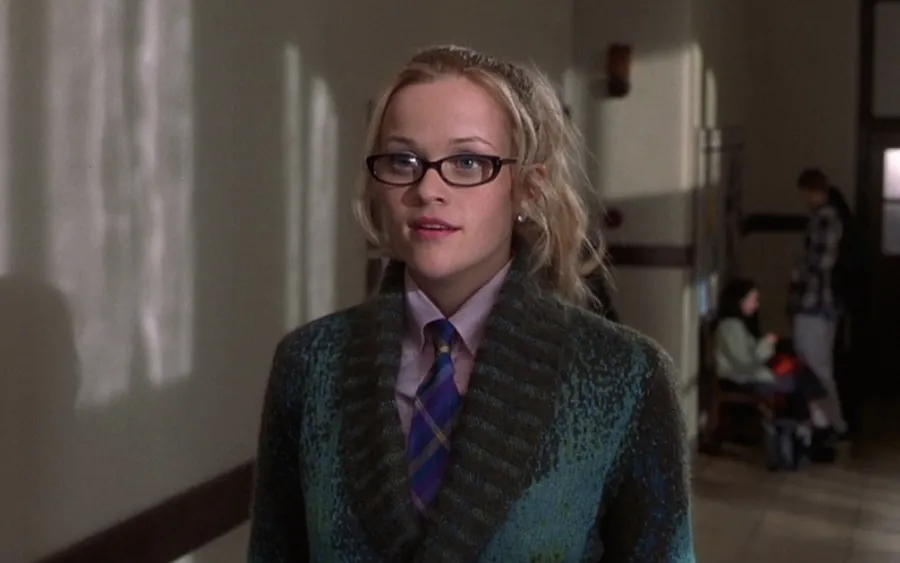 Was the Playboy Bunny outfit in the costume party scene planned from the beginning or were there any other costume ideas being thrown around?
SDR: It was always going to be a bunny suit. I can't remember if it was in the script or not.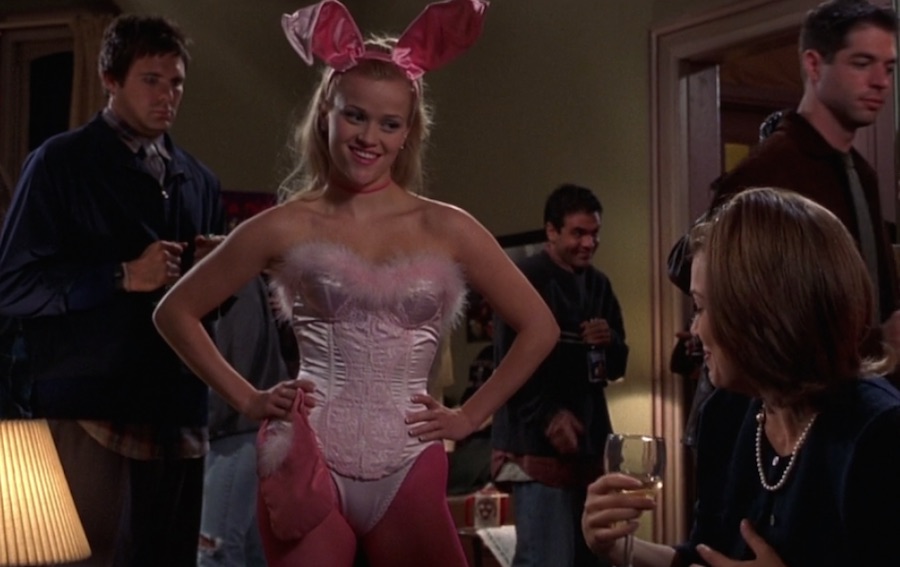 HG: You've dressed Reese for many of her other movies aside from Legally Blonde. Do you ever incorporate her own personal style into her characters?
SDR: Yes and no. I know what shapes work on her, and what to avoid, but none of the characters have ever really been that close in nature to the Reese that I know as I my friend, so we've always built the character from the pages of the script.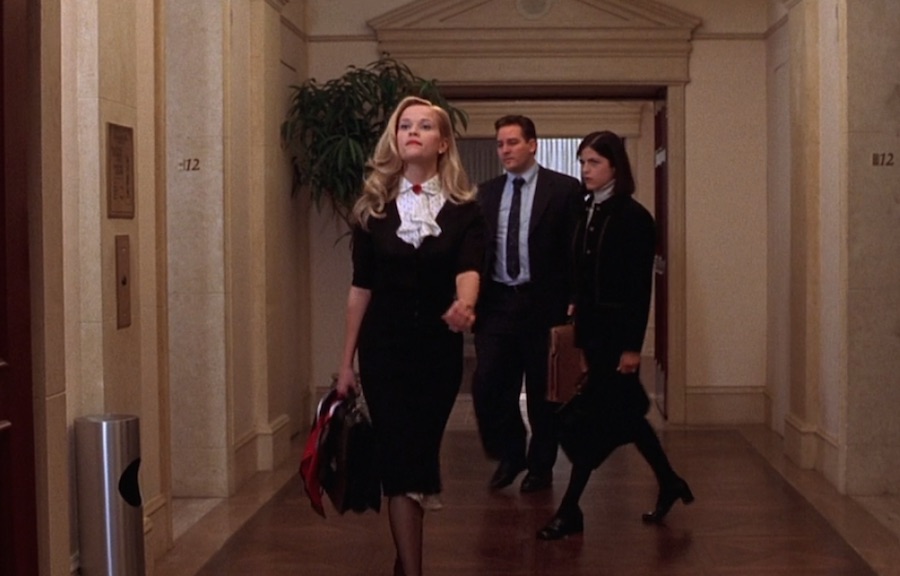 HG: What are you working on now?
SDR: I just designed the Lonely Island movie, Popstar. Probably the most creatively satisfying movie I've done since the Legally Blonde movies. I love comedies.