Taco Bell just released Sauce Packet Tortilla Chips, and we got to try them in the HG office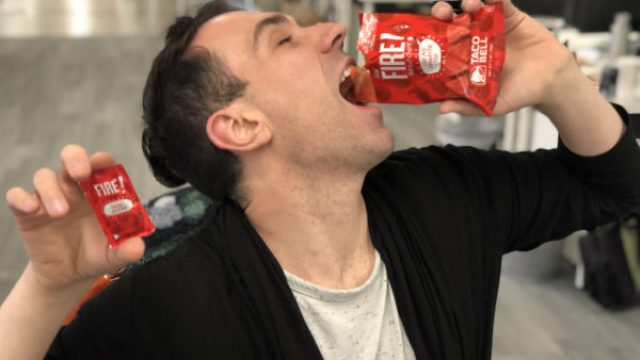 Taco Bell has released a lot of ambitious and, um, creative…products in recent history. From the naked egg taco to the French fry burrito, the food chain somehow keeps surprising customers. In May, Taco Bell Sauce Packet Tortilla Chips will hit the market — yep, tortilla chips that taste like those packets of sauce you love to smear on your burritos and tacos. Even better? We got to try them at HG headquarters.
The chips will be available in select grocery and convenience stores around the U.S., so you'll be able to have your favorite Taco Bell flavors in your kitchen at all times. It's basically the second best thing to actually living at a Taco Bell — which is everyone's dream aside from a Taco Bell wedding, right?
The new Taco Bell Sauce Packet Tortilla Chips come in three flavors just like, you guessed it, the Taco Bell sauce packets. They include Classic, Fire, and Mild, and the best part is that you don't have to dip your chips into anything to get added flavors now.
The HelloGiggles office got hold of Taco Bell's new chips, and while they got mixed reviews overall, the fire chips got a rave review from Dan Magro, HG's executive producer of editorial video. "These guys were what I imagine the fire emoji tastes like," Magro said. If you prefer looking like the fire emoji rather than eating something that tastes like it, you'll want to stick to the Mild or Classic flavors.
Here's a look at the new Taco Bell Sauce Packet Tortilla Chips.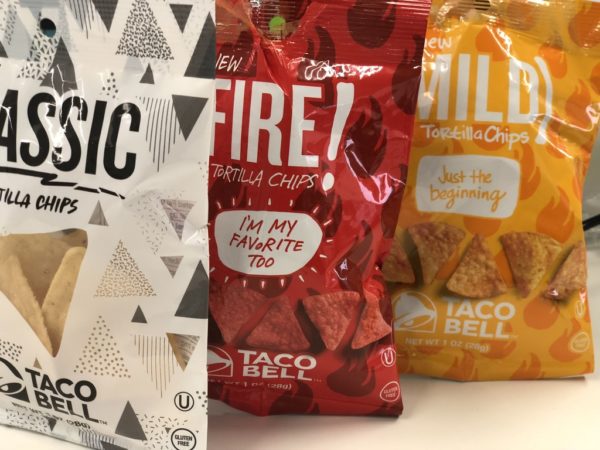 The chip bags look just like the sauce packets — which die-hard Taco Bell fans know intimately.
If you love the spicy sauce packet from T-Bell, you'll love the fire chips.
Magro, HG's official chip reviewer, also said that the spicy chip option is not the hottest in the game.
"[They're] not too blow-torch-dungeon-dragon, but I can see these being the more conservative brother to the sassy stunt-queen known as Flamin' Hot Cheetos," he said.
Nothing could ever compete with Flamin' Hot Cheetos!
But it sounds like the Taco Bell Sauce Packet Tortilla Chips come close to matching their flavor.
If one thing's for sure, it's that Taco Bell's got your back.
And all of your sauce needs.
Enjoy Taco Bell's latest creation. Compared to French fry burritos, this one might be the most practical yet.