Taco Bell and Forever 21 teamed up to create a clothing line, and it's fire sauce
We can't lie, two of our favorite things in life are clothing and tacos. And now, Taco Bell and Forever 21 are merging the two with a truly one-of-a-kind fashion collaboration.
Yup, you read that right. Forever 21 is launching a line of Taco Bell-themed clothing. The limited edition items include graphic T-shirts, jackets, and pullovers. The looks will officially be available online and in stores beginning October 11th.
Forever 21 is continuing to change the game. The fast fashion retailer just recently launched a chain of beauty stores called Riley Rose to serve all our makeup needs. And of course, Forever 21 never fails to impress us with its partnerships like its affordable bridesmaid collection with Rory Beca.
But the store isn't the only one trying new things — Taco Bell continues to surprise us with new and, well, interesting products. Just last month, rumors swirled that it was testing a Pop Rocks-infused burrito.
That said, it makes sense that these two risk-takers are teaming up. In a joint press release, the companies wrote they were inspired to create a collection of clothing that's  "accessible, affordable, creative, and fun."
Amen.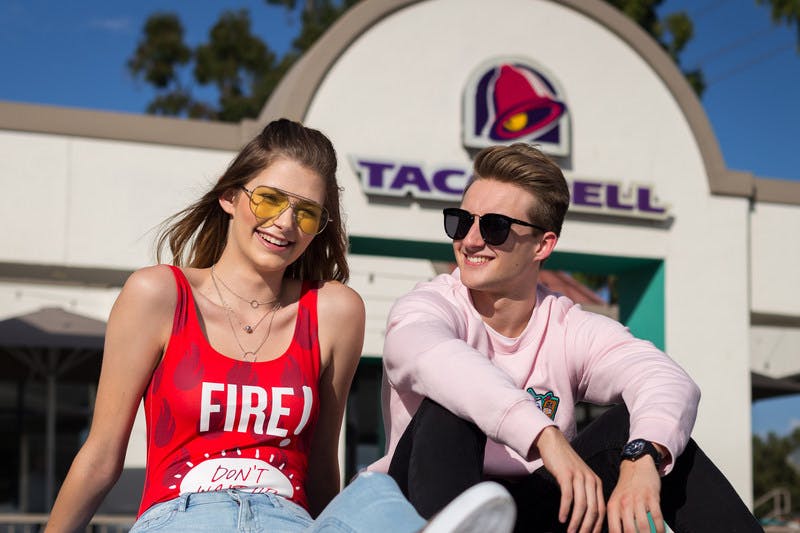 To promote the looks, Forever 21 asked two Taco Bell enthusiasts to model the products — Brittany Creech and Andrew McBurnie, who both went viral in 2015. The duo shared actual high school senior photos taken inside of their local Taco Bell on social media.
Pretty amazing, we must say.
In the meantime, we're going to go grab a Crunchwrap Supreme while we wait for the line to drop.