More Taco Bell Cantinas are opening nationwide, so boozy slushies for everyone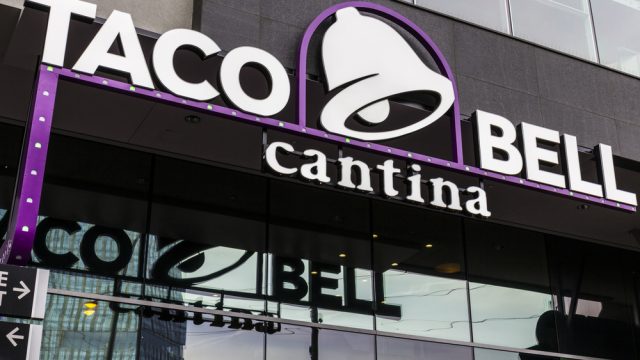 Your after-work happy hour situation just got wayyyy more awesome. Taco Bell's more upscale, alcohol-serving spinoff chain — called Taco Bell Cantina — is about to to pop up all over the place. Meaning, liquor-spiked slushies are coming to a Taco Bell near you.
According to Eater, Taco Bell plans to open 300 Cantinas by 2022 — that's a lot of chalupas.
Many new cities are targeted for the Taco Bell Cantinas, which unlike their fast-food counterparts, do not have a drive-thru and are designed for heavily foot-trafficked areas. If you live in San Francisco, Austin, Las Vegas, or Chicago, you may already frequent one of the fast-casual eateries. (In 2015, New York City, Boston, and Columbus, Ohio, were on the list of potential locations.)
One look inside, and it's clear the Cantinas are geared toward a younger set. The sleek, modern-industrial aesthetic and plenty of high-tech amenities — like digital menu boards and tablet-style ordering — are total millennial bait.
As we've mentioned, the menu serves *alcohol* in the form of beer and mixed drinks. But the crowning glory of the beverage menu is the Freeze Wall. If it's anything like the one in Las Vegas, you'll choose margarita, cola, piña colada, lemonade, orange, Baja Blast, cherry, or blue raspberry, and then add your choice of liquor. The spiked or virgin slushes come in 16 or 32-ounce souvenir cups.
If that sounds dangerous, well, that's because it probably is!
The Cantina menu is also more group friendly, thanks to tapas-style plates including quesadillas, nachos, and chicken fingers.
And we're not the only ones getting more Taco Bell over the next five years. Countries like China, Brazil, Canada, and India are part of its global expansion plan. According to Bloomberg, this is Taco Bell's way of combating declining sales from cheap groceries and meal-delivery kits.
Prepare for world Taco Bell domination.