This hilarious video of a T-rex on jet skis is exactly what we need right now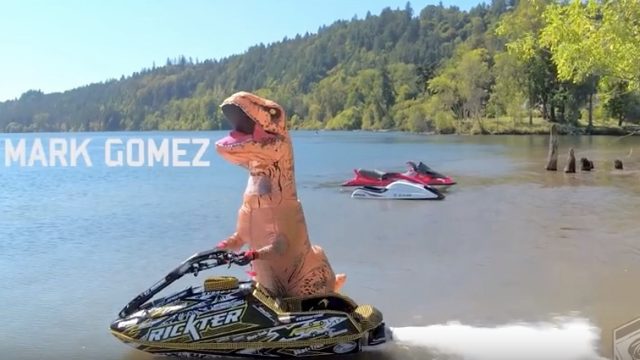 Summer's coming to close, and school's back in session. Thoughts of class schedules and bedtimes are dropping our morale and mood at the most rapid pace. And now with the weather changing, most of us are packing up our summer clothes with a bit of mournfulness. We're all in need of something to lighten up the mood quickly, and this video from The Liquid Militia, via Mashable, just may do the trick.
Pro-athlete Mark Gomez is no stranger to extreme sports, and his recent antics are are no different. Gomez hits the water to bust some crazy skills, per usual, but decided to turn it up a notch with a hilarious twist. In this viral, two minute video the professional watercraft athlete performs epic stunts on a jet ski while rocking an inflatable T-Rex costume!
https://www.youtube.com/watch?v=lJcjCb6hs_g?feature=oembed
We couldn't even image performing the tricks that Gomez does while in his regular gear, and throwing in a dinosaur suit in the mix makes this video even more magical! This unusual video is an awesome reminder of all of the fun times we had this summer.
We wouldn't recommend trying this out in your spare time. Let's leave all of these stunts to the experts ?
In case you need just a little more T-Rex in your lives, let's not forget the other awesome adventures people have been having in this crazy costume.
Like ice-skating
https://www.youtube.com/watch?v=WGRzJ-szV28?feature=oembed
And even competing in American Ninja Warrior!
https://www.youtube.com/watch?v=6JQLR-04RF4?feature=oembed
Seriously, T-Rex, how many ways can you brighten our day?