These photographers created a T. rex engagement photoshoot (and it's dino-mite!)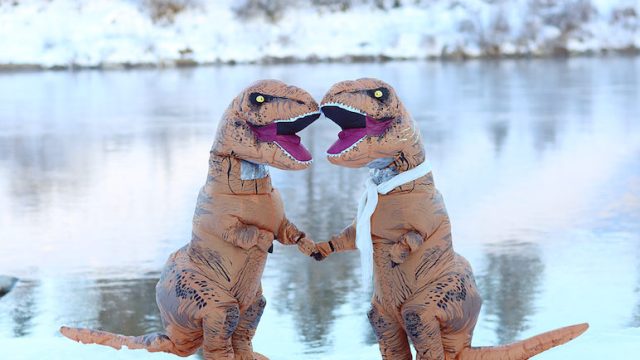 We have found one engagement photoshoot that you absolutely won't scroll past on your News Feed. This T. rex engagement photoshoot was created by professional photographers Greg Basel and Maria Adams to spread a little joy. And these engagement-style photos also serve as a reminder that no matter what else is going on in the world, love is not extinct (unlike the dinosaurs).
The contrast between Basel and Adams' gorgeous photography and the silliness of these two people dressed up as T. rexes is what makes these photos not only so hilarious, but totally frameworthy. Taken on the snowy day of January 15th at Mirabeau Park in Spokane Valley, Washington, the dinos exude love as they bask in the glorious sun.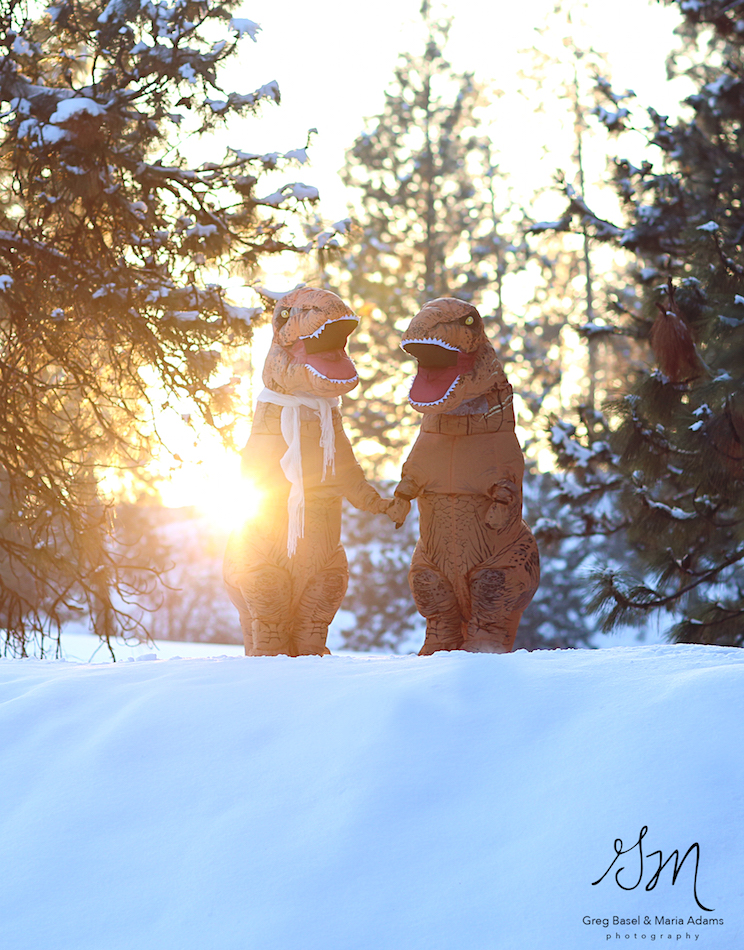 Ah, to be young and in love and a T. rex.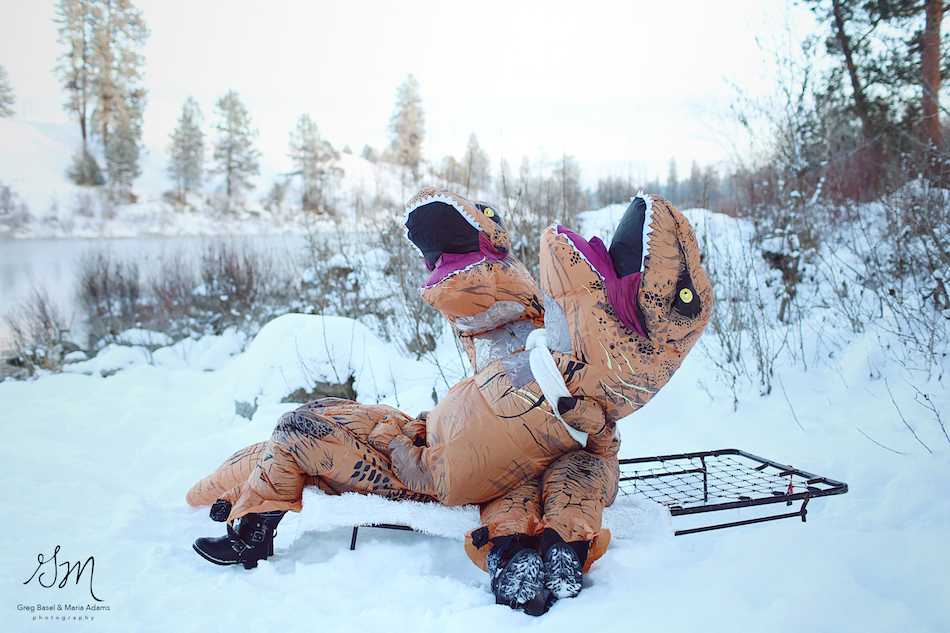 The only downside of this photoshoot is that the people in the T. rex costumes aren't actually a real engaged couple. In a statement to HelloGiggles, Basel said they are Stephanie Mills (Adams' cousin) and Marian Davis (Mills' friend). The photographers chose the women because they had the right personalities they were looking for to pull off this prehistoric stunt.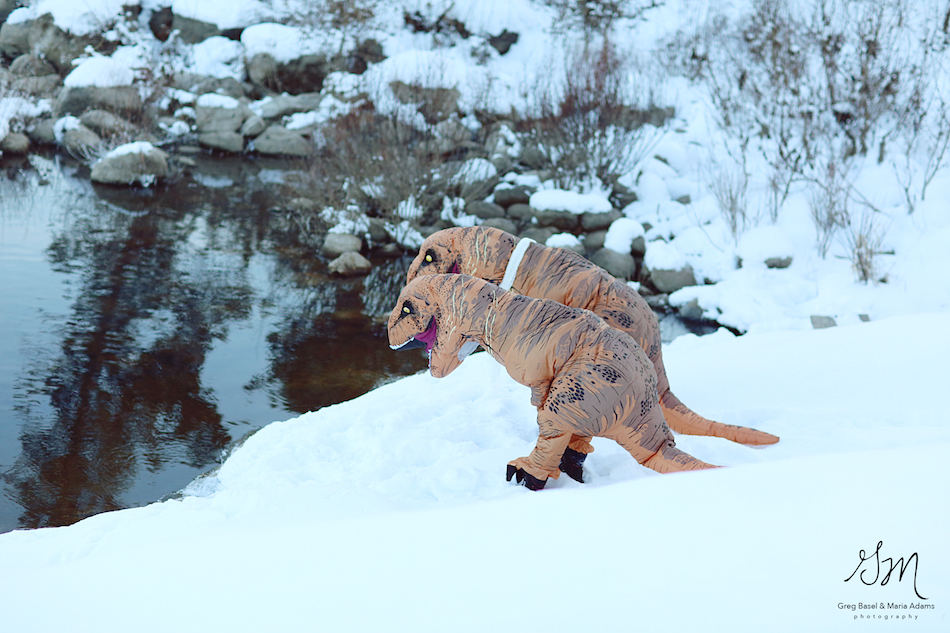 In their statement to HelloGiggles, Basel and Adams said there were two reasons they wanted to share this T. rex love with the world:
"1. To make others laugh and smile since there is so much depressing and sad news surrounding us daily. 2. To let everyone know no matter who you are there is someone out there that loves you."
The Liberty Lake, Washington photographers have most definitely succeeded in making the internet smile. And although we were already crying because of laughing so hard, now we might be crying also because of how sweet and genuine Basel and Adams' intent was.
It's like, no matter how small your arms are, someone will always be there to hold your hand.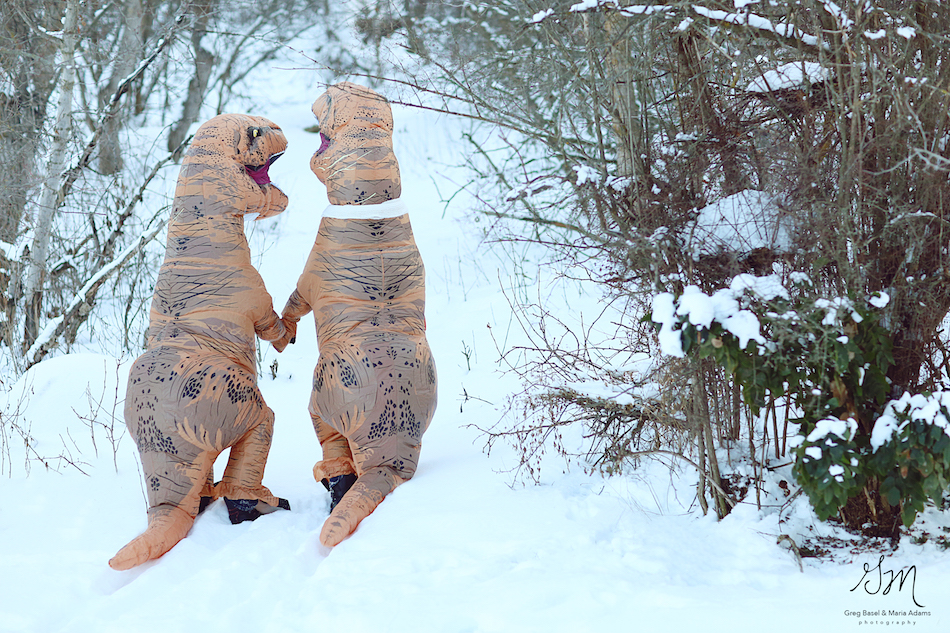 While we now wish we had our own T. rex engagement shoot, we must thank everyone who made this dino-mite photoshoot a reality. Whenever the world gets us down, we'll be sure to look at these pictures. Because — as the photographers noted — although dinosaurs may be extinct, love is not.