SZA's new "messy pink hair" is giving us life this summer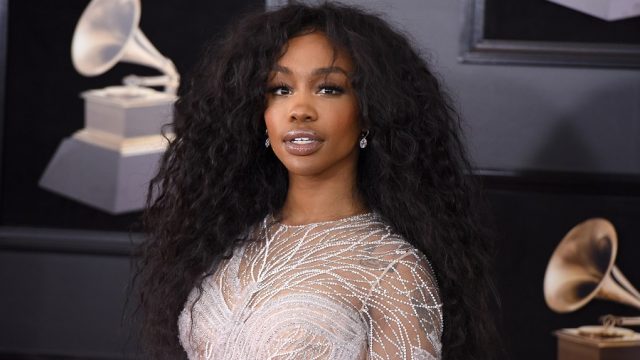 If you're in the market for a dramatic hair switch-up for summer, it's not too late to try a new summer hair color on for size. But if you're not sure what vibe you're into, look no further than SZA, who just debuted hot pink hair on Instagram. It's a retro Barbie girl dream.
The "Drew Barrymore" singer always serves stunning fashion and beauty looks on the 'gram, but her new pink hair might be our favorite one yet. She showed off her Candy Land-inspired waves in a series of posts on Friday, July 26th, giving a whole new meaning to "hot girl summer"—and we're inspired.
In the cutest vintage Tweety Bird tee and shorts, SZA's pink hair, which she wore in voluminous curls, is platinum blonde at the roots and vibrant shades of hot pink throughout. We absolutely love a bold hair switch-up, and we're pretty much ready to make an appointment with our stylists for our own shocking shade of hot pink.
In the photos, SZA tagged her stylist Jonathan Wright, who dyed the wig pink from platinum blonde and dubbed it "messy pink hair." We love how versatile the look is, featuring a few different shades of pink for a seriously glam end result.
https://www.instagram.com/p/B0WuxdNHIX4
It seems like SZA's look was just temporary, because in another Instagram post, Wright asked followers to give advice on what her next color change-up should be. While we're all for switching things up as often as you'd like, might we petition for SZA to keep these hot pink strands for the rest of the summer? We are loving this look so much, and it seems like SZA is, too. She posted a photo three days later with the hot pink hair still in tow, and it looks just as great in loose waves as it does in big, bouncy curls.
https://www.instagram.com/p/B0Y8IRynWsK
If you want to try out pink hair for yourself but don't want such a permanent commitment, wigs like SZA's (from Kendra's Boutique) are always an option. Her custom dyed, stunning pink shade is giving us summer hair inspo in spades.