Why the symbolism behind Solange's durag at the 2018 Met Gala matters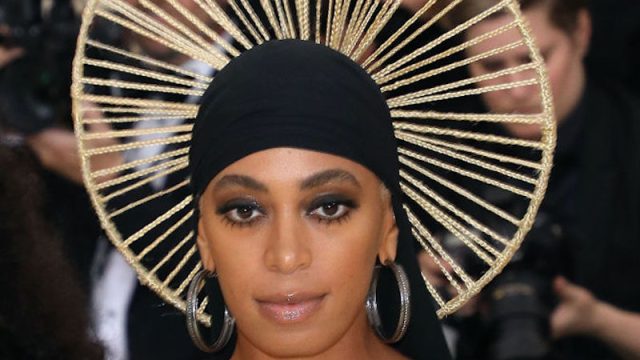 As far as fashion is concerned, the Met Gala is one of the biggest nights of the year. For the past six decades, celebrities of all types have been coming together for the huge fundraising event (under the watchful eye of Anna Wintour for the last 19 years). In short, it's an extravagant evening of daring glamour, and an invitation is the prize for being a "who's who" in the world of superstardom.
The theme on the evening of May 7th was Heavenly Bodies: Fashion and the Catholic Imagination, visually representing the intersection of designer clothing and spirituality, leaving room for all kinds of spectacular head pieces, jewels, capes, and trains.
One of our favorite looks from last night's Met Gala was worn by Solange Knowles, who has been ahead of the curve as far as inclusion of celestial elements in her costuming (her recent "Cosmic Journey" tour comes to mind). She wore a latex gown by designer Iris Van Herpen, and took the look to the next level by adding a special touch — a long, bedazzled durag that read "MY GOD WEARS A DURAG."
https://www.instagram.com/p/BigMDCHFjIq
Solange's decision to wear a durag to the Met Gala is a statement that cannot be ignored. It's worth mentioning that other distinguished guests, like Lily Collins, Cardi B, and Lana del Rey, wore stunning headpieces alluding to holiness last night as well.
But Solange's durag felt like her way of reminding people about the influence of Black religion, the erasure of Black people from the history of Catholicism, and Black people's ability to create their own emblems of blessedness.
In her brief interview with Vogue on the Met Gala's red carpet, the singer-songwriter shared that one of her influences was the Black Madonna, who is depicted wearing a veil that Knowles chose to reimagine as a durag.
https://www.youtube.com/watch?v=mr0Txm8AIQ4?feature=oembed
Durags are a symbol of Blackness that is unique to our culture. Choosing to highlight our style as well as our belief systems was a brilliant, beautiful move for Knowles. I'm honored to be alive during the time of the durag deity.