Sylvester Stallone is developing a new TV comedy about pizza and we are intrigued
We love TV, and we love pizza — so what could be better than a TV show about pizza?!
Sylvester Stallone is developing a comedy and basing it on the life of Mulberry Street Pizzeria owner Richie Palmer, according to Uproxx. It'll be called Pizza Guy.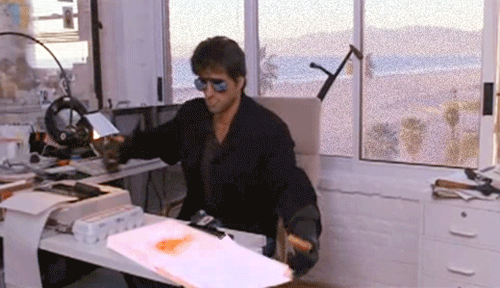 If you don't live in L.A. and haven't had pizza from Mulberry Street, it is goooooood. Really good.
I mean look at this tower of goodness
Over 20 years ago, Palmer moved from New York to Beverly Hills and opened Mulberry Street Pizzeria.
"Mulberry Street was a hotspot in New York that housed a lot of restaurants and eateries, Palmer states on Mulberry Street's website. "I couldn't wait to introduce my New York style pizza to the West Coast.
In October 2012, Mulberry Street Pizzeria celebrated its 20-year anniversary.
If you can't get to NYC and are in L.A., it's the next best thing.
A friend of Palmer's, A.J. Benza, is writing the TV pilot, said Grub Street.
"Sly called me one day and said, 'Richie's life is insane. He's sitting on a gold mine with all the stories and characters that place has,' Benza told Page Six.
ICYMI, Palmer is the ex-husband of Raquel Welch, and also the ex-fiancé of Oscar winner Cathy Moriarty. Plus, lots of celebs have frequented the pizzeria over the years. We can see why it would make for great television.
Meanwhile, we'll just have to go grab a slice and wait patiently.
Btw, Mulberry Street has three other L.A.-area locations in addition to the Beverly Hills one, so if you're in L.A., it's a must.