"Wynonna Earp" is our new fave girl-power show, and it's giving us major "Buffy" vibes
There is a new female-driven series on the Syfy channel that has swept into our lives, filling our TV watching hearts with sisterhood, girl power, and demon reincarnations. That show is Wynonna Earp, and we're pretty obsessed.
Loosely based on the comic book series of the same name, the new series stars Melanie Scrofano as the titular Wynonna, a fictional descendant of the famous, real-life historical gunslinger (Wyatt Earp). In this Canadian-American western-horror series (yep, you read that right), Wynonna, as the eldest heir of Wyatt, is tasked with handling his gun and sending the demon reincarnations of the men killed by Wyatt back to hell . . . again.
It's silly and fun and never takes itself too seriously. At the same time, it's provides a lot of really important representation — particularly with regards to gender, race, and sexuality.
Basically, watch it, especially if you were ever a Buffy fan. You'll enjoy yourself, I promise. Here are a few specific reasons why this series should make it onto your to-binge-watch list ASAP. Be warned: light spoilers for the show follow!
The show's lead character is a badass girl, who can definitely take care of herself.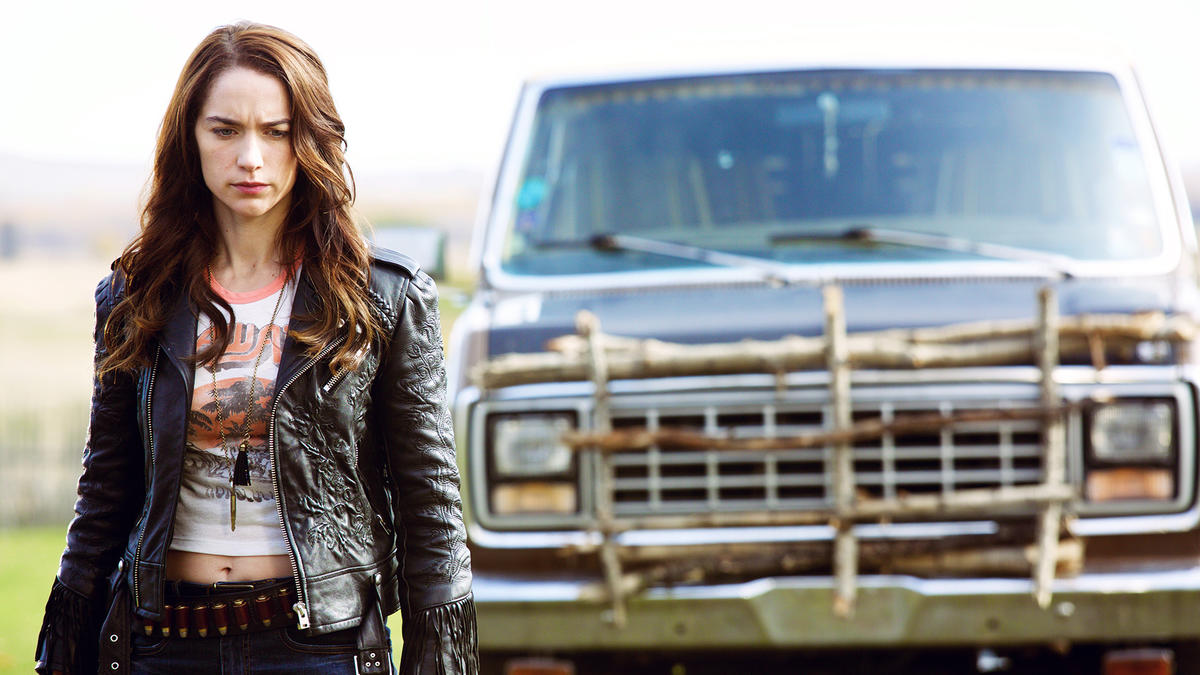 By virtue of the show's mythology, Wynonna is strictly the only person who can handle her great-grandfather's supernaturally-boosted demon-killing gun, nicknamed the "Peacemaker." It just won't fire if anyone else is holding it. That means that, despite the occasional assist from her sister, Waverly ,and her fellow officer/partner Dolls, it's always Wynonna saving her own skin (and everyone else's) in the end, time and again. It's an empowering message and a fresh take on typical male-driven supernatural dramas, where the women appear to be completely expendable.
Most importantly, Wynonna is strong, but not stony. She's not a caricature of a badass fighter. She can battle demons and be brash with people, making plenty of enemies, but underneath it all, she's a realistic, average girl. Just, y'know, one with a big, demon-killing gun.
A relationship between sisters is right smack in the center of it.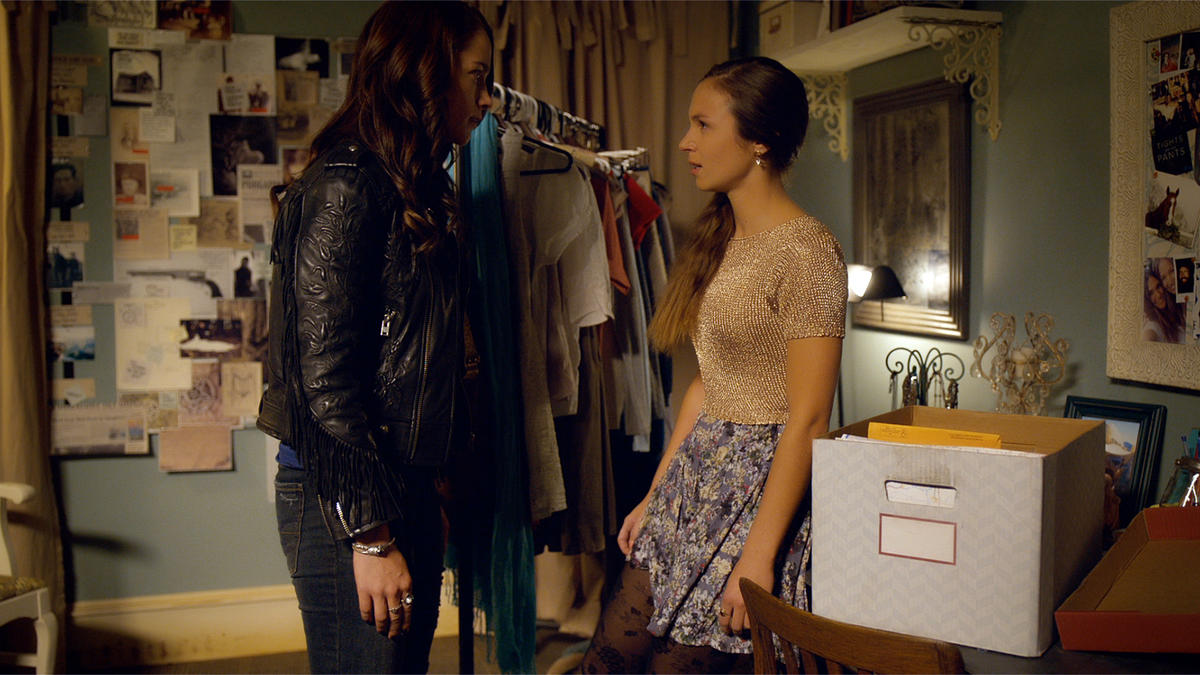 Probably the last great show about sisters was Charmed, and if you liked Charmed as much as I did, I'm almost positive you'll enjoy Wynonna Earp. Waverly Earp is Wynonna's spunky and adorable younger sister. Though she doesn't (currently) handle much of the actual demon-fighting, Waverly fulfills the research needs of the team (think the role early Willow played in the Buffy Scooby gang). Her relationship with Wynonna is complicated and occasionally a little bit difficult, but above all they love one another and stick together. They have a great sisterly bond and that's a dynamic not seen nearly enough on TV.
There is witty, Buffy-esque dialogue galore.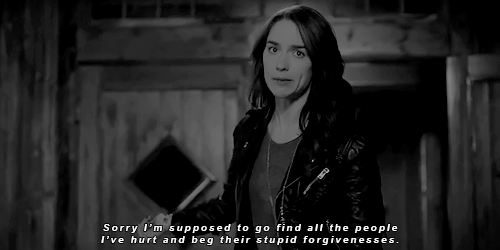 Joss Whedon has taken an all-too-long break from TV, having spent much of the last seven years with his focus on his films, such as the immediate classic The Cabin in the Woods and those little record-breaking Marvel films you've probably heard of. If you've been missing some of that distinctly Joss Whedon dialogue in your TV-watching life, have no fear — Wynonna Earp is very similar, tonally, to shows like Buffy the Vampire Slayer. Wynonna's quick-witted, sassy comebacks and jokes are very Buffyish in particular, which is amazingbecause Buffy is one of the most essential and beloved female heroes of all time.
It is chock full of celebrations of female sexuality.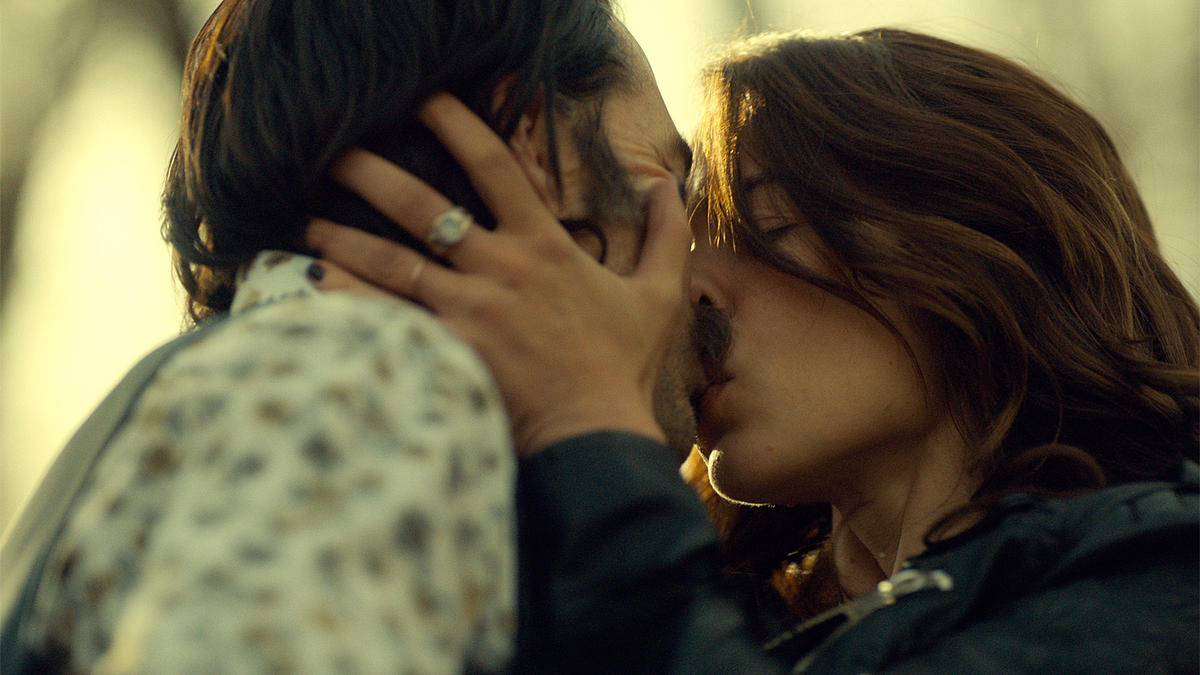 The show's creator and showrunner is Emily Andras, who was a writer and consulting producer on the recently-ended Lost Girl, another great, ground-breaking show dedicated to sex-positivity and LGBT representation (the lead character of Lost Girl is a bisexual female succubus). Andras is completely and vocally committed to LGBT representation in any show she works on (because, y'know, it's actually pretty important to represent a full range of human beings if you want a successful, well-made show), and she sure as heck knows how to write for compelling relationships, both gay and straight. Just look back at Lost Girl, which had one of the most contentious "ship wars" of all time, thanks to the great love triangle at the center of it.
In its first few episodes, Wynonna Earp has already established that Wynonna is unapologetically sexual, fun, and flirty. It's also laid the groundwork for a potential lesbian relationship between one major character and one recurring one.
There are swoon-worthy 'ships that we love already.
Someone already sent me #WynonnaEarp fan fiction (#WayHaught) & while I can't legally read it, I'm so excited! Way to get some, #Earpers.
— Emily Andras (@emtothea) April 12, 2016
Tim Rozon is a hunk. Shamier Anderson is a hunk. Melanie Scrofano is gorgeous and sassy and has chemistry with basically everyone she shares a scene with (but particularly, these two). If romances that you can root for and "ship" are your thing, look no further — this show definitely has those, in spades. There's a very Angel-Buffy sort of vibe between Henry and Wynonna, in particular; mysterious, dark stranger meets spunky younger heroine. There's also that still-tentative relationship between two women brewing (see above: LGBT rep); I can't wait to see it develop further because those two have crazysparks as well and already have their very own dedicated fanbase and 'ship name.
You can join is in watching Wynonna Earp, Fridays at 10 p.m. on the Syfy channel.