Sydney Sweeney is tired of Hollywood writing women as one-dimensional sex symbols
Though Sydney Sweeney mostly plays teenagers on-screen, she's rarely stuck to PG-rated material. The 22-year-old has starred alongside Amy Adams in the psychological thriller series Sharp Objects, faced an on-screen execution in the deeply dark The Handmaid's Tale, and taken on the first sex scene—nudity and all—of HBO's controversial teen drama Euphoria. And now, in her new film Clementine, Sweeney plays a teen who gets entangled in an inappropriate affair with an older woman (Otmara Marrero). All theses roles are complex and worthwhile, but the downside to playing such sexually forward parts, says the actor, is that viewers (and Hollywood) can be quick to stereotype.
"After you play a character especially like Cassie in Euphoria, it's automatic, 'Oh my gosh, sex symbol,'" Sweeney tells HelloGiggles, speaking over the phone a week before Clementine's digital release (it's available online now). This is likely because, far too often, there are two options for women on-screen: depth without sexuality or sexuality without depth—as if we can only be Velmas or Betty Boops.
"Sometimes I'll read a script and all there is to the character is her being a sex symbol or her being sexualized and there's nothing else to her," Sweeney says. "And, yes, as an actor, you can bring [more depth to a role], but you can only do so much that the page doesn't."
This is especially true for on-screen teenage girls, who, when allowed to portray sex appeal at all, are rarely allowed be in control of it. In Clementine, though, Sweeney's Lana is a self-assured, aspiring actor who's eager to grow up and get out of her small lake town in the Pacific Northwest. When the 30-something Karen (Marrero) breaks into her ex's house nearby, Lana chooses to get involved, and the two start an unlikely friendship that soon progresses into something more, despite the age difference.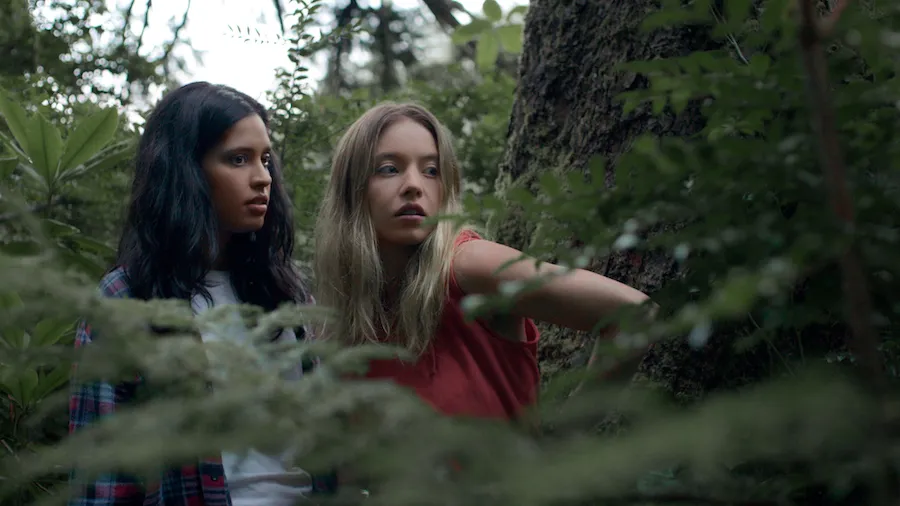 The film's description calls it "equal parts psychological thriller and sexual coming-of-age story," but Clementine is neither in the traditional sense. Viewers watch as Karen takes on the role of predator, using her power to recreate an unhealthy dynamic from a previous relationship in which she dated a much older woman as a teen. Lana, however, isn't portrayed as merely a victim; while the power dynamic is unquestionably wrong, she uses her agency to go after what she wants, seemingly already fully comfortable with her sexuality. Many of Sweeney's characters possess this same confidence in romantic relationships, and the actor says she takes on the roles in the same way, no matter their sexual orientation.
"Love is love and whether you're female, male, or however you identify, doesn't change how you approach that," she explains.
Sweeney's maturity can be attributed, in part, to her early start in Hollywood. She started acting as a pre-teen, spending 12- to 16-hour-long workdays alongside adults in shows like Criminal Minds, Heroes, and 90210. Like many other young actors, she says she grew up fast, with little time left over after work to just be a kid. "I feel like I'm a 50-year-old," she says now.
Playing teens stumbling through adolescence, however, has allowed Sweeney to rewind and live vicariously through their coming-of-age experiences, since she didn't have those experiences herself. "I've known what I wanted since I was little, whether it's with relationships, whether it's with work," she explains. "So I think that I actually find excitement through my characters when they're trying to figure out themselves or figure out sexual situations."
When seeking out roles, Sweeney says she looks for scripts that depict women as dynamic and three-dimensional, but she also seeks out environments that will be safe for her as a young actor. In recent years, movements like Time's Up have called out the rampant culture of sexual harassment in the entertainment industry and demanded changes to help protect women on set. Like many others in Hollywood, Sweeney is starting to witness this progress firsthand while learning to advocate for herself in new ways. On the set of Euphoria, for instance, she was introduced to Amanda Blumenthal, an intimacy coordinator—someone whose job is to ensure the wellbeing of everyone involved in the making of sex scenes. The actor says that having Blumenthal around has completely changed her experience of performing intimate scenes.
"I felt more comfortable, safer," she says. Sweeney even made sure to bring Blumenthal with her on the set of her next movie, Amazon's The Voyeurs, an upcoming erotic thriller. With that film, Clementine, and Euphoria Season 2, it's clear that the actor plans to keep portraying complicated, sexually in-tune young women—and, as a result, reclaim what it means to be a sex symbol.