Taylor Swift's squad is growing (and slaying us with their fashion literally every night)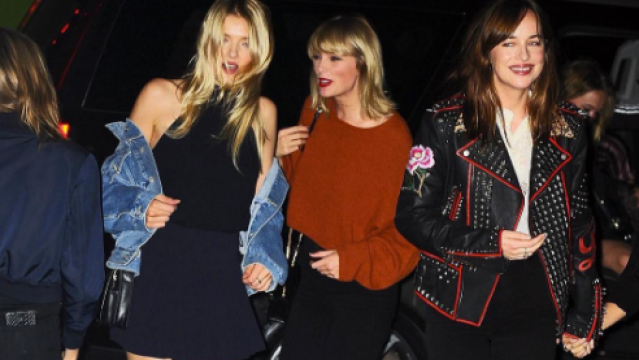 It's no secret that Taylor Swift's girl squad is an indestructible force to be reckoned with. Whether they're winning MTV Video Music Awards or throwing the best birthday parties known to man, they always come out in full #fierce mode.
Day by day the girl squad is growing, with new girls joining Swift's pack with seemingly every outing. On October 14th, Swift was spotted with squad staples (and BFFs) Karlie Kloss, Cara Delevingne, Serena Williams, and newbies, Zoe Kravitz, Dakota Johnson and Victoria's Secret model Lily Donaldson.
The ladies were seen attending the Eliot Sumner concert at the Bowery Ballroom in NYC looking like they just stepped off the runway at fashion week. This comes just a day after Swift and co. attended a surprise Kings of Leon concert with frontman Caleb Followill's wife, and supermodel, Lily Aldridge.
Check out Swift and the ladies strutting in style:
https://www.instagram.com/p/BLh04VwjvTw
https://www.instagram.com/p/BLirCQ2D72u
https://www.instagram.com/p/BLirUJFDlQr
Seriously, we want Delevingne's jacket and Williams' WHOLE ensemble.
After a killer night out, Kloss uploaded this gem of her and Williams from the evening:
While many criticize the so-called exclusivity of Swift's "squad," they stick together through pretty much everything. Through high profile break-ups (we're looking at you Hiddleswift)  and career breakthroughs, the ladies always have each other's back.
https://www.instagram.com/p/BHdgGYrjgc8
We wish we could be a fly on the wall on these ladies' nights, just once! (Or twice.)