Did You Love Sweet Valley High? Here's the Surprising Story Behind the Series
Francine Pascal's name was on the cover of each book. But who actually wrote the series?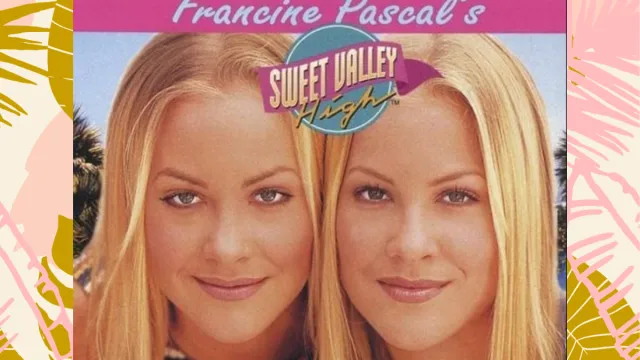 As something of a self-confessed Sweet Valley High obsessive, I spent a large portion of my teenage years perusing the shelves of my local bookshop and library for the latest edition of the pastel-colored series on 16-year-old twins Elizabeth and Jessica Wakefield.
Francine Pascal, the creator of the series, pioneered an irresistible storyline for lusty teenage girls. Set in the fictional suburban town of Sweet Valley on the outskirts of Los Angeles, the twins sped around their beachside neighborhood in a red Fiat Spider. They had dimples, blue-green eyes like "the Pacific ocean," shoulder-length blonde hair, and sun-kissed Californian tans. The books had riveting cliff-hangers, exciting boyfriends, and an iconic rivalry between the twins — many-a-reader identified as either Elizabeth (the bookish and responsible good girl) or Jessica (the mischievous and boy-crazy bombshell).
The SVH series was a runaway hit, spanning 20 years and more than 100 books. Perfect Summer, released in 1985, became the first paperback young-adult fiction title to crack the venerable New York Times Bestseller List. And the series went on to sell more than 250 million copies and was translated into more than two dozen languages. Forbes estimated that Sweet Valley netted Pascal more than $15 million.
But, as is often the case, behind every success story is a lesser-known tale. While Pascal's name appeared on the front of each of the SVH books, her involvement in writing them was far less than one might have imagined.
Many life-long readers (me included) had no idea at the time of reading the books that Pascal, a former journalist, actually oversaw a team of ghost writers to ensure steady number of books were published each year. Of course, looking back, it now seems obvious that even the fastest of typers would have had trouble churning out the number of words needed to satiate the series' dedicated teenage fanbase.
Pascal initially thought up the series because, she said, there was a need for it in the market. "When I first thought of the idea for Sweet Valley High, I loved the idea of high school as microcosm of the real world," she told The Guardian. "And what I really liked was how it moved things on from Sleeping Beauty-esque romance novels where the girl had to wait for the hero. This would be girl-driven, very different. I think that was of great appeal to readers. There wasn't anything like that around."
She wrote a proposal for the books, focused on the lives of the beautiful Wakefield twins, and sent it to her agent, who "practically sold it by return mail." And while it's commonplace for authors to sign contracts that tie them to a specific publishing house, Pascal's case was almost unprecedented – her publisher Bantam signed her to a 100-book deal.
Instead of penning each and every one of the SVH books, Pascal went about creating the characters, writing the storylines, and then creating what she called a reference bible to help ghost writers with filling in the details. While Pascal is credited with "Created By" on the cover of every book, her role was more supervisory than readers might have believed.
One such ghost writer was Amy Boesky, a graduate of Harvard and Oxford, who became a SVH ghost writer after a chance meeting with Pascal at a dinner party and swrote the books for six years. In a Kenyon Review essay called "The Ghost Writes Back," Boesky said Pascal would mail her storylines in manila envelopes. They would be "eight or nine pages of single spaced directives that laid out exhilarating and implausible fables of duplicity, innovation, risk, and triumph." Boesky would then turn these into chapter outlines, add subplots, and then mail them back to an editor. Once she got his approval, she would get to writing.
All the books, said Boesky, started in a similar fashion with "descriptions of an ersatz southern California landscape (pan shot of beach, ocean, red-tiled roofs)," and the plots were set in "a 1980s world of new wealth and upward mobility." Boesky also broke down Sweet Valley High's mass-market formula — the price point was low enough to be covered by an allowance and each book's final chapters would "seed" the plots for subsequent books.
So while Pascal herself may not have written every word in the entire back catalogue of SVH books, there's no doubt that she was responsible for generating a legion of loyal fans among teenagers around the world. She once told the Chicago Tribune, "Everybody likes to think they are making a difference in this world. When I get a letter from a child saying that Sweet Valley has made her enjoy reading, I know I've done something important. And that is truly a wonderful feeling."
Lucy Pearson is a freelance writer, book blogger and host of The Bondi Literary Salon based in Bondi.
Read more