24 sweet love quotes from pop songs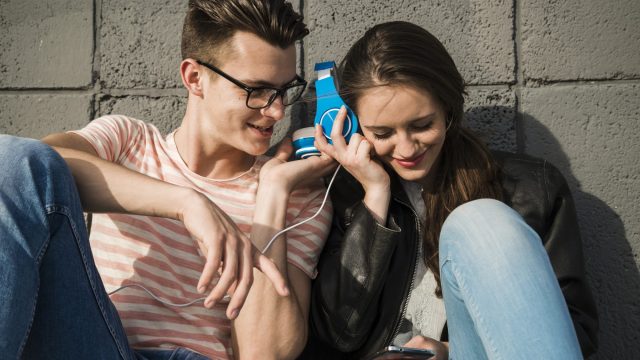 Like sonnets back in Shakespeare's time, pop music has a way of capturing the feeling of being in love in a way that just can't be as well expressed in any other form.
There's something deeply poetic about these lyrics that gives us all the feels. From gushing ballads to bubblegum pop, some of the sweetest love quotes you'll ever find can be found in the lyrics of pop music from singers like John Legend or Celine Dion.
Whether you plan to text these lyrics to your S.O. or send them in a handwritten note, these sweet love quotes are meant to be shared with the one you love.
1Justify My Love
https://www.youtube.com/watch?v=Np_Y740aReI?feature=oembed
"I want to kiss you in Paris
I want to hold your hand in Rome
I want to run naked in a rainstorm
Make love in a train cross-country
You put this in me
So now what, so now what?"
Madonna
2All of Me
https://www.youtube.com/watch?v=450p7goxZqg?feature=oembed
"You're my downfall, you're my muse
My worst distraction, my rhythm and blues
I can't stop singing, it's ringing, in my head for you"
John Legend
3I Do
https://www.youtube.com/watch?v=E0oyglKjbFQ?feature=oembed
"It's always been about me, myself and I
I thought relationships were nothing but a waste of time
I never wanted to be anybody's other half
I was happy saying I had a love that wouldn't last
That was the only way I knew til I met you"
Colbie Caillat
4Say You Won't Let Go
https://www.youtube.com/watch?v=0yW7w8F2TVA?feature=oembed
"I'm so in love with you
And I hope you know
Darling your love is more than worth its weight in gold
We've come so far my dear
Look how we've grown
And I wanna stay with you until we're grey and old
Just say you won't let go"
James Arthur
5Nervous
https://www.youtube.com/watch?v=WDBpu7LcR7s?feature=oembed
"I promise that I'll hold you when it's cold out
When we lose our winter coats in the spring
'Cause lately I was thinking I never told you
That every time I see you my heart sings"
Gavin James
6Wasn't Expecting That
https://www.youtube.com/watch?v=Y-lI_tgQMMk?feature=oembed
"I thought love wasn't meant to last,
I thought you were just passing through
If I ever get the nerve to ask
What did I get right to deserve somebody like you?"
Jamie Lawson
7I Just Called To Say I Love You
https://www.youtube.com/watch?v=QwOU3bnuU0k?feature=oembed
"I just called to say I love you
I just called to say how much I care
I just called to say I love you
And I mean it from the bottom of my heart"
Stevie Wonder
8Tattooed Heart
https://www.youtube.com/watch?v=4-uUieI7ipg?feature=oembed
"You don't need a lot of money
Honey, you don't have to play no games
All I need is all your loving
To get the blood rushing through my veins"
Ariana Grande
9You and I
https://www.youtube.com/watch?v=ps6aN4sWX68?feature=oembed
"Don't you worry there, my honey
We might not have any money
But we've got our love to pay the bills
Maybe I think you're cute and funny,
Maybe I wanna do what bunnies do with you,
If you know what I mean"
Ingrid Michaelson
10Honeymoon
https://www.youtube.com/watch?v=oPU8XJcA__k?feature=oembed
"We both know that it's not fashionable to love me
But you don't go 'cause truly there's nobody for you but me
We could cruise to the blues
Wilshire Boulevard if we choose
Or whatever you want to do
We make the rules"
Lana Del Rey
11I Love You Always Forever
https://www.youtube.com/watch?v=SqdWTeXWvOg?feature=oembed
"I love you always forever
Near and far closer together
Everywhere I will be with you
Everything I will do for you"
Donna Lewis
12Just the Way You Are
https://www.youtube.com/watch?v=LjhCEhWiKXk?feature=oembed
"When I see your face
There's not a thing that I would change
'Cause you're amazing
Just the way you are"
Bruno Mars
13Truly, Madly, Deeply
https://www.youtube.com/watch?v=WQnAxOQxQIU?feature=oembed
"I want to stand with you on a mountain
I want to bathe with you in the sea
I want to lay like this forever
Until the sky falls down on me"
Savage Garden
14When You Say Nothing At All
https://www.youtube.com/watch?v=mSTk0muwrkY?feature=oembed
"The touch of your hand says you'll catch me if ever I fall,
You say it best when you say nothing at all."
Ronan Keating
15Hero
https://www.youtube.com/watch?v=koJlIGDImiU?feature=oembed
"I can be your hero, baby
I can kiss away the pain…
I will stand by you forever
You can take my breath away."
Enrique Iglesias
16I Promise You (With Everything I Am)
https://www.youtube.com/watch?v=3j_EF-Sis1A?feature=oembed
"I promise you,
From the bottom of my heart…
I will love you,
Til' death do us part…
As a lover and a friend,
I will love you like I never love again."
Backstreet Boys
17Dreamlover
https://www.youtube.com/watch?v=CqBtS6BIP1E?feature=oembed
"I need someone to hold on to
The kind of love that won't fly away
I just want someone to belong to
Every day
Of my life
Always
So come and take me away"
Mariah Carey
18I Wanna Love You Forever
https://www.youtube.com/watch?v=4bJ0F8KhhZ8?feature=oembed
"I wanna love you forever
And this is all I'm asking of you
10, 000 lifetimes together
Is that so much for you to do
'Cause from the moment that I saw your face
And felt the fire of your sweet embrace
I swear I knew
I wanna love you forever"
Jessica Simpson
19Just Luv Me
https://www.youtube.com/watch?v=j_lOJsNpJ1k?feature=oembed
"Just luv me
If you think that I'm saying that because I'm high maintenance
Like I'm trying to mask every problem that I'm facing
Well you're wrong 'cause I don't need nobody when I'm breaking
All I need is your love and a little bit of patience"
Britney Spears
20Crazy In Love
https://www.youtube.com/watch?v=ViwtNLUqkMY?feature=oembed
"I look and stare so deep in your eyes
I touch on you more and more every time
When you leave, I'm begging you not to go
Call your name two or three times in a row
Such a funny thing for me to try to explain
How I'm feeling and my pride is the one to blame
'Cause I know I don't understand
Just how your love can do what no one else can"
Beyoncé
21Boyfriend
https://www.youtube.com/watch?v=4GuqB1BQVr4?feature=oembed
"If I was your boyfriend, I'd never let you go
Keep you on my arm girl, you'd never be alone"
Justin Bieber
22Because You Loved Me
https://www.youtube.com/watch?v=JDcuRgk-JEI?feature=oembed
"Maybe I don't know that much but I know this much is true,
I was blessed because I was loved by you."
Celine Dion
23Your Song
https://www.youtube.com/watch?v=z7j1uogI02A?feature=oembed
"I hope you don't mind
That I put down in words
How wonderful life is while you're in the world"
Elton John
24Love You Like A Love Song
https://www.youtube.com/watch?v=EgT_us6AsDg?feature=oembed
"No one compares
You stand alone, to every record I own
Music to my heart that's what you are
A song that goes on and on"
Selena Gomez