Huda Beauty swatched her new Lip Strobes, and they will give your lips the ultimate glow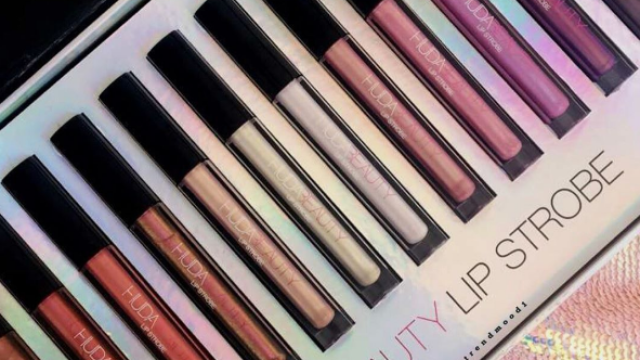 If you're in the market for makeup that will transform your lips into their own pink shimmery suns, you'll definitely want to check out the newly swatched Lip Strobe glosses from Huda Beauty, because they're out of control. While the already lusted over Huda Beauty Lip Strobe glosses won't be officially available for purchase until next month, she's already got us hook, line, and sinker with these previews on her Instagram.
The upcoming full collection of decadent Huda Beauty Lip Strobe glosses will include 12 equally shimmery shades that will make your lips look like you got kissed by an angel. Truly though, the visual effect is much like a highlighter for your lips.
We've been fixated since she first previewed them at the end of April, but now we have even more updates to drool over!
https://www.instagram.com/p/BTRUYuCguJh
As you can see, the layout of shades ranges from a nearly holographic white all the way do a deep purple.
All of them look transcendent and delicious.
It looks like the names for these shades are as moody as the colors themselves.
The Lip Strobe shades are as follows: Angel (light peach), Boujee (peachy pink), Enchanting (a holographic pink), Fearless (mauve), Foxy (shimmery gold), Moody (deep blue-purple), Mystical (Barbie pink/purple), Posh (peachy nude), Kitty (holographic eggshell), Shameless (light rose), and Snobby (peachy pink).
https://www.instagram.com/p/BTomd-XAOwU
Huda even showed off how these lip strobes can be applied as a shimmery eyeshadow.
https://www.instagram.com/p/BTqoefrgc9L
https://www.instagram.com/p/BTqtKlSjC1M
We're keeping our ears bent for the official release date and prices for these bad boys!