Sutton Foster says "Gilmore Girls: A Year in the Life" is like a "pinch me" moment, and we agree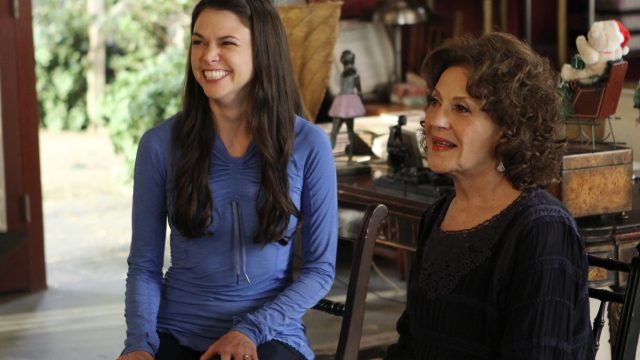 If you think having Gilmore Girls come back to television is like some kind of amazing DREAM, now imagine actually being invited to Stars Hollow yourself. Like, one second you're just re-binging the show on Netflix, the next, you're sitting in Luke's diner chugging down coffee with Lorelai.
Now imagine that actually happens for you IRL. For one lucky Gilmore Girls fan, it did, and her name is (Tony winner) Sutton Foster.
Yesterday on the Today Show, Foster sat down with Kathy Lee and Hoda to dish about the return of Younger (watch Younger), but you can't just have a cast member from Gilmore Girls: A Year in the Life without talking about it, you know? That's when Foster dishes that it's actually her *favorite* show of all time, and we love that she's a huge fangirl, too!!
"Gilmore Girls is my favorite show of all time," She explains. "I was obsessed with it. And I worked with the creators on [ABC Family's] Bunheads, and they created this role for me for the revival. It was four days of like...I couldn't believe it. It was a 'pinch-me' moment. From [being] a fan on the couch to being in Stars Hollow."
While we don't know much about Foster's character in A Year in the Life, we DO know she will NOT be reprising her Bunheads' role of dance teacher Michelle (Miss Patty is the only ballerina in town). It's a smaller role in just one of the episodes, but even still, SHE ACTUALLY GOT TO LIVE IN STARS HOLLOW! SHE LIVED IT!
Believe in your Gilmore Girls dreams, friends ?.