Sustainable Products for Natural Hair Are Hard to Come By, but These 5 Brands Are Changing That
Keep your hair looking fresh without increasing your carbon footprint.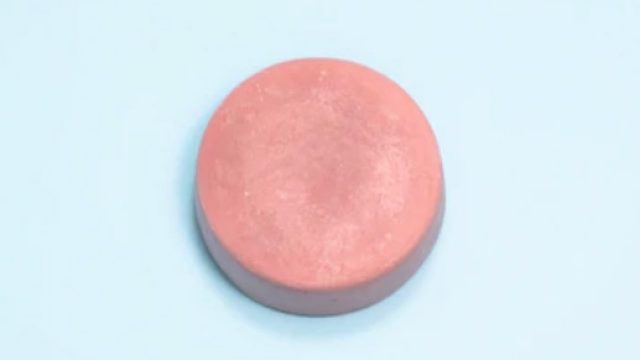 For people with naturally kinky, curly, or coily hair, wash day can take a lot of attention and time. From detangling hair from ends to roots to shampooing and deep conditioning, those with natural hair are aware that the whole process can take hours and involves lots of products. With so many products involved in our routines, it's easy to create a lot of waste—but that's where sustainable natural hair products come into play. 
Apart from creating less waste, opting for sustainable products can also reduce water pollution, as chemicals (like sulfates) have been found to contaminate water systems, according to a recent U.S. Geological Survey Conference. You might also have heard about parabens in hair products, which, despite being biodegradable, are also constantly introduced to surface water and are contaminants, according to a 2015 water research review. 
Moving toward sustainable products isn't just a hot new trend; it's an important way of life. Using simple and organic products on natural hair, in particular, can also benefit the health of the hair and scalp since they don't have additives that can lead to dryness. Many traditional products tend to use sulfates, parabens, and other ingredients used to cleanse hair, but they can also strip it of its natural oils, which can dry out the hair.
If you're looking for the best products to protect your curls this winter that also use minimum packaging, recycled materials, and organic ingredients, now's the time to get what you need. Here are five sustainable brands and their stand-out products for natural hair.
1. Nature Queen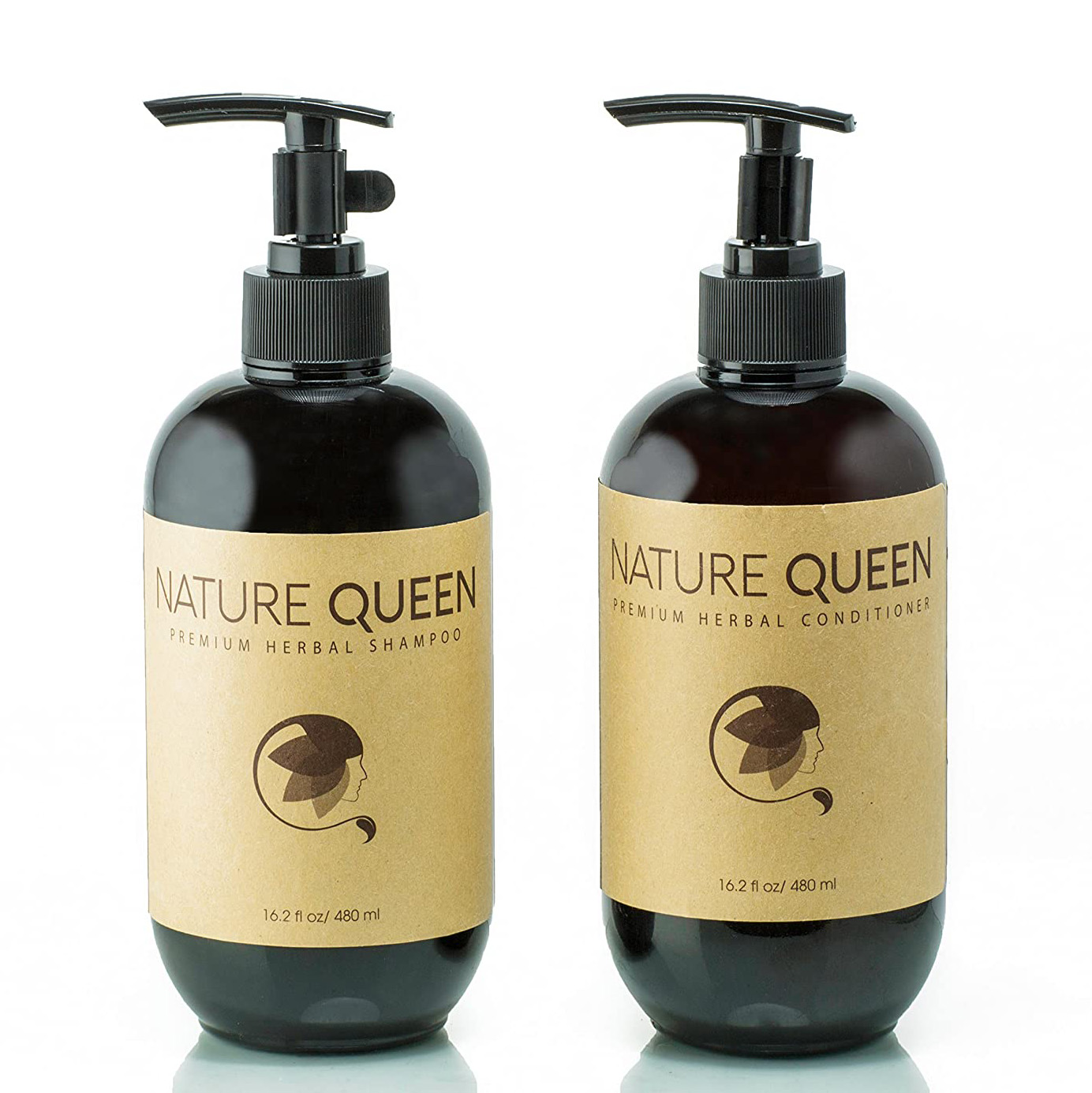 Nature Queen Herbal Shampoo + Conditioner Set
$$49.50
Shop it
Nature Queen
These simply crafted products are perfect for natural hair due to their antioxidant-rich herbs like holy basil and lemongrass, which are designed to rid the hair and scalp of dryness. This sulfate-free shampoo is safe to use on thin, dry, and color-treated hair, as it offers a more gentle cleansing than traditional shampoos. The brand was created with environmental impact in mind, so it only uses sustainable ingredients, and its packaging is 100% recyclable, so you can feel safe about contributing less waste to the environment.
2. Neter Gold
Neter Gold No-Kill Hair Brush
$$26
Shop it
Neter Gold
This Black-owned brand has been making a lot of noise on social media with its natural haircare products, most of all its oil-infused detangling combs, beard combs, and Afro picks. The combs and brushes offered by Neter Gold are made of wood (while most are made with plastic), and many are infused with beeswax or its 10-oil blend, which includes oils known for their hair and scalp benefits, like olive and argan. Its brushes are no-kill, meaning they're not made from animals, like boar bristles. Instead, the brushes use sisal plant fibers, which offer the feel of a traditional boar hairbrush.  
These products are best for when you want to detangle on wash day or when you want to style your hair. Neter Gold's array of wide-tooth detangling combs and rat-tail combs are a good way to comb through your hair without risking the snags and breakage that can come with brittle plastic combs. You can also get your name or favorite phrase engraved into their wooden combs.
3. AfroShe
AfroShe Rich Lathering Cleanser with Aloe Vera
$$37.50
Shop it
AfroShe
Founded by Ghana native Ruth Wallis, AfroShe was founded in 2013 with the goal of using organic and minimal ingredients in hair care. Every ingredient used in its hair cleansers, conditioners, and styling products has a specific purpose to moisturize and define natural hair.
All of AfroShe's products are free of sulfates, silicone, and parabens that are known to strip the hair of necessary oils and moisture, which helps reduce water contamination. Naturally sourced ingredients are used in their cleanser and conditioners, including avocado oil, aloe vera, hydrolyzed oats, and essential oils that can reduce dryness and help seal moisture into the hair. 
4. Nature's Brands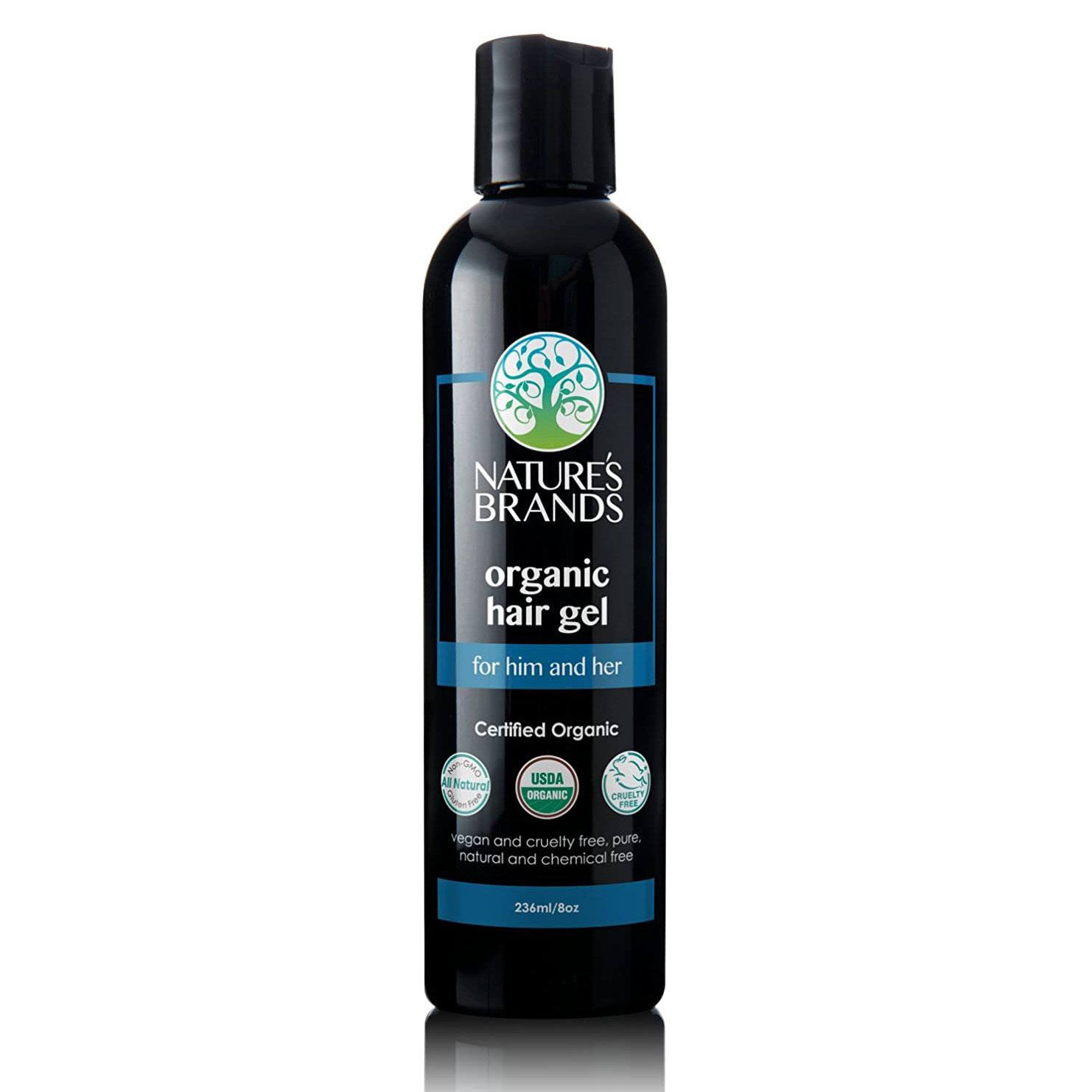 Nature's Brands Organic Hair Gel
Shop it
Amazon
Many people with natural hair swear by hair gel to define their curls, lay their edges, and get that perfect slick bun. However, some of the most popular brands include a hefty list of chemicals and preservatives that aren't great for natural hair or the environment long-term. Nature's Brands provided an answer to this issue with the release of its organic hair gel that's free of synthetic chemicals. 
Many commercial hair gel brands use formaldehyde-releasing preservatives that can cause skin irritation and impact air quality. However, Nature's Brands formula boasts a surprisingly simple list of ingredients that consists of organic guar gum and an array of natural oils, herbs, and other unrefined materials that prioritize the health of hair and the environment without sacrificing results. 
5. Eco Roots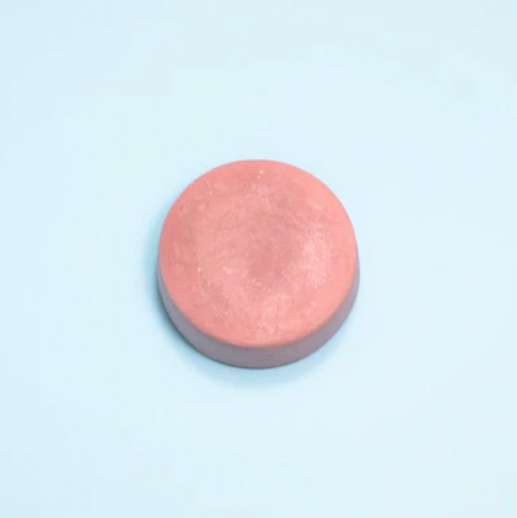 Eco Roots Moroccan Oil - Zero Waste Conditioner Bar
$$10.50
Shop it
Eco Roots
Eco Roots has a wide array of sustainable and zero-waste beauty products, but its Moroccan oil conditioner bar sets the standard for eco-friendly hair products. This vegan-friendly bar is shipped plastic-free, and unlike many traditional liquid conditioners, these bars are made by hand and don't use harmful and unnecessary chemicals. Free of silicones and parabens, Eco Roots products use cocoa butter, quinoa protein, and other naturally-sourced ingredients to provide hair with moisture without adding potentially harmful additives. With this zero-waste product and packaging, you can thoroughly cleanse and moisturize your hair without adding chemical and plastic waste to the environment.