I Saved Lots of Money on Holiday Decor This Year and Had a Jolly Time Doing It
Bonus: I helped Mother Earth while I was at it.
The product recommendations in this post are recommendations by the writer and/or expert(s) interviewed and do not contain affiliate links. Meaning: If you use these links to buy something, we will not earn a commission.
I think it's safe to say that the holiday season is one of the most –if not the most— commercialized times of the year. My social scroll is filled with oodles of tempting gifts to buy for others (and myself!), glamorous holiday decor that'd make for some seriously dreamy photo opps, and it's basically impossible to *not* find yourself wandering around a festive department store perusing the goods. 
Here's the thing: I personally don't think that commercializing the jolly season is an inherently bad thing. In fact, I strongly believe in leaning into the season, sprinkling Christmas magic wherever you go, partaking in traditions, and making lots of memories.
It's unequivocally my favorite time of the year, and there's a good chance I will start celebrating even before Mariah Carey. (Fun fact: I'm a Christmas caroller and our season starts in August!)
That said, I also believe there are ways you can be more intentional about your holiday shopping, decorating, and spending. Ways that reduce waste, protect and improve our earth, and—bonus—save lots of money in the long run. Here are 5 ways that I did exactly that this season. 
RELATED: 8 New Movies To Stream This Holiday Season
1
We cut down our own Christmas tree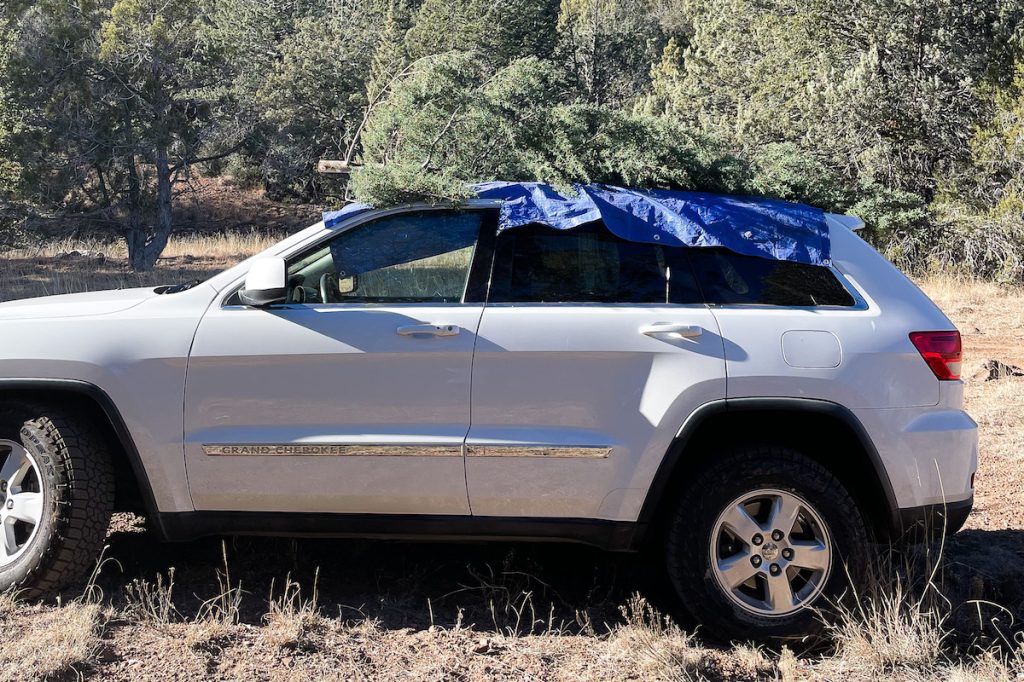 I'll be honest with you. Last year, we spent over $200 on our freshly cut Christmas tree. Not only was it a major expense for the season, but it wasn't the most sustainable option. We did ultimately repurpose the branches and wood for our fireplace, and purchased from a local nursery. 
This year, I decided to look into additional options and hacked my way into the cutest idea ever: cutting down your own Christmas tree! Each year, the USDA Forest Service sells Christmas tree permits through recreation.gov for $5 to $20 per tree. It might sound counterintuitive, but cutting trees (with a permit) actually improves forest health by thinning densely populated areas of small-diameter trees. 
Areas are identified by forestry experts, then a set limit of permits are sold for each area. Thinning can help other trees grow larger and provides open areas that can help wildlife source food more easily.
We had such an adventure hunting for our perfect tree and ultimately made a day of it by getting up early, procuring some hot cocoa, and hiking through some gorgeous country. Our pretty spruce isn't the same thick, lush tree we'd buy at a nursery, but it's rustic and beautiful. Honestly, she's low-key glam.
We opted to decorate the tree with a woodland theme via acorn, bird, fruit, and forest animal ornaments. 
2
We also got a potted, living tree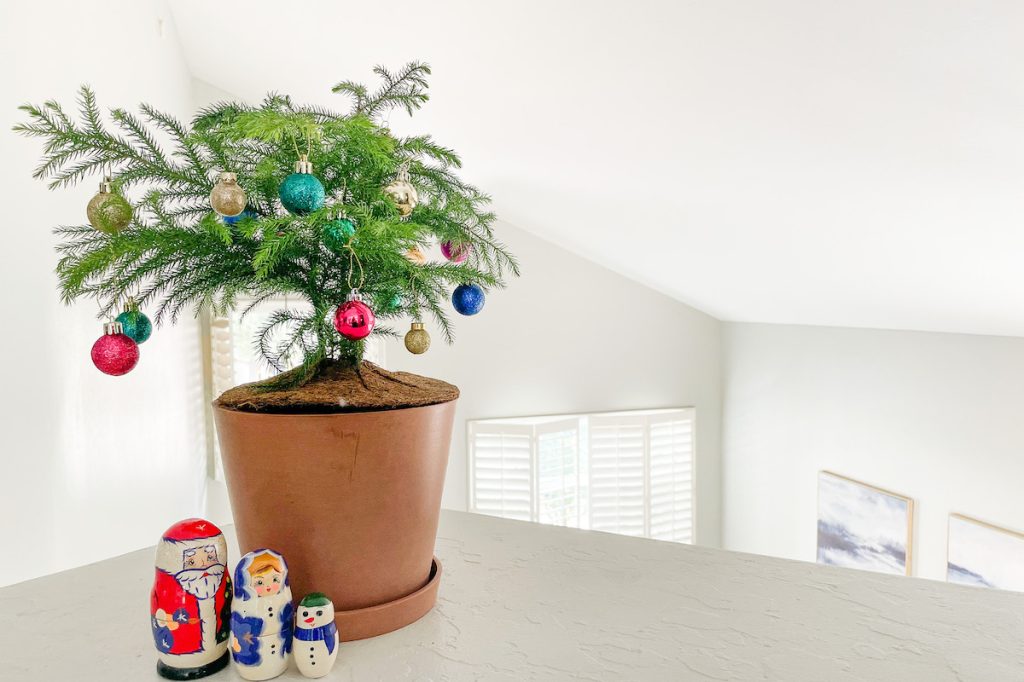 As a self-proclaimed plant enthusiast (read: I might have a plant problem), I love the idea of bringing new green life into my space. The fact that I can decorate it with Christmas ornaments? SOLD. 
I went for the Tabletop Norfolk Pine from Bloomscape, which has soft and feathery dark green branches. Not only does the tree continue living year over year —a savings to you and the Earth— but it works brilliantly in small spaces. The tabletop version is perfect for nooks, ledges, sills, side tables, and bathrooms. 
Bloomscape also has a larger, 4-foot tall version, which costs about the same as a cut tree from a lot. Though slightly smaller than a real tree, these pines can grow as much as one to two feet per year when cared for well. 
3
I thrifted so much holiday decor
Few things compare to the thrill of the thrift store hunt, and when said hunt involves shopping for holiday goodies my heart gets extra happy. A vintage cookie plate for $4? Don't mind if I do. A bundle of brightly colored Christmas ornaments for $2? *Add to actual cart.* 
You can find holiday stuff year-round at pretty much any thrift store, though they'll usually have prominent displays starting as early as September.
I've found everything from "ugly" holiday sweaters (including one that won me the award for best-dressed at a party), seasonal tableware, outside holiday decorations, retro gift tags, and a literal rainbow of ornaments. 
4
I got reusable wrapping paper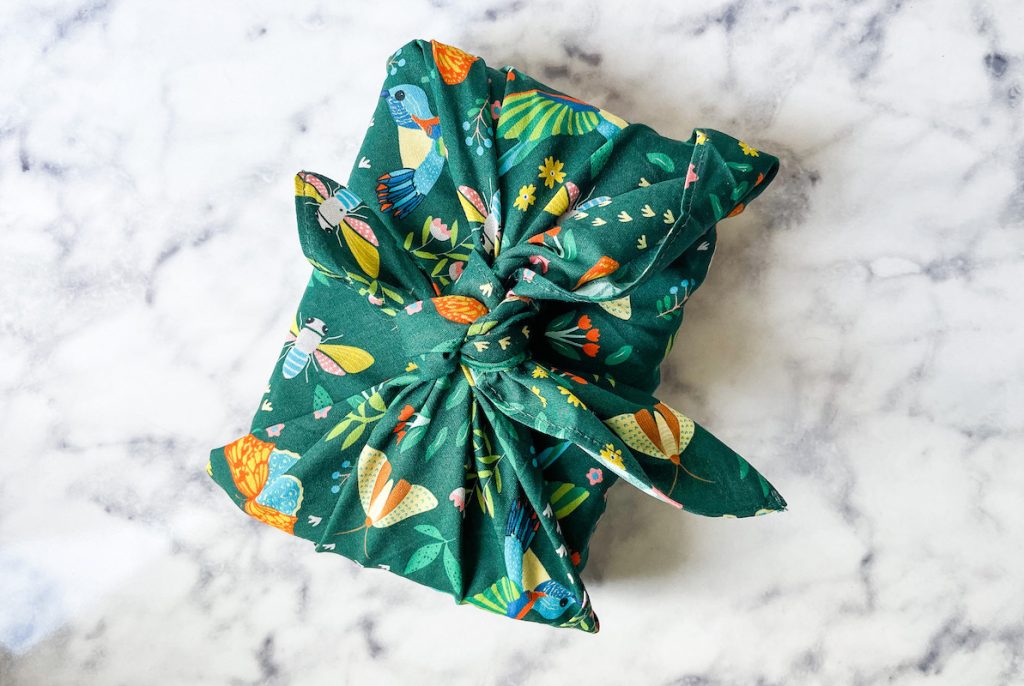 Everyone knows the Christmas trash bag. As in, the giant ugly bag that becomes a fixture and catch-all on Christmas day as all the unwrapping begins and cutesy paper goes flying. It always makes me cringe a little bit, which is why I'm a fan of reusable wrapping supplies. 
There's some truly gorgeous reusable wrapping "paper," like Brightly's reusable fabric gift wrap, bags, and bows, which you can use year after year. Some other eco-friendly wrapping paper ideas I've used in the past are fabric scraps, newspapers (such a classic look), decorated boxes, and gift bags.
And FYI, there's zero shame in being the person who says, "Hey, are you gonna use that box/bag because if not I'll take it back and use it again next year!"
5
I put up a cloth advent calendar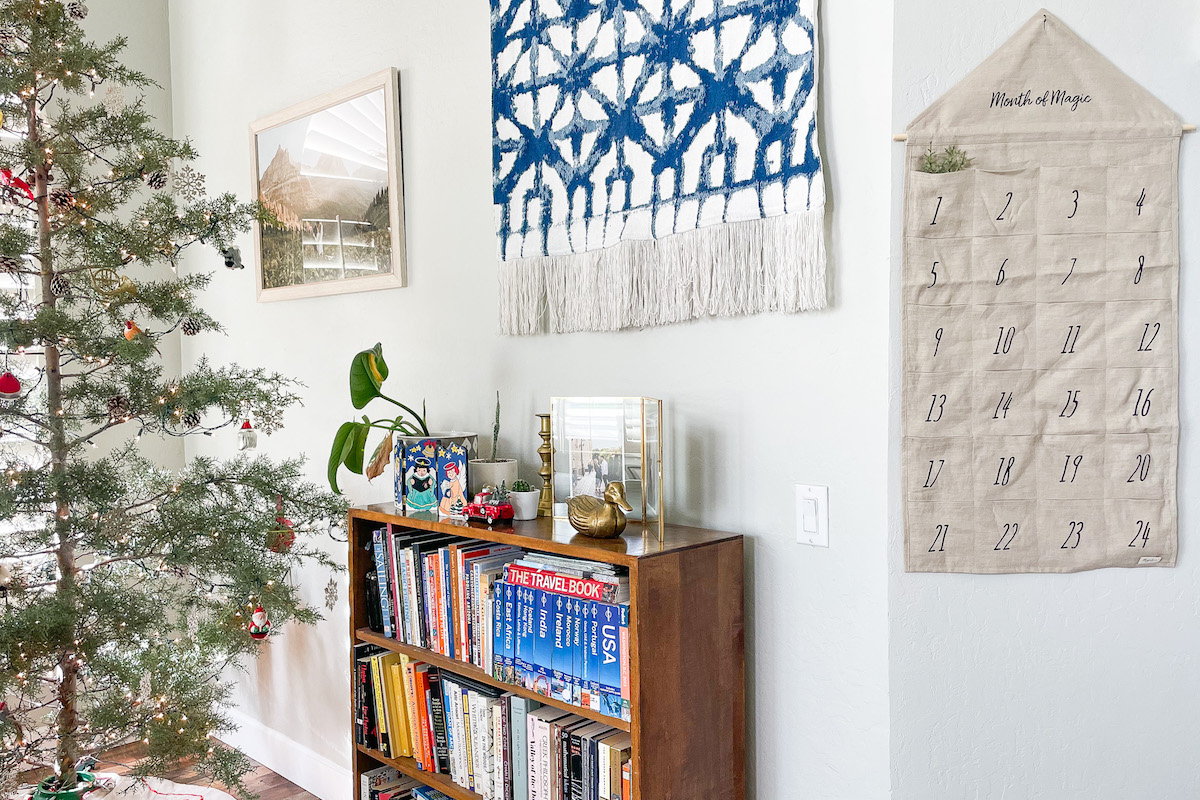 Advent calendars are one of those fringe holiday commercialized goods that are sooo hard to resist. A tiny present every day of December is just too much fun. It seems like every brand makes one (some better than others TBH) and all hearken back to the OG reusable advent calendar that hung beautifully in the hall or in entryways.
It's truly one of my favorite holiday memories as a child, and as an adult I totally see the function in garnering excitement for kiddos while also keeping them from getting too impatient about unwrapping their holiday gifts. This year, I decided to bring back the tradition, filling each compartment with inspiring quotes and tiny tokens I already had lying around the house. 
Wendy Rose Gould is a veteran freelance lifestyle reporter based in Phoenix, Arizona. She covers travel, wellness, pets, and beauty.
Read more