Denim's Got a Dirty Secret, and It's Why You Should Shop Sustainable Jeans
Going green is the new indigo blue.
Few things feel quite as good as putting on a new pair of jeans, but sadly, clothing production has doubled in the last 15 years, accounting for 60% of all textile production. This is, in part, due to the emergence of fast fashion. Next to the oil industry, the fashion industry is the second biggest contributor to pollution in the world. In fact, the majority of our clothes contain a significant amount of microplastics and use tons of natural resources and chemicals throughout the production process. Not only does this hurt the environment, but it harms the health of workers, too. And the worst offender when it comes to toxic manufacturing is denim.
Jeans are one of the least eco-friendly clothing items to produce. Most jeans are made using cotton—and lots of it. The global demand for cotton (which is used in nearly half of all textiles, according to the World Wildlife Fund) has led to over-farming, barren land, and soil erosion, which can cause a major chain reaction affecting the health of our planet. This is why sustainable brands have started making the switch over to organic cotton, which uses 91% less blue water (fresh surface or groundwater sources) than conventional cotton.
While cotton is a naturally occurring fiber, the amount of water and pesticides used to grow these crops, weave the fabric, manufacture, wash, and dye is extremely problematic. "The production of denim apparel alone uses over 1,500 gallons of water for a single pair of jeans," according to a 2020 study. In the documentary Riverblue, river advocate Mark Angelo explains how a major U.S. fashion brand reported that in addition to using 920 gallons of water to make a single pair of their best-selling jeans, it also used 400 megajoules of energy and expelled 32 kilograms of carbon dioxide. "This is the equivalent of running a garden hose for 106 minutes, driving 78 miles, and powering a computer for 556 hours," he explains. When you start to factor in that there are more jeans in the world than people, the math can start to look shockingly bleak.
In 2012, Greenpeace International launched a Detox Campaign that exposes hazardous chemicals used in the production of high-street fashion. Studies have reported that when cotton is indigo-dyed, the excess dye typically pollutes nearby bodies of water, such as the Pearl River in China (where a third of the world's denim is made), whose chemical bright blue dye can be seen from outer space, according to these satellite images taken by NASA. The polluted rivers pose a big threat to locals in major fashion manufacturing cities who rely on the river for drinking water, fishing, swimming, and much more. This poses a huge threat to public health and safety.
Textile dyeing and finishing are thought to contribute to 20% of the world's water pollution. While big brands in Western countries may have outsourced their production to developing countries, the unfortunate truth is that low-cost clothing has high-cost repercussions worldwide. Thanks to the publication of the Detox Campaign, more than 20 global fashion leaders have pledged to detox their manufacturing process for more sustainable practices by the year 2020, including brands like Levi's, H&M, Gap, and more.
The best way to support a push for more sustainable practices in the industry is by buying from brands that are transparent with their manufacturing process. Purchase from brands that support slow fashion and only release a couple of collections a year as opposed to ones that mass-produce new collections every few weeks. Then, once you have your jeans, you can curb the number of microfibers released during the washing process by washing less, washing cold, using an eco-friendly washing bag, like Guppyfriend.
Here are six ethical denim brands that will make you not only look good but feel good, too.
Highest-quality sustainable denim: Levi's Wellthread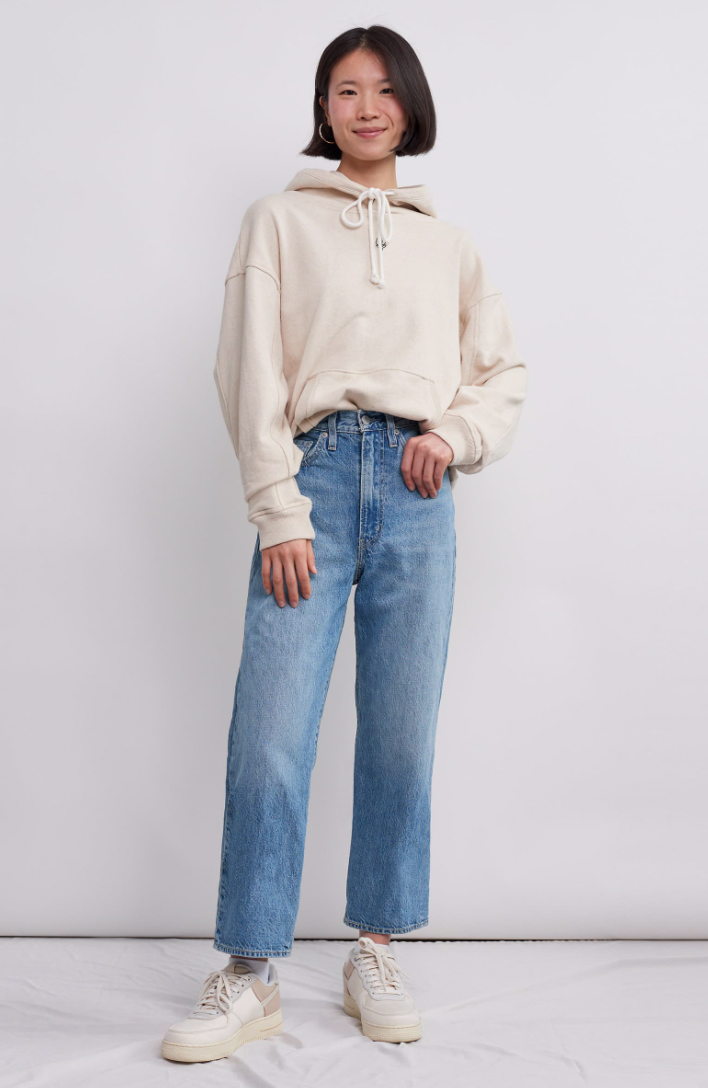 Levi's Wellthread Ribcage Straight Jeans
$$128
Shop it
Nordstrom
It's hard to think of denim without thinking of Levi's. With the release of its unique collaboration between Wellthread™ and Re:newcell, the brand uses cottonized hemp, organic cotton, and recycled materials for its sustainable collections. In addition to its commitment to implementing more sustainable manufacturing techniques, the denim brand has seriously stepped up its game with its authorized vintage and repair programs and its commitment to bettering local communities.
The best sustainable and trendy denim: Reformation
Reformation Ultra-High + Skinny Jeans
Shop it
Reformation
This Insta-worthy brand has not only been hailed for its latest trends, but eco-enthusiasts are also giving it a slow clap for its "slow" take on in-demand fashion and transparency. Using a combination of organic cotton, recycled cotton, and lyocell, Reformation is one of the few companies to be 100% water-neutral. Its jeans are made from deadstock fabric (a fabric that hasn't been sold) and free of toxic dyes. Plus, it frequently rotates charities to support local communities and the environment.
The best affordable sustainable denim: Wrap + Weft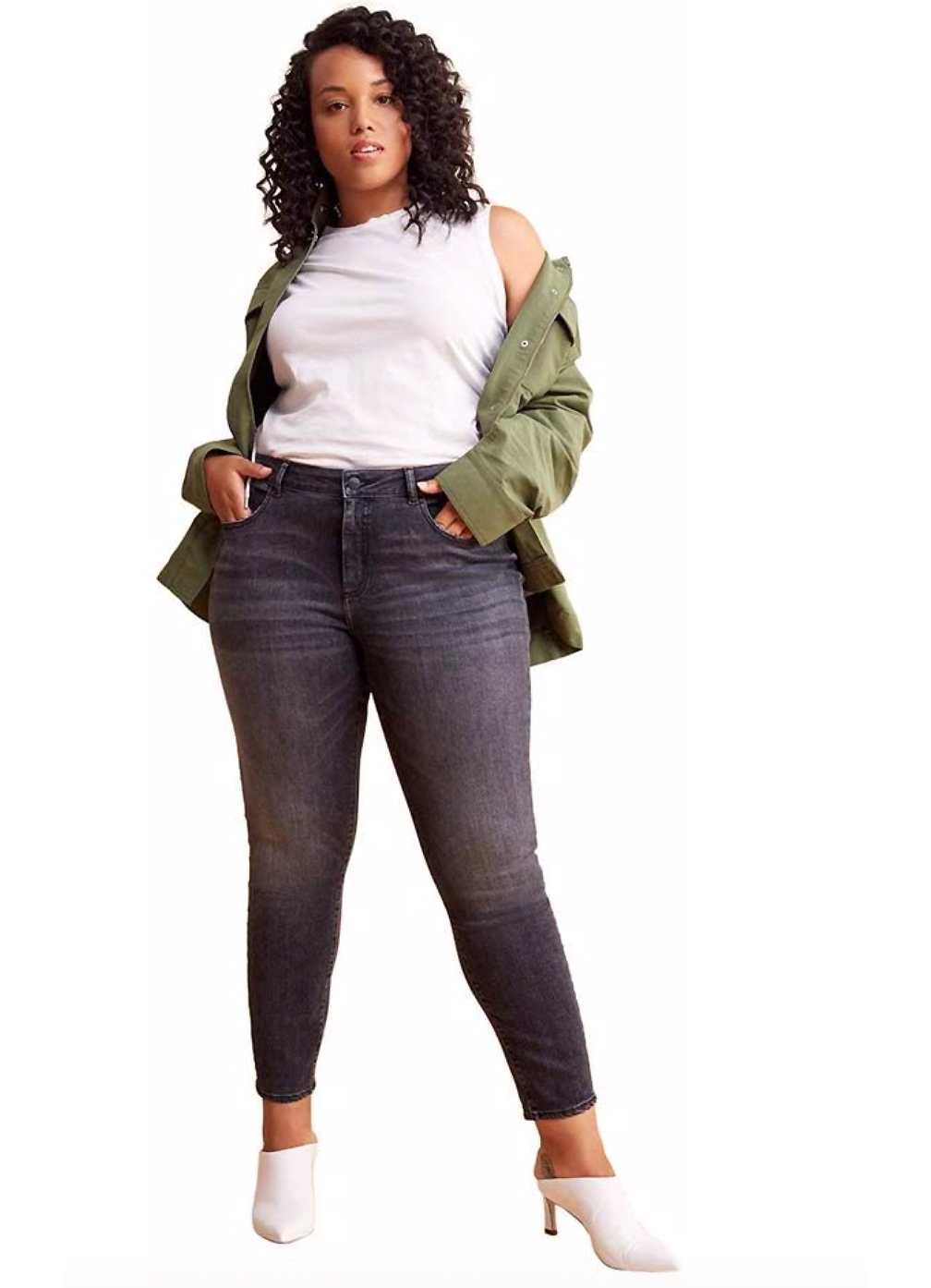 Warp + Weft Women's JFK Plus Denim
Shop it
Amazon
This family-owned business launched in 2017 to design sustainable denim for everybody and every body with sizes ranging from 00 to 24. It boasts one of the cleanest denim factories, which it owns and oversees. Plus, it implements sustainable practices such as responsibly sourced cotton, eco-friendly dye, water-saving techniques, and solar power. High-quality denim that's good for you, the planet, and your wallet? Sold!
The best sustainable model off duty denim: Ética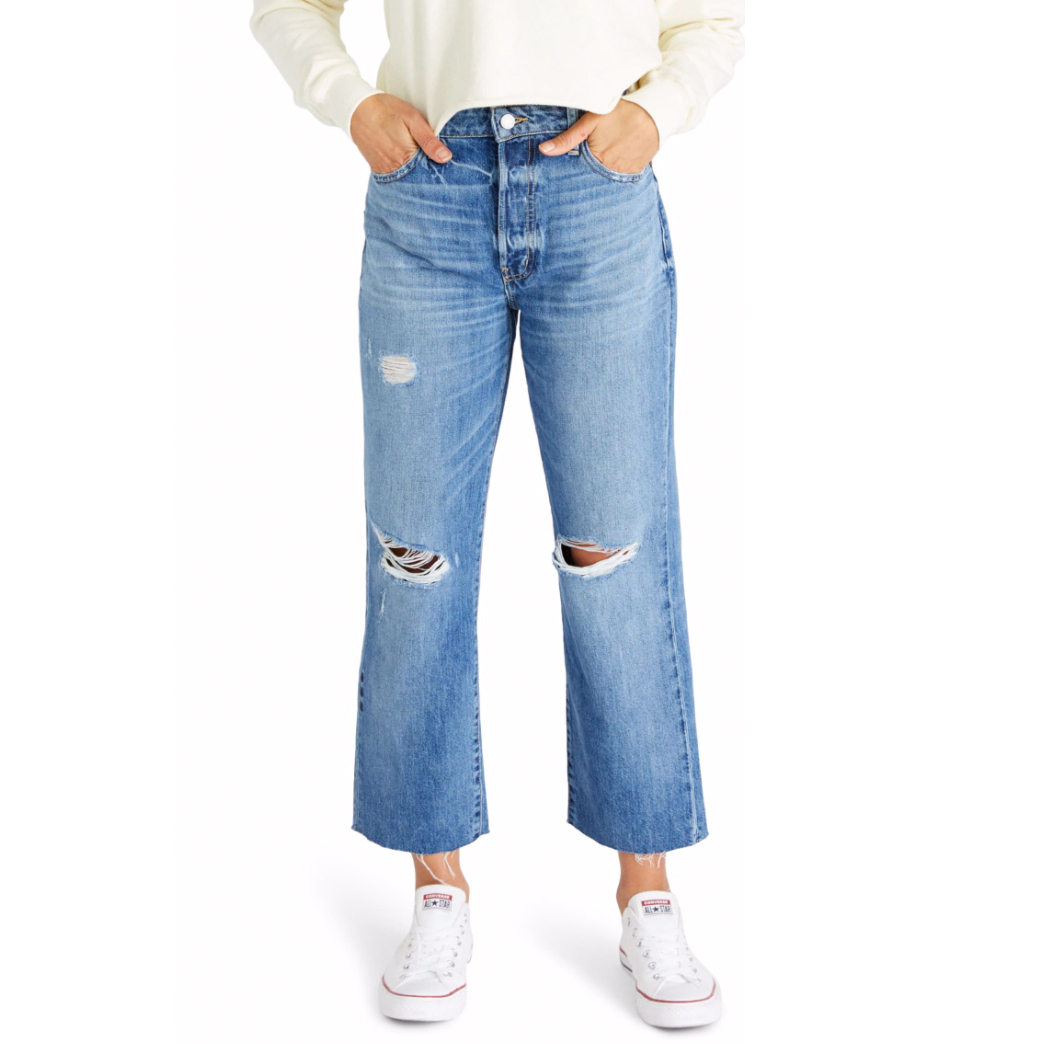 Ética Tyler Ripped High Waist Wide Leg Jeans
$$145
Shop it
Nordstrom
This Los Angeles-based brand partnered with denim factory Hera Apparel, based out of Puebla, Mexico, to show that sustainable and eco-friendly denim can be cool and contemporary. With advanced technologies and equipment, Ética uses 99% less water, 63% less energy, as well as laser technology to reduce their chemical usage to 70% less than the industry standard, according to the brand. However, the most impressive part about it is that it regularly recycles its water for local farmland, and it compresses stones used during washing into bricks for low-income housing. Talk about building a better future! *Adds to cart*
The best-fitting sustainable denim: Outland Denim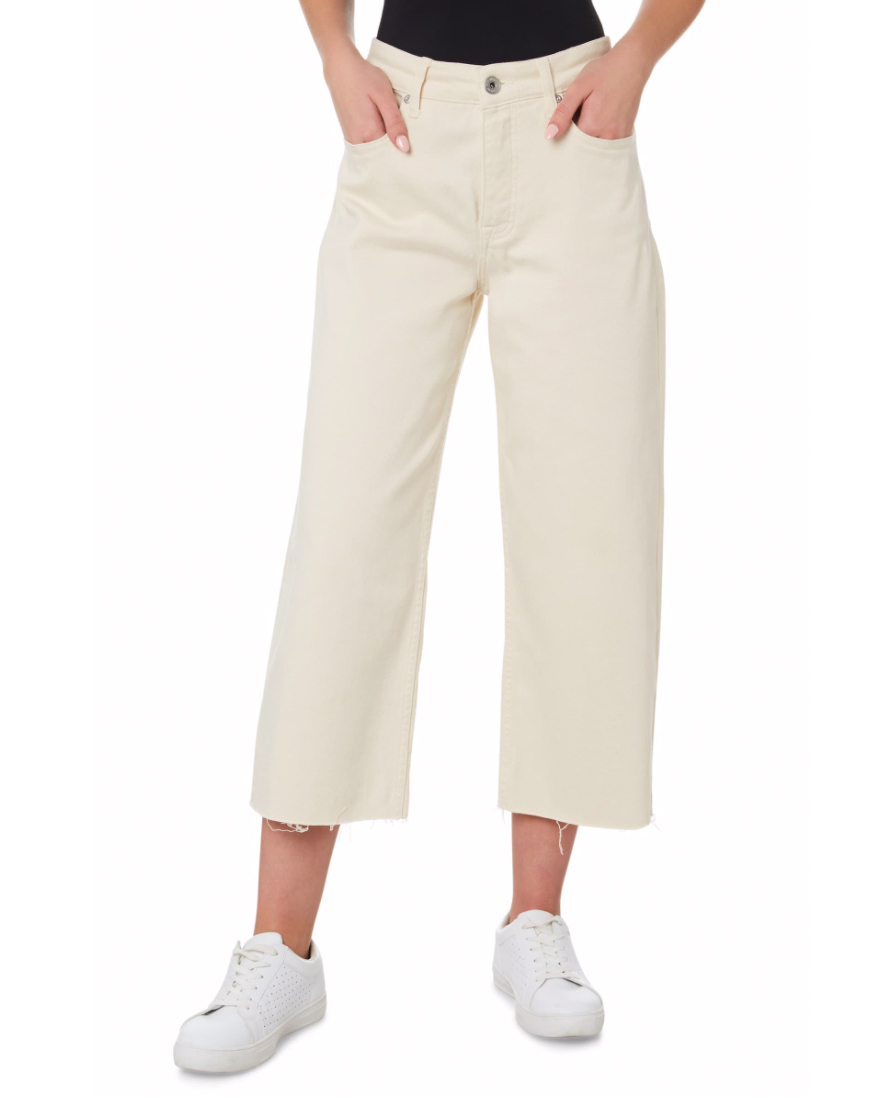 Outland Denim Sienna Organic Stretch Cotton Wide Leg Crop Jeans
$$205
Shop it
Nordstrom
After watching the movie Taken, Outland founder James Bartle traveled to Asia to see the reality of human trafficking and, determined to make a difference, set up Outland Denim as a means to provide stable employment and economic opportunity to women who would otherwise be vulnerable to being trafficked. Naturally, with a moral compass like that, it was no surprise when the brand came out with its first sustainability report in 2020. The report highlights the brand's transparent approach to denim using organic cotton, the most sustainable vintage washing techniques, and biodegradable cassava bags for plastic-free packaging. It's denim you can look and feel good wearing.
The best minimalist sustainable denim: Everlane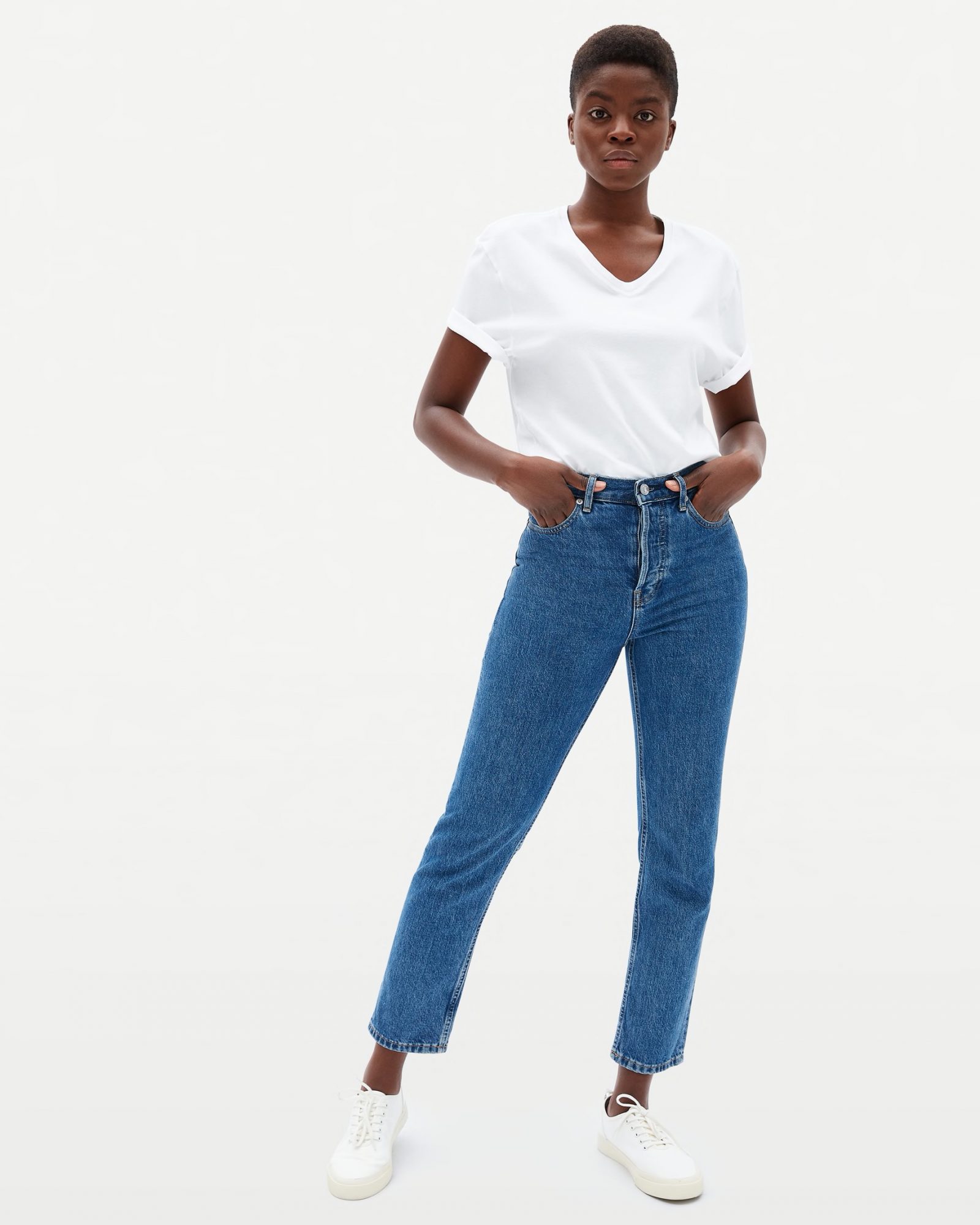 Everlane The '90s Cheeky Straight Jean
Shop it
Everlane
If there's one thing Everlane is known for, it's transparency. From its honest prices to its extensive factory breakdown, you'll find the best eco-conscious basics that are flattering for all body types. Its jeans are made in Saitex at one of the world's cleanest denim factories—it recycles 98% of its water and uses clean energy. After the water is recycled, Everlane jeans only use 0.4 liters of water, compared to the traditional production methods that use 1,500 gallons per pair.