If you want to start shopping more sustainably, these custom clothing brands are a good start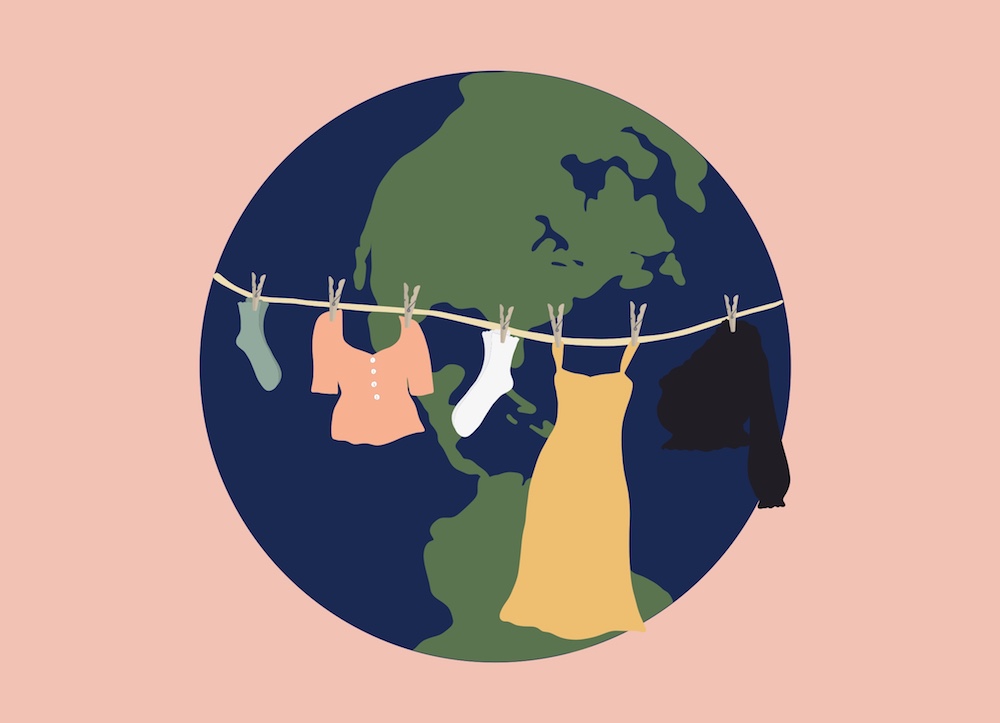 We aren't mannequins (thankfully). Our bodies bulge where theirs do not. We aren't perfectly proportioned, and some of us (me) are just too short to fit into clothing that isn't designed with our body type in mind. It's the reason Who wore it better? exists. Besides pitting women against each other, these comparisons point out that no dress is truly one-size-fits-all, even though they might be sold that way. And no matter how confident we are in our bodies, it only takes one weird top to dismantle that. We blame ourselves for making the top look bad, when in fact it's the piece of clothing's fault for assuming it would get along with everyone.
Clothes look better when they fit, but often it feels like too much work to head to a tailor. And it would be great to design your own clothing, but who has the time or skill? That's where made-to-order clothing comes in: enter your sizes, choose your favorite styles and colors, and get the perfect, made-for-you piece delivered in just a few weeks.
If Amazon has anything to do with it, made-to-order clothing is about to get big. In April 2017, Amazon was awarded a patent to manufacture custom clothing. The patent lays out their plan, which includes a robotic machine that cuts clothing patterns, a sewing machine or attendant that pieces it together, and then a round of QA before it's shipped to the customer.
Until then, there are companies like Fame and Partners and Frilly. They take it one step further than just offering made-to-order clothes—their business models are built on sustainability, in direct contrast to the fast fashion philosophy that lines our malls.
These companies fall somewhere between affordable and a splurge, depending on what sort of clothing budget you've been working with. At Fame and Partners, a day dress costs you somewhere from $99 to $279. And if you're looking for a wedding dress, you'll pay $1,000-plus. Fame and Partners doesn't allow the deep size customization that other brands do, though they will tailor your garments based on your height and usual clothing size. Instead, they offer preselected style alterations like necklines, hemlines, and other details.
Frilly, another bespoke clothing company, follows the same model and offers equally priced clothes, but with more customization. Then there are brands like eShakti, which provide more measurement customization but less trendy styles. A Google search for "made-to-order clothing" will reveal dozens more.
Conscious Clothing is one of the brands you might find that puts focus on eco-friendly materials. Its products are handmade, giving you the option to request alterations and additions when you order. Pockets, hem length, and sleeves can all be made to your specifications for a small fee. But rather than the corporate feel that other companies evoke, an order from Conscious Clothing feels intimate and personal (it's run by a husband-and-wife team).
These brands are maximizing style while minimizing waste.
Fast fashion had its moment, but now customers are more privy to the true price of a cheap shirt (unfair wages, dangerous working conditions) and are turning to brands with ethical business models. A report from Pinterest shows that ethical clothing has become a more popular trend, proving that shoppers are getting more mindful with their closets. Beyond the ability to customize your clothing, the benefit of companies like Fame and Partners and Frilly is that they're built upon a platform of sustainability. Both brands claim to never carry extra stock and only create clothes when they are ordered, thereby reducing waste and pollution.
Frilly attacks the fashion business head-on, calling it "one of the dirtiest industries in the world" on their About page, and says that the current practices "make for a situation with dire consequences for our planet."
This isn't hyperbole. The fashion industry is one of the most resource-intensive industries in the world. The problem is, until more independent research is done, we don't yet know just how bad it is. Sustainable, made-to-wear clothing companies and other fashion brands that build in ethical practices are a good step towards clothes that look good on you without ruining the planet.
Rose Phillips of Conscious Clothing says that they are happy that the fashion industry is finally implementing ethics that her company had been doing all along. "The sustainability trends in the fashion industry don't influence our philosophy at all," she told HelloGiggles. "We set out to create organic, sustainable goods when we created the company over 15 years ago. While our commitment to well-made, environmentally friendly, timeless clothes has not changed, we are excited to see fashion industry follow suit, and the pendulum swing back from fast fashion, to thoughtfully curated closets."
How made-to-order companies operate
With no excess stock or pre-made clothes, once a custom order is placed at these companies, the process is a little bit different then throwing your items into a box from a stock room.
This also mean it takes longer to receive your items. An order from Fame and Partners can take up to six weeks unless you choose to make an express order, and even in this case you can expect to wait up to three weeks. In a 2016 interview with Forbes, Fame and Partners CEO Nyree Corby declined to share the exact method the company uses to create their clothing—she called it their "secret sauce"—but she did share a few key insights that Fame and Partners relies on. The process by which they create and send styles includes a "personalization engine which allows deep customization at scale of a garment; a demand forecasting platform that helps us to understand what women need in their wardrobes and what they want to buy; an on-demand manufacturing system that allows our team of artisan seamstresses to manufacture single pieces, economically, on demand in 2 to 5 days."
At Frilly, an order takes about two to three weeks to be delivered. "After you place your order, everything is made by one tailor from start to finish. There's no line production; it's not mass-produced. We're taking the Old World atelier experience and bringing it to you in a digital way," shared Jeni Ni, Frilly's Chief Marketing Officer, in a 2017 interview with Forbes.
I recommend perusing the style choices and customizations that both sites offer. For a small fee and a little patience, you'll have a clothing item unlike anyone else—a piece made just for you.