How I'm surviving my new battle with Seasonal Affective Disorder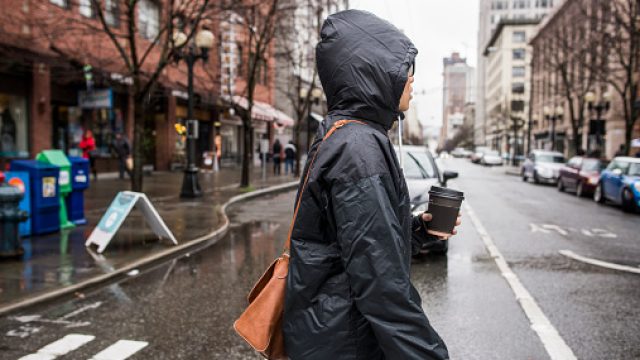 May is Mental Health Awareness Month.
I, Jessica Anne Tholmer, have been a long, long time lover of fall and winter. It has always been one of my jokes — I was born in the middle of the summer in Los Angeles, California. Zodiac-ally speaking, I am a Leo, one of the three fire signs known for feistiness, confidence, and warmth. But I have always hated the warm weather. Instead, I embraced falling leaves and frosted windowpanes; my Christmas countdown always started at 99 days. I just wholly never identified as a spring or summer gal, despite the odds.
That is, until the past two years.
I remember my older brother being affected by it (in fact I'd buy him Vitamin D for his stocking every year), but I had always managed to avoid seasonal depression.
But recently, I have been hit with a serious case of what some people call "SAD," or Seasonal Affective Disorder. I now live in the Pacific Northwest, and find myself wishing for spring and summer every single year.  I double up on Vitamin D and other essential nutrients that are nearly impossible to get while living in the PNW in general, but especially during those winter and fall months.
For the record, I don't speak on this subject lightly! It is rough for people in Washington State, or in the Pacific Northwest, where the rainy day reputation is 100% accurate. It never stops raining.
Sometimes, it really honestly feels like it will never, ever stop raining.
I was diagnosed with moderate depression two years ago (though tbh it really only comes around during the fall and winter for me) and there are a few things that really soothe my newborn summer-loving soul during the cold days.
1Turn up the heat
Listen, this is kind of bad advice because my electricity bill was like…five times the price it usually was but — I mean, it's a little bit worth it? First of all, my cat loves the window open during the day (fresh air!!) and the heat allll the way up during the night. (She's a pampered cat.) I grew up with a mother who was very "bundle up because the heat is never coming on," but as a full-blown adult, I justify my more expensive heating bill by reminding myself that my comfort is important. I blast it for an hour or two and then turn it all the way off, and it's way worth it. Not shivering in my home? Priceless!! (Or, you know, 150 bucks so not at all priceless.)
2Embrace the television
I have a few friends who have asked me for advice on combatting sad feelings, or pity parties, or just simple bad days. I almost always recommend the television. I am 100% not the person who thinks you should watch less TV for any reason. In fact, it is not coincidental that there are more and more ways to stream, more and more excellent series premiering, and more and more revivals these days. We need TV, and it needs us. In 2015, when I was living the worst year of my life, I started watching TV again and it truly changed me as a person. Is that dramatic? NO because I literally became a less social person and just embraced the fact that I am a TV Watcher and that's fine. It really is. Especially in the cold season. What else are you going to do? Go for a walk? No, you aren't. It's raining. Put on Parks and Rec.
3Read a book
Remember when you were a child, and you'd get lost in a different world when you would read a book? That feeling still exists as an adult! And if nothing else, it makes you feel a) not alone b) not as self-pitying. I have read a lot of books in the past year that have reminded me of those things. Sure, your life and problems are absolutely valid and you can have a bad day or 10 bad days, but it's nice to remember that you are not having bad days alone.
Also, there are happy books, and those have the opposite effect. You might feel joyful and remember that there are so many lovely things in the world to embrace. Also. when all else fails, re-read Harry Potter. That roller coaster of emotions is always, always worth it.
4Take your vitamins
I am not a doctor, so definitely check with yours on what vitamins you should take. But honestly, embracing vitamins and essential oils and spritzing lavender on my pillow before I go to sleep are all little things that really do make me happier.
5Utilize your friends
My group thread legitimately makes me happier every single day. I wouldn't be as happy without it. Though I just mentioned that I am less social now than I was when I was younger, the beauty of text messages (and Twitter!) is legit. I usually start my day out texting "I am grouchy" or "Getting out of bed is the dumbest," and I am met with immediate agreement from my best friends. That's all you need sometimes. Reassurance that yep, no one wants to get out of bed because it's cold and rainy and work is lame.
Again, I need to mention that I am not a doctor. I cannot actually help you through your SAD or any other form of depression you might have. What I can do is be your sounding board when you're just having a bad day, because of the rain, the cold, or literally anything else.
And remember — it is always okay to change your seasonal loyalties. Spring, welcome. I am here for you. (And vice versa!)