Cucumbers and 5 Surprising Things You Don't Know About 'Glass Onion'
Netflix's murder-mystery is shaping up to be one of the most talked about films of 2022.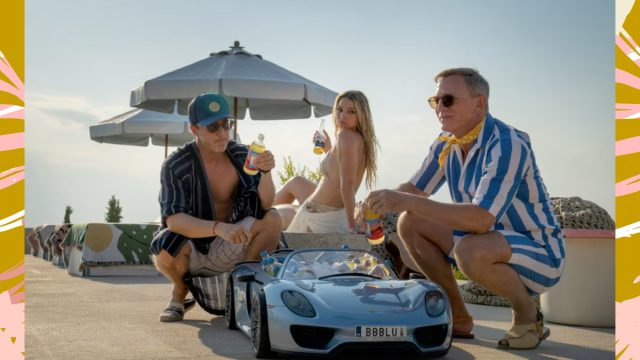 If you haven't seen Glass Onion: A Knives Out Mystery by now, you're missing out. The Netflix murder-mystery is quickly shaping up to be one of the most buzzworthy movies of the year — there's even rumors of a potential Oscar nomination.
While the movie is largely centered around a whodunit, the most pleasurable part about Glass Onion is the ensemble cast. A sequel to 2019's Knives Out, Glass Onion follows a group of friends who reunite on their wealthy friend's private Greek island for a beachfront vacation and a fun, classic game of murder mystery. However, the game takes on reality when someone actually turns up dead. Luckily, detective Benoit Blanc (Daniel Craig) is there to help solve the case.
Led by Craig, Glass Onion stars Kate Hudson, Kathryn Hahn, Edward Norton, Janelle Monáe, Madelyn Cline, Leslie Odom Jr., Dave Bautista, and Jessica Henwick. The movie is stacked with A-listers, to say the least.
Craving more of the Knives Out cinematic universe? We compiled a list of some of the most surprising Glass Onion revelations to come out thus far.
RELATED: 8 Movies Coming Out Now That You Need To Watch For Awards Season
1. The movie was named after a Beatles song
Johnson took a literal approach when it came to naming Knives Out 2, noting the only prerequisite was that it was in line with the movie's theme: hiding in plain sight. "The idea of glass came to me, something that's clear," Johnson told Netflix of the first half of the movie's moniker. "I'll be very honest. I literally got out my iPhone and searched my music library with the word glass."
Due to Johson's supreme taste in music, the first song that popped up was "Glass Onion" by the Beatles. Thus, the title of Knives Out 2 was born.
2. There were several celebrity cameos
When Serena Williams is the home gym's virtual training instructor, you notice it. But, did you spot Ethan Hawke, Joseph Gordon-Levitt, and Yo-Yo Ma's cameos? You may have also done a double take at detective Blanc's partner, portrayed by Hugh Grant.
Angela Lansbury, Stephen Sonheim, Kareem Abdul-Jabbar, and Natasha Lyonne all make appearances in the opening scene as well.
3. Set snacks: Kate Hudson opted for cucumbers over Aperol Spritzes
While her castmates were sipping on Aperol Spritzes poolside, Hudson was munching on a cucumber. During her guest spot on This Morning, Hudson told the UK news show that in preparation for her orange bikini scene she abstained from alcohol leading up to the shot.
"When everybody was having Aperol Spritz, I was waiting for that scene to be shot," she said in reference to the swimming pool scene, as reported by Daily Mail. "So, I was like, 'I'll just have that cucumber.'"
It looks like Hudson's self-control paid off because her poolside catwalk is one of the most iconic scenes in the movie. Once they got the shot, Hudson was eager to join in on the fun.
4. Kaley Cuoco almost played Birdie Jay
Thanks to HBO's Flight Attendant, Kaley Cuoco is having a bit of a moment. Albeit, it wasn't enough to propel her to Greece. Speaking with Glamour, Cuoco shared she was "so devastated" and "gutted" to learn she had lost the role of Birdie Jay to Hudson. "I was convinced [the part was mine]. I was so convinced that my bags were packed for Greece. And then I didn't get it," Cuoco said.
The hardest part, however, was knowing how close she was to landing a part in the Knives Out sequel. "I had done chemistry reads, I had done Zooms. And I didn't get it," she continued. "I cried and I cried all night long."
Perhaps her fate lies in Knives Out 3?
5. Daniel Craig had to re-learn his character's accent
Detective Blanc's Southern accent is undoubtedly one of the best parts of the film. However, getting back into character was not like riding a bike for Craig, who admitted to working with an accent coach prior to Glass Onion because he had forgotten how to talk like Blanc.
"I went away to work with an accent coach for three or four months before we started shooting," Craig revealed to Empire. "I'd forgotten the accent and I didn't want to do a pastiche. I wanted to make it as grounded and as anchored in reality as possible."
You never would have known!
6. There will be a Knives Out 3
It's official: the Knives Out franchise is expanding into a trilogy. While no details regarding the movie's plot, cast, set location, or release date have been announced, Variety has confirmed that Netflix forked over a rather large sum to obtain the rights for two Knives Out sequels.
According to the outlet, Netflix paid $450 million in movie rights alone for Knives Out 2 and Knives Out 3. The series director Johnson and lead Craig are two big parts of that negotiation and price tag as they will be returning to their respective roles for both projects.
Glass Onion: A Knives Out Mystery took roughly two years to make — but they were also filming during the peak of the Covid-19 Delta outbreak. It could be another two years until the new film hits Netflix, but hopefully we get casting news and a plot description soon.
Emily is a NYC-based freelance entertainment and lifestyle writer — though, she'll never pass up the opportunity to talk about women's health and sports (she thrives during the Olympics).
Read more