Eminem's latest album, "Revival," features so many surprising artists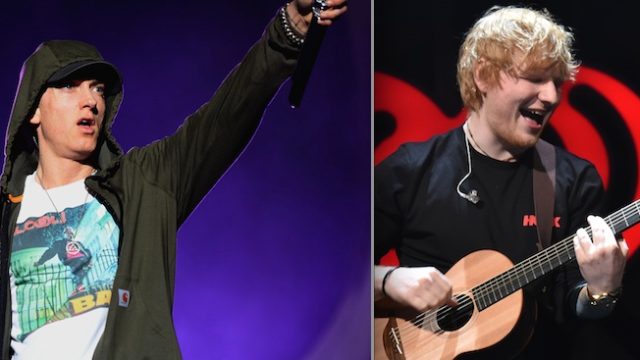 In the early morning hours of December 15th, Eminem released his first album in four years. The 19 tracks that make up Revival are politically charged, "sassy," and "uncontrollably lusty," as Rolling Stone put it. In eight of those Revival tracks, Eminem paired up with some surprising artists, adding a collaborative feel to the genre-jumping work.
Eminem teamed up with Beyoncé for the album's intro song, "Walk On Water." Bey lent her vocals to the soulful hook between verses while Eminem raps about the criticism he's faced over his more recent music.
In "Chloraseptic," Eminem is joined by Phresher, the only other rapper on the album. Phresher is best known for his song "Wait a Minute," which was remixed by several other artists, including 50 Cent, Riff Raff, and Remy Ma.
Phresher told Complex earlier this month, "Eminem is my favorite rapper. I know he didn't believe me when I told him but I was just so astonished. This was my moment to shine."
Ed Sheeran hopped on the track "River," on which he took control of drums, guitar, piano, and wrote the chorus. He told Billboard in early December that even before signing onto Revival, he already had plenty of ideas dreamt up in hopes that he would someday work with Eminem.
Alicia Keys provided the chorus for "Like Home." The song charges forward with an anti-Trump message, echoing the sentiments Eminem shared in his single "Campaign Speech."  The rock group X Ambassadors joined Eminem for a second time on "Bad Husband," arranging both the chorus and back track.
Finally, Pink's vocals make an appearance on "Need Me." This is the second time Pink and Eminem have worked together, and the emotion these two bring to the surface will give you chills.
There's certainly a lot of star power on Revival, and many on Twitter think its Eminem's best work yet. If anything, the new album shows that Shady's back, and he's taking names.