Suri Cruise set up a lemonade stand at the NYC Pride Parade, and we love every single thing about this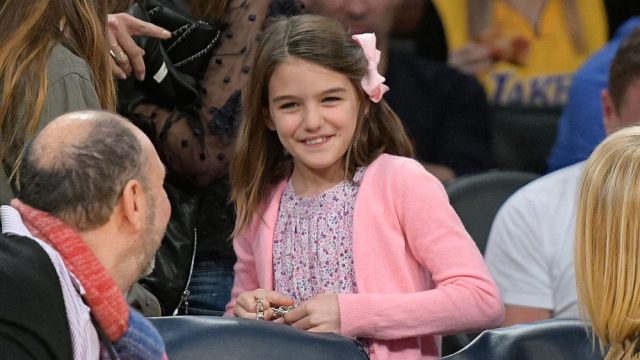 Yesterday, June 24th, the LGBTQ community held Pride celebrations across the country in empowering displays of love. Hundreds of thousands of people showed up to show their support…one of them none other than Suri Cruise, who was reportedly selling lemonade at the NYC Pride parade. Work it, girl!
A spectator noted that the 12-year-old daughter of Katie Holmes and Tom Cruise had set up a stand with her friends.
"She was super sweet and would go up to people to see if they wanted to buy stuff," the eyewitness told ET Online. "Her lemonade was $2 each for either pink or regular. She was also selling cookies and Fruity Pebbles bars."
Suri and her four friends reportedly decorated the stand with "signs all around their table for Pride," one source told Us Weekly. Suri also apparently wore a Pride button on her shirt and a purple ribbon in her hair (and it seems like her entrepreneurial efforts turned a profit, since she was also seen holding a clear plastic tub filled with cash).
Several customers even tweeted about it.
false
Holmes is (understandably) private about her daughter and home life, but she's opened up about wanting to give Suri as normal a life as possible. And it seems like she's doing a stellar job, IOHO.
It warms our hearts to see young people like Suri doing their part to support the LGBTQ community. Happy Pride, everyone!