The Supreme x Lacoste spring collection dropped today, and we've already got bad news to share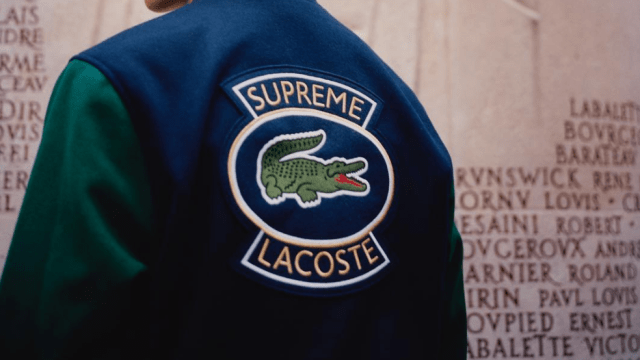 Last spring, two worlds collided when Lacoste and Supreme teamed up for the dopest fashion collaboration of 2017. Lacoste is known for preppy style, while Supreme has the trendy, streetwear gear everyone wants to get their hands on. Seriously, everything Supreme drops sells out fast, including last year's Obama collection. So naturally, the latest Supreme x Lacoste collab did the same, selling out online within minutes on April 19th. But you kinda sorta might still be able to get lucky — if you act fast.
The 74-piece collection includes varsity jackets, sweatshirts, and track pants, and it wouldn't be Lacoste without a few polos. Also, the collection's '90s aesthetic means bucket hats and velour are on the menu. Tons of velour.
The Supreme drop time was 11 a.m. EST today, April 19th, and as predicted, poof, everything sold out.
Going, going, gone! 
Sadly, Supreme's Instagram comments are flooded with unhappy customers who didn't get their hands on any merch. We mean, we can't blame people for adding items to their carts ASAP. This is a pretty dope line. The '90s nostalgia is just too cute to pass up, and it actually looks really comfortable and perfect for lounging.
Well…if your idea of loungewear includes $148 velour track pants.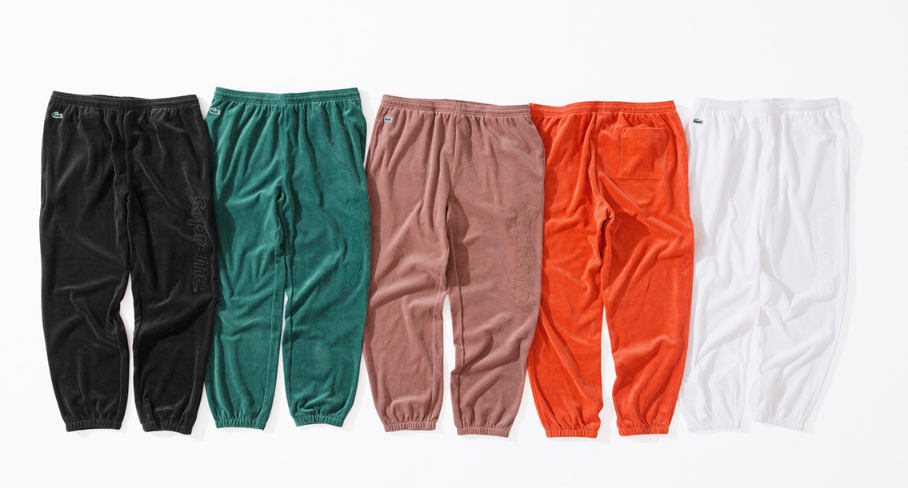 In addition to the Supreme x Lacoste crewneck sweatshirts, jackets, and track pants, the accessory game is pretty tight as well.
The fanny pack is back with a vengeance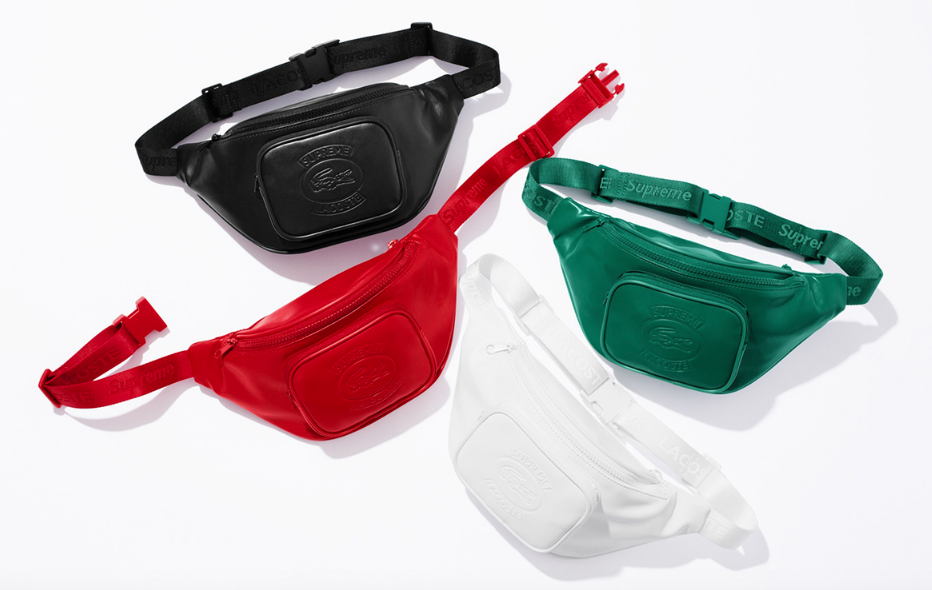 Everything '90s is having a huge moment right now, so it's no surprise the line would include fanny packs and bucket hats.
Though the collection is sold out on Supreme's website, you might be in luck if you act quickly. 
Like any release from the super popular brand, the Supreme resell predictions are right on track and items are currently listed on eBay for double the original price. But if you're not trying to be price-gouged, you might have some luck tomorrow, April 20th, when Lacoste releases the collection on their website. Also, you can try to visit a Supreme store if you live in New York City, Brooklyn, Los Angeles, London, or Paris (Japan will receive the collection on April 21st).
May the fashion odds be ever in your favor.