The Supreme Court just voted to uphold Trump's travel ban, and here's what happens now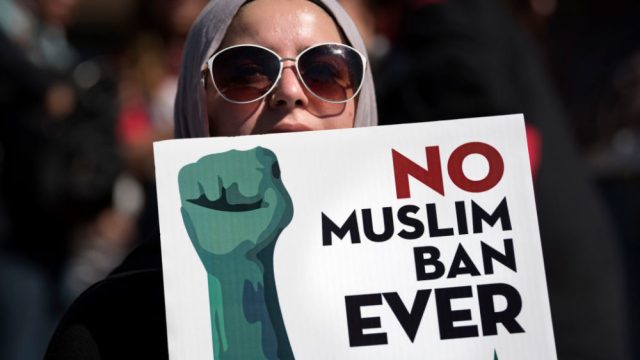 Ever since he entered the realm of politics, President Donald Trump has been calling for a travel ban on citizens of certain Muslim-majority countries. In his first year in office, Trump attempted to pass three different versions of this ban, which were blocked by federal judges. But despite opposition, the Supreme Court allowed the third travel ban to take effect, and now, six months later, the nation's highest court has voted to uphold that decision.
CBS News reports that in a 5-4 decision today, June 26th, the Supreme Court ruled that the president has the power to prevent certain groups of immigrants from entering the country. Chief Justice John Roberts, a noted conservative, penned the majority opinion, and the other four conservative justices voted alongside him. In his opinion, Roberts argued that the ban didn't demonstrate prejudice against Muslims.
Omar Jadwat, director of the American Civil Liberties Union's Immigrants Rights Project, said in a statement that the decision would "go down in history as one of the Supreme Court's great failures." The ACLU was one of the groups that legally challenged the travel ban.
"The court failed today, and so the public is needed more than ever," Jadwat's statement read. "We must make it crystal clear to our elected representatives: If you are not taking actions to rescind and dismantle Trump's Muslim ban, you are not upholding this country's most basic principles of freedom and equality."
Trump, meanwhile, celebrated the Supreme Court's decision with an all-caps tweet.
https://twitter.com/udfredirect/status/1011620271327989760
As the New York Times notes, the version of the travel ban that SCOTUS upheld today, which was issued in September 2017, affects residents of Somalia, Iran, Yemen, Venezuela, North Korea, Libya, and Syria. Under the ban, citizens of these countries are barred from emigrating to the U.S., although some can still enter under certain kinds of visas.
Vox pointed out that while this version of the ban is slightly less restrictive than the first two, it's also meant to be permanent. In theory, today's decision could be negated by the 9th Circuit Court, which still has to rule on the ban, but Vox notes that it will be difficult to stop what is already in motion.
Today's ruling on the travel ban is heartbreaking. In this difficult time, we stand with immigrants and will continue to fight for the rights of all people. If you wish to protest SCOTUS's decision, the ACLU is hosting rallies around the country this week.