The Supreme Court just ruled to protect DACA in a huge win for Dreamers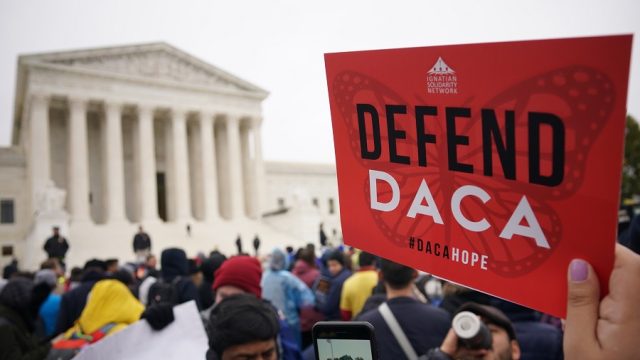 Today, June 18th, the United States Supreme Court ruled 5 to 4 that the Trump administration cannot disband the Deferred Action for Childhood Arrivals (DACA) program, which protects undocumented immigrant children from deportation. President Donald Trump has been fighting to end the Obama-era program since 2017, which, if successful, would result in the eligibility of deportation of more 800,000 undocumented minors and young adults, known as "Dreamers."
However, today's Supreme Court ruling is the sigh of relief Dreamers and their allies have been waiting for.
According to NBC News, the Supreme Court's ruling said the government failed to give "adequate justification" for ending the DACA program.
Those who are served by the DACA program consider themselves American citizens, as many of the Dreamers were brought to the U.S. as very young children. As the Anti-Defamation League reports, Dreamers currently do not have any options to gain legal residency despite having lived in the U.S. for the majority of their lives— in fact, many do not even learn they are undocumented until their later teen years when they begin applying to colleges.
DACA helps Dreamers request consideration for deferred action, and accepted Dreamers are eligible to receive work authorization and other benefits without the threat of deportation.
When Trump first motioned to end DACA, he and then-Attorney General Jeff Sessions argued that the majority of illegal immigrants are lawbreakers that take away jobs away from American citizens. In a 2017 statement, per The New York Times, Sessions said the DACA program had "denied jobs to hundreds of thousands of Americans by allowing those same illegal aliens to take those jobs."
NBC News reports, though, that the data shows that more than 90% of DACA participants are employed, nearly half are currently in school, and many Dreamers do not speak the language nor know the culture of their home countries.
It is a possibility that the Trump administration could attempt to shut DACA down again after giving the Supreme Court a more detailed explanation for why the program should disband. But with Black Lives Matter protests nationwide, a pandemic, and a presidential campaign at the forefront of current news, ending the DACA program is most likely not at the top of the president's priority list.
Today's Supreme Court ruling is a massive win for Dreamers and their supporters, and potentially, a permanent end to Trump's fight to shut down DACA.