Crisis pregnancy centers can now legally continue to withhold information about abortions, and this is so dangerous for women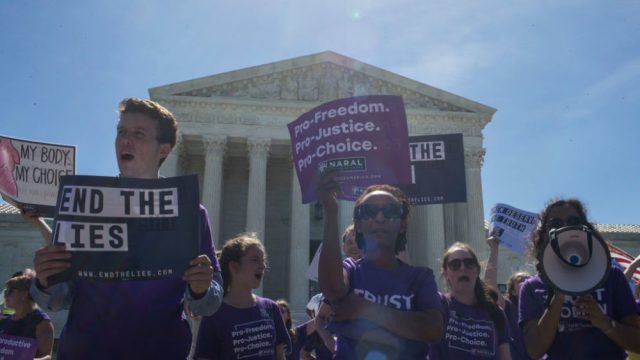 Although "crisis pregnancy centers" sound like clinics where women can go to learn about their options if they become pregnant unexpectedly, these centers aren't exactly what they seem. As these centers have cropped up across the country, they have attracted controversy for failing to provide women with information about obtaining an abortion. And thanks to a new Supreme Court decision, crisis pregnancy centers can continue this deceptive practice.
According to the New York Times, SCOTUS issued a decision today, June 26th, about a California state law that would require crisis pregnancy centers to inform their clients about public programs that offer abortions. In a 5-4 ruling, the justices declared that this law was a violation of the clinics' First Amendment rights. Justice Anthony Kennedy wrote in the majority opinion that the law, known as the Reproductive Freedom, Accountability, Comprehensive Care, and Transparency (FACT) Act, forced "individuals to contradict their most deeply held beliefs."
Ilyse Hogue, the president of NARAL Pro-Choice America, issued a statement about the decision that was posted to NARAL's website.
"Today, the Supreme Court turned its back on women and condoned the deceptive tactics used by fake women's health centers," her statement read.
Hogue continued her statement by arguing that today's decision could pave the way for an attempt to repeal the landmark abortion decision Roe v. Wade.
California Attorney General Xavier Becerra, the defendant in the case, pledged to continue fighting for women's health care.
The FACT Act was passed in 2015 due to concerns that these religiously affiliated centers were misleading women. As NPR notes, out of the 2,700 crisis pregnancy centers in the U.S., it's unclear how many are actually licensed medical providers. Even unlicensed facilities can administer ultrasounds or pregnancy tests, and these centers are often located near abortion clinics. There are 14 states that fund crisis pregnancy centers, despite the fact that they routinely spread misinformation and fail to inform women about how they can obtain an abortion. One HuffPost report from 2013 revealed that 71% of crisis pregnancy centers in Virginia lied to clients about the effectiveness of abortions, birth control pills, and condoms.
Blocking the FACT Act allows this dangerous misinformation to continue. Regardless of a health provider's personal beliefs, everyone deserves the ability to make informed decisions about their own health care.