Supporting Black women means celebrating Cyntoia Brown's freedom and muting R. Kelly
On January 7th, 2019, Cyntoia Brown—a victim of pedophilia and sex trafficking (regardless of references to her being a "teen prostitute")—was finally granted clemency after serving nearly 15 years in prison. Before Tennessee governor Bill Haslam decided to have her released, a multitude of people rallied for her freedom, including celebrities like Kim Kardashian and Rihanna. In 2004, a 16-year-old Brown admitted to killing Johnny Allen, a 43-year-old man who had solicited her for sex with the help of Brown's pimp, "Kut Throat." The pimp had forced her to have sex for money, and threatened to kill her if she tried to escape him.
"The first time he did something to me is when he choked me and I passed out," Brown revealed in PBS's 2011 documentary called Me Facing Life: Cyntoia's Story. "I made him money…he wasn't going to let me go nowhere. He told me he'd kill me."
Allen's behavior, plus his gun stash, clearly made her feel just as unsafe, because Brown thought Allen was reaching for one of his guns to shoot her while she was in his home. That's why she shot him and fled. Those against Brown questioned her motivations, saying that she simply wanted to rob Allen of his money and possessions. Ultimately, she was sentenced to life in prison after being tried as an adult. When she is released from prison on August 7th, Brown has plans to advocate for young people and be the light she so desperately needed as a young girl, as she has already done while imprisoned. This news is incredible, but it comes at a daunting time.
Last week, Lifetime aired Surviving R. Kelly, a six-part series containing detailed allegations of R. Kelly's abuse over the past several decades. Multiple women gave gruesome reports of what many already believed about the disgraced R&B singer, sharing how he approached them as teenagers, lured them with his professional success and contrived vulnerability, controlled them, and monitored their contact with their families. None of this was new information to people who have read about Kelly, but seeing it all in video form was jarring. Social media was packed with live tweets, hot takes, and other Black women's stories of sexual abuse. It was a triggering conversation, but one that was ultimately necessary for the masses—so it is embarrassing that, even after all of the trauma and revelations, R. Kelly's sales and streams spiked.
https://www.youtube.com/watch?v=yREP5i3Jhtg?feature=oembed
In a now-deleted tweet, Nation of Islam member and self-proclaimed humanitarian Rizza Islam shared his thoughts on the "#rkelly situation." He in no way defended the Black women and girls who alleged that their lives were torn asunder by R. Kelly, but he did say that the situation was an "attack on Black men" and a distraction from the government shutdown. And Rizza Islam is not the only person to voice this idea on social media. The idea that exposing R. Kelly's actions is in some way connected to the very real, crushing hand of white supremacy is lazy and as deep as a two-foot pool. Why can't we just grieve with the Black women who have laid their pain out for us and pledge to seek justice for all?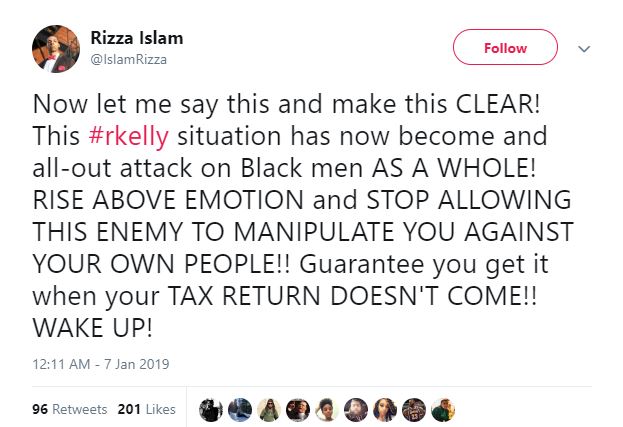 We cannot forget that Cyntoia Brown is only ever-so-slightly different from R. Kelly's alleged victims. Like Brown, they are Black girls who were sexually abused at a young age, threatened by their abuser, and torn away from their families.
If you are a true ally to Black women, then you have to realize that celebrating Brown's freedom is only one part of your solidarity. You also have to actively fight to #MuteRKelly.
Stop listening to R. Kelly, push the conversations exposing him forward, and make your voice heard. The predatory violence discussed in Surviving R, Kelly has gone on for entirely too long, and frankly, should have never happened to begin with. Similarly, while the incarceration of Cyntoia Brown should have never lasted this long, it mostly should have never started in the first place.
We can have a hand in making these situations better and fight on the right side of history. All Black women—from Cyntoia Brown to women exposing R. Kelly—are worthy of equity, especially as they begin the road to healing. It is bad enough that the women who participated in Surviving R. Kelly have had every aspect of their lives and stories publicly analyzed. It is horrible that Black men and women continue to refute their claims for various reasons, from misogyny to an undying "love" for R. Kelly. Cyntoia Brown wasn't believed or valued, and that resulted in her long-term imprisonment. The women in Surviving R. Kelly were not believed or valued, and that's why Kelly's alleged abuse spans decades.
There has been much evil committed against Black women. Let's continue trying to create a better world for them.