"Supernatural's" Jensen Ackles shared a photo of his newborn twins that has us wanting to laugh-cry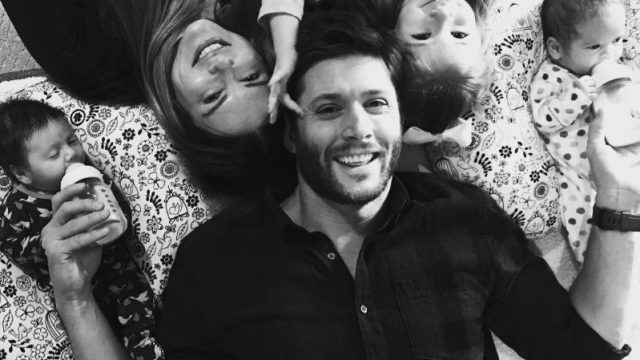 Twins share a lot of things (like DNA and a womb for nine months, for example), but they don't always share the same emotions at the same time. Supernatural star Jensen Ackles proved that point with an adorable photo of his newborn twins.
Jensen's 3-month-old daughter Arrow Rhodes and son Zeppelin Bram may look alike, but they're on totally different pages when it comes to their feelings. (At least that's how they appear in a picture Jensen posted to Instagram of the tiny twins.)
While one of the twins smiles from ear to ear for a picture, the other is Frown-y McFrownerson. Their adorableness reminded Jensen of the classic laughing and frowning theater masks.
"Comedy&Tragedy. Those are MY kids alright. #dadlife," he captioned the photo.
The photo was taken on the family's first weekend trip and Jensen's wife Danneel Ackles made sure to announce on Instagram that everyone survived the family fun.
Jensen and Danneel are now parents of three kids — their oldest daughter is three-year-old Justice Jay. Both of their Instagram accounts are filled with adorable pictures of their family, and we're kind of obsessed.
Look how sweet Jensen was with Justice as she gave him a makeover last year:
And here's the cutest baby announcement photo ever:
Honestly, we don't know who is cuter in this photo — dad or baby:
The Ackles family looks like a pretty fun family to be a part of:
Are you ready to see the cutest picture your eyes will probably see today? It seriously doesn't get any better than this:
We love the Ackles family!