This supermarket worker clapped back so hard after being mocked for her makeup
Sadly, we still live in a time where people think it's okay to publicly ridicule others for their appearance. But people like Kerry Whittaker, a supermarket worker shamed for her makeup, are making a big difference by speaking up about it.
Whittaker posted on Facebook about an experience she had at work. Whittaker, who also does makeup on the side, has since removed the post after it went viral — but the words she shared should still be heard.
"So I'm sat in work today minding my own, and I overhear a woman talking to what I presume is her 14 yr old daughter and they're sniggering laughing saying 'have you seen the state on that? Who comes to work to sit on a checkout looking like that.. don't know who she thinks she is,'" Whittaker wrote.
"1st of all Why would you find that acceptable? I'm not harming nobody. Would you say the same about a girl who has problems with her skin and spots on her face. I doubt it. 2nd Why don't you lead by example to your daughter about empowering other women rather than tearing them down. In this society the last thing we need to be doing to each other as humans is judging people based on looks. 3rd When you can do a cut crease as sick as this then come back to me and tell me I look like sh*t. Girl Bye"
Whittaker's second point is pretty amazing, and oh so true.
By openly mocking someone in public, the woman in question is pretty much teaching her daughter that bullying is okay.
As for her third point, good for her. A lot of people feel confident by wearing makeup, and Whittaker definitely seems like she's a pro.
In fact, we wouldn't be surprised if people contacted her after her post went viral to set up appointments.
https://www.instagram.com/p/BRvPb7nl7KQ
One thing's for sure — Whittaker definitely gained a lot of fans. People who read her story posted words of support on her Instagram.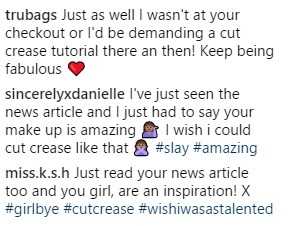 We definitely applaud Whittaker for making this encounter public. Judgment and discrimination both need to go, and her self-confidence about the situation makes her even more beautiful.